A couple weeks ago, in this post I said I might have some recipes for rubs and marinades. And I do! First of all though, I should tell you that there really isn't a recipe. A rub ought to consist of flavors you enjoy on your food – nothing more and nothing less. This particular rub is pretty spicy and a little smokey with just a touch of sweetness. You can switch up the ingredients to suit what you enjoy. Now, I am not going to go all Pioneer Woman Cooks on you, because I can never get my food to behave as well as hers does, but the camera was in the kitchen, so I did get a few shots to move things along.
A rub is a combination of dry ingredients that are applied to meat before grilling. I use rubs a lot and I doubt that any two batches taste the same. Not all of the ones I make are spicy but most of them have some degree of heat because we like it hot, man! I make them in smaller batches because I don't want them sitting around for a long time before they get used up. Here we go!
First, I assembled the crowd of potential ingredients. I ended up not using the jalepeno flakes or the adobo – they can go in the next batch.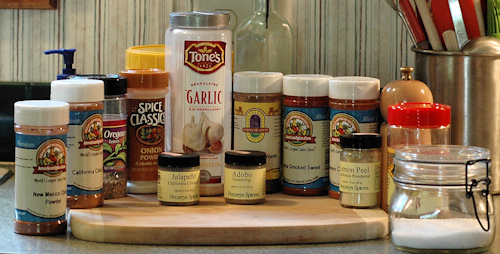 I always layer the ingredients in the jar I am going to keep the rub in because that way I know it will fit.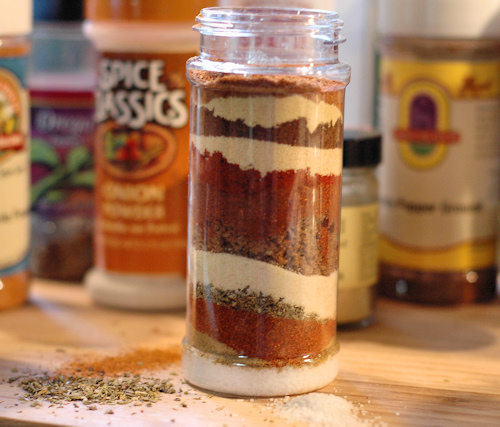 I did measure what I used this time, so I could give you an idea of proportions.
2 Tablespoons Kosher salt
1 Tablespoon Ground Cumin
1 Tablespoon Chimao Chili Powder
1 Tablespoon Oregano – crumbled finely
2 Tablespoons Onion Powder
2 Tablespoons Dark Brown Sugar
1 Tablespoon Smoked Sweet Paprika
1 Tablespoon New Mexico Blend Chili Powder
2 Tablespoons Granulated Garlic
1 Tablespoon Ground Chipotle Pepper
1 Teaspoon Ground Lemon Peel
1 Tablespoon California Chili Powder
1 Tablespoon Fresh Ground Peppercorn Medley
Dump it all in a mesh strainer, over a piece of clean white paper [makes it easier to get in the jar] and work together through the mesh. My brown sugar just wasn't blending in like I prefer today [the humidity I imagine], so I ended up whirling it a few times in the Magic Bullet
, so that it would sprinkle evenly.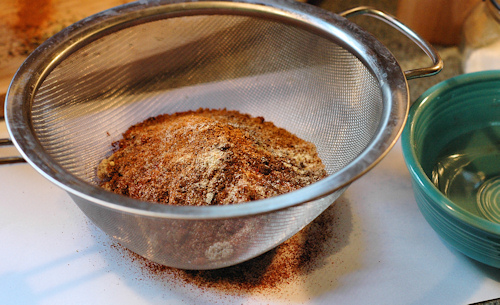 Usually though, I just work it all through the strainer and then dump it back in the jar.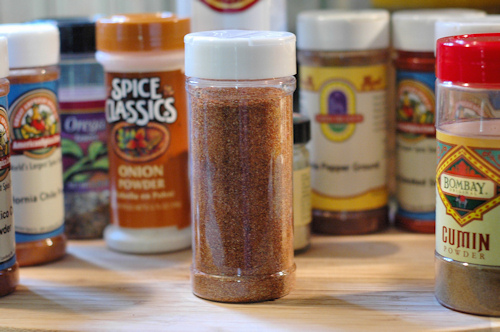 You can use any combination of hot stuff. Chipotles are smoked jalepenos – they have a very hot pop when they first hit your taste buds, but it doesn't sear your mouth so that you can enjoy the next bite just as much as the first one. The chili powders I used for this [I bought all of the ones mentioned at The Great American Spice Company, but they have good ones at Penzey's and other places too.] – have tons of flavor without being too hot. I am going to use this same rub for Chicken Fajitas next week, and I will show you then how to hot this up if you like it spicier. If you want to make a rub and grocery store chili powder is all you have, then go for it – it will still be pretty darned good.
Tonight though, we are having pork chops. These are cut from a boneless pork loin. Rub the chops with a couple tablespoons of olive oil and sprinkle all surfaces very generously with the rub. Pat it in well. At this point, you can just throw these babies right on the grill, but I like to let them sit a couple hours to really deepen the flavor. You can sprinkle a bit more rub on right before cooking if you like. Look yummy don't they? Well, except for being raw of course.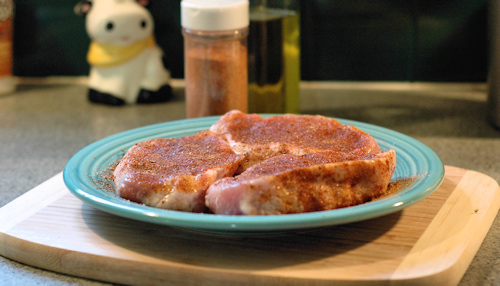 Don't tell the cow, but this is great on beef too.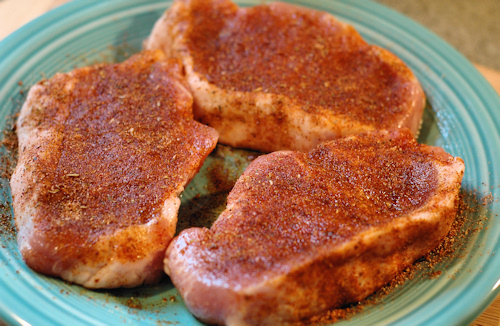 If pork sushi doesn't grab you, how is this? A little better?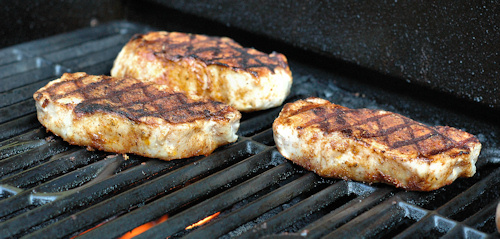 Okay – have to run – I hear a pork chop calling my name! I hope you give this a try – let me know it turns out, okay?