This recipe was born out of laziness.  We love enchiladas, but I don't love rolling them so much.  I do make them occasionaly, but I am more likely to wimp out and do it this way.  And that is not a bad thing, because this is delicious.  This will serve 5 or 6 people and the dish pictured is a Classic Corning Ware 10 inch square casserole.  It was a wedding gift, which makes it over 30 years old.  I don't know if they even sell these anymore., but you can use any flat casserole dish, though if you use a bigger one, you may want to increase the ingredients a bit. 
I measured the ingredients for you when I made this for today, but this is a quintessential "little of this, little of that" recipe. Feel free to adjust the ingredients however you like. 
Start by lightly toasting a 12 count package of soft corn tortillas over a gas flame.  You can skip this step, and if you have an electric stove, I guess you would have to, because I think they would burn.  You could use a gas grill if you have one and you want to go to the trouble.  In any case, this just helps keep the tortillas from getting soggy.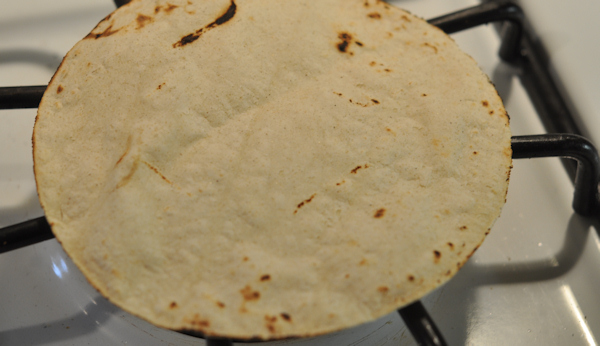 Coat the bottom of the casserole dish with about a tablespoon of olive oil, and layer in half of the tortillas, cutting some so they fit into the edges and ovelapping if needed to fit them all in.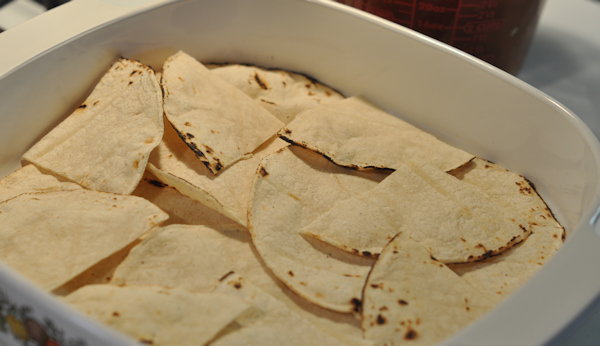 This is two medium chicken breasts. You can dust them liberally with salt, pepper, garlic powder and chili powder, or use a rub like this one. Saute them in a bit of olive oil, until the outsides are nicely caramelized – about 4 minutes per side probably. They should still be somewhat raw in the middle. Slice against the grain into approximately 1/2 inch wide strips. Spread these in an even layer over the tortillas.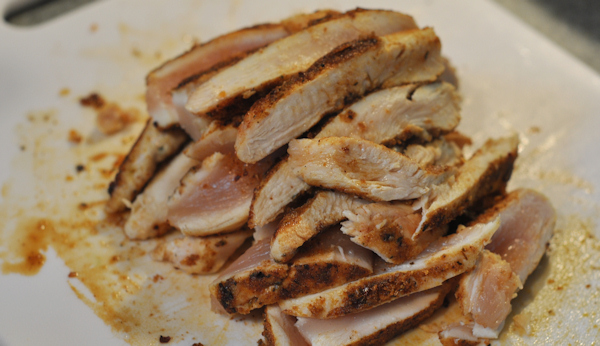 Drain and rinse a 15 ounce can of black beans, and spread evenly over the chicken.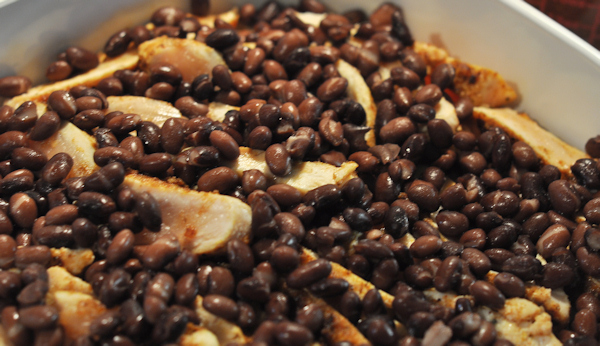 Slice a medium onion into thin strips, and do likewise with a medium green or red sweet pepper, or a combination of colors. Layer those evenly over the chicken. Sprinkle that layer lightly with salt and pepper.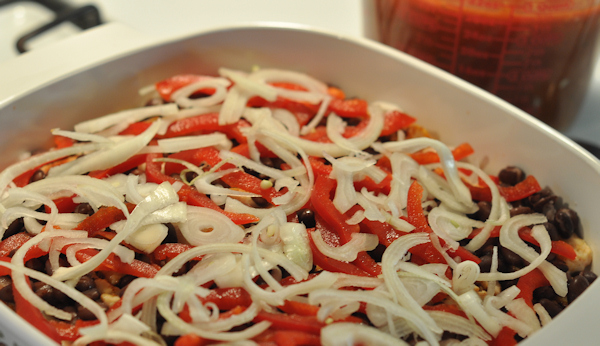 For this next step, you are going to need enchilada sauce. If you like, you can simply use the canned stuff from the store. I keep a few cans of that around most of the time, but I am more likely to make my own approximation of enchilada sauce. This is 4 cups of my own tomato sauce , along with 3 or 4 big garlic cloves, smashed, a couple seeded and roughly chopped jalapenos, a tablespoon of cumin, 1/2 teaspoon oregano, 1 & 1/2 teaspoons of chipotle chili powder [regular chili powder is fine, but I would use more of it] and 1 teaspoon of smoked paprika. The juice of half a lime would be nice in there, if you have it. Run it through the blender or food processor, or use an immersion blender until it is pretty smooth.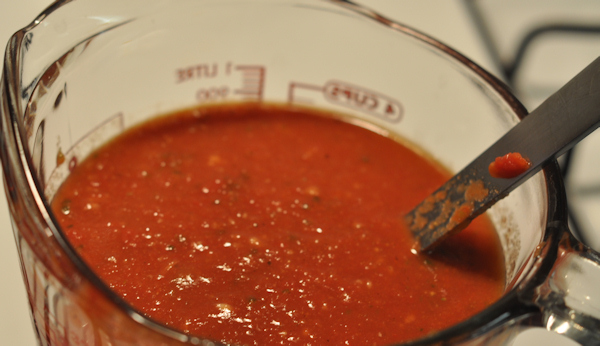 Grate about 5 or 6 ounces of cheese – I like a combo of extra sharp cheddar and colby – and spread in an even layer. Spoon about 1 cup of the enchilada sauce over the cheese.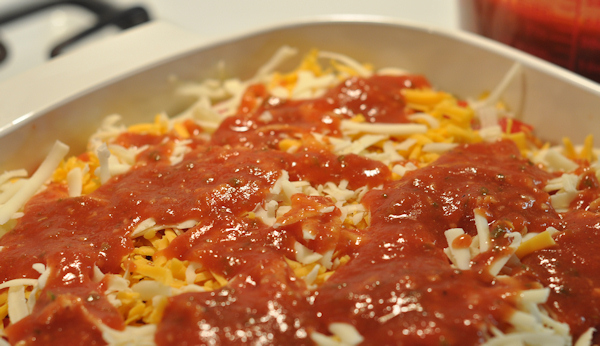 Cover that with the remaining six tortillas and press down lightly to compact everything a bit. Slowly spread the remaining 3 cups of sauce over the top, giving it a bit of time to seep down through the tortillas a little.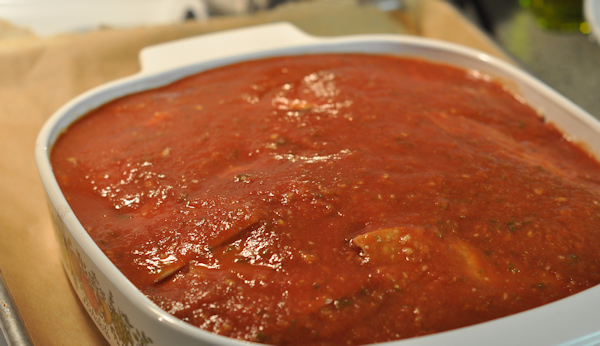 Bake in a 350º for about 45 minutes. Remove from the oven, cover and let sit for 5 to 10 minutes – don't skip this step, because it makes all the difference in getting this out of the pan neatly. If you like, you can scatter another ounce or so of grated cheese over the top, so that it melts while sitting. Cut in squares and serve with the toppings of your choice – here I just used sour cream and cheese, but chopped green onion, black olive, avocado, shredded romaine and salsa all make nice additions.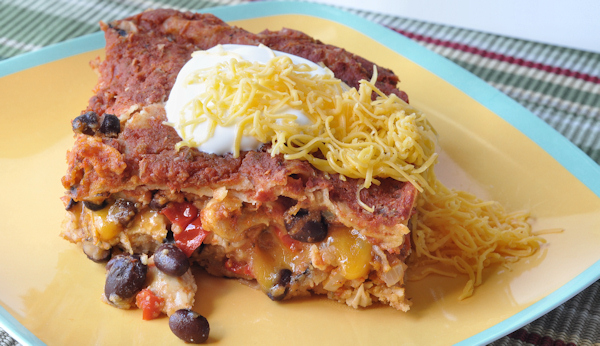 Go ahead and make some – you know you want to!