This is another winter squash recipe that is a favorite here. It's simple, rich and satisfying.
Remember this?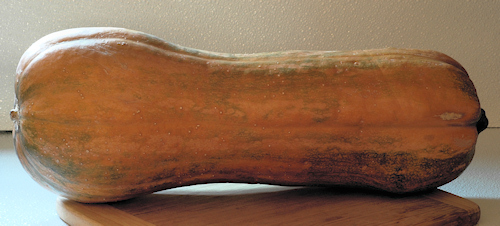 We saw it just a few days ago here. This squash, which weighed 14 lbs made a very tasty soup, but that still left quite a lot of squash that needed a purpose in life.
Roasting a winter squash with the skin on is great for any recipe where you are going to scoop out the cooked squash and squish it up somehow or other. But for this recipe, I peeled the squash and roasted it in cubes, which results in something very different. You would not want to use an acorn or other heavily textured squash for this – a butternut – or this "Argonaut" – is perfect, because it has an entirely smooth exterior – very easy to peel.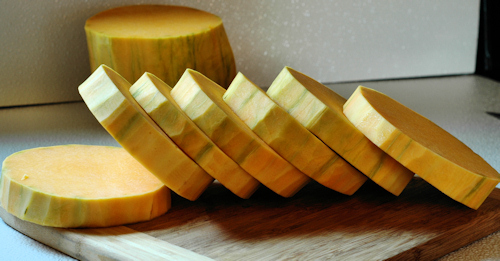 Cut into evenly sized cubes – these are around an inch on each side.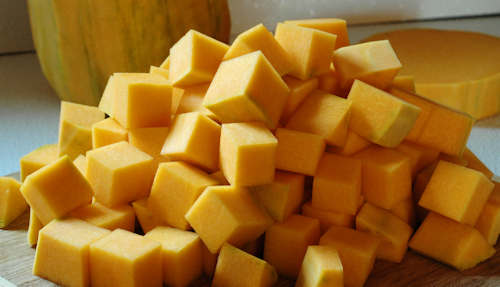 Arrange in a single layer on a heavy cooking sheet. As always – I love my parchment paper which keeps things from sticking and makes clean up easy. You can roast on the bare sheet, which has been oiled well first or on foil. Drizzle generously with good quality olive oil and sprinkle with some kosher saul and freshly cracked pepper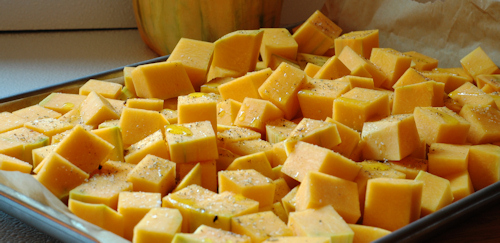 Roast at 350 degrees for around 45 minutes, stirring once or twice to get it browned evenly. It should be getting pretty soft, but not totally done at this point, so check after 30 minutes just in case your particular squash is cooking a little faster. Then is is time for the real heat.
Remember my post back in June about spicy rubs and how to make your own? That rub is perfect for this squash – it has lots of heat, a little sweetness from a bit of brown sugar and a touch of garlic and onion to round it out.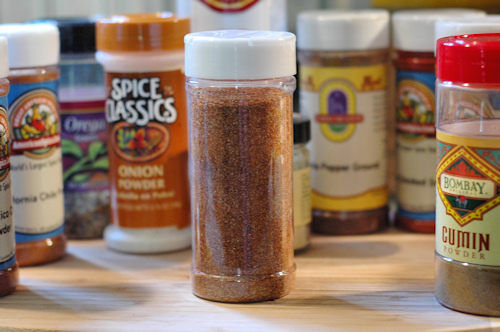 I wish I could show you a photo of the rub being sprinkled on and the dots of butter I added at the same time, but alas, for some reason I did not take those photos. Trust me – take a couple tablespoons of butter and stir it gently around the squash cubes. Then sprinkle as generously as you like with the rub, or just a combination of chili, garlic and onion powders. Lower the heat to about 250 degrees and let it roast another half hour to 45 minutes. Make sure it is now nicely soft all the way through and gently scoop it into a serving dish.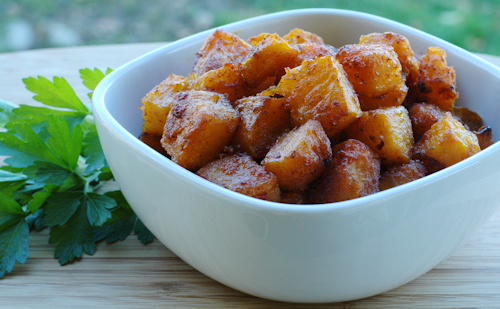 It may not be heaven exactly, but it is in the same neighborhood.
Adding a note later: Coasting around food blogs today, I ran across a recipe for some ribs that look like they would go very nicely with Chili Roasted Squash – go check out The Hungry Mouse.