On Tuesday, when I posted an easy recipe for Guacamole, I promised this recipe.  It's one of those things I threw together on a busy night and has since become a regular item on our menu.  It's even company-worthy!  And, just like the Guacamole itself, it could not be easier.
To prepare the chicken, trim and then gently pound boneless breasts to an even thickness.  Drizzle lightly with olive oil and spread evenly.  Coat all surfaces with a nice spicy rub – like this one maybe.  There are plenty of premade rubs of course – just make sure you pick one that has a lot of heat.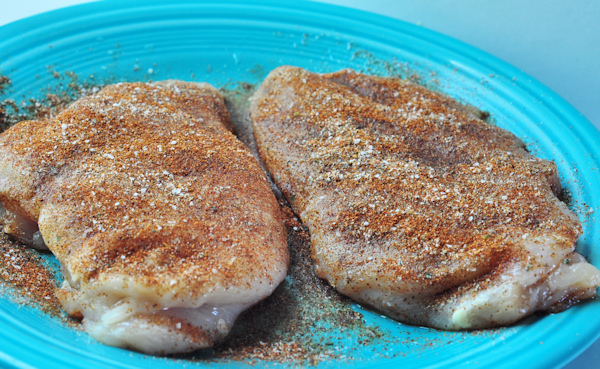 If you are pressed for time, you can cook the chicken right away, but it benefits by sitting for a bit – it gives the rub ingredients time to really bloom in the oil.
How you cook it is up to you. It is really good grilled, and we usually do it that way, but you can also heat a tablespoon or two of olive oil in a saute pan, and saute the chicken. Either way, take care not to overcook them, because boneless chicken breasts have very little fat, and dry out easily. I think the latest recommendation is to cook them to an internal temperature of 165º. I admit we flirt with disaster all the time and I am sure we don't get it that high. Myself, I would rather be dead than eat dried out chicken. We are a lot more careful if we are feeding company, and especially the grandkids.
When the chicken is done, remove each breast to the individual plates and sprinkle each with a couple tablespoons of grated sharp cheese. Follow that with a nice generous amount of guacamole. Serve with sour cream on the side, to be added to taste, along with some slivered scallions and whatever other toppings you like. Chopped lettuce, tomatoes, black olives and salsa are all nice. We had a huge tossed salad [like this one] to go with it.  Black Beans and Rice would be a good side too.
It is pure bliss, no matter what you put with it.