It is so easy to grab some Zatarain's or Goya when it comes to things like this. And frankly, those boxed mixes are not bad. I never left them alone though – always had to add a little [or a lot of] something. A few years ago, I decided to see if I could come up with a fairly easy way to do this; a way to get rid of all the junk in the mixes, but not have to spend half a day on a simple side dish. This is the result – a few pantry ingredients brought together in a hurry and left to simmer for a half hour or so, while you do something else.
I keep pantry ingredients like these on hand all the time. They are staples that I like to be able to grab at the last minute when I am throwing something new together, as well as being a part of some of our favorite tried and true meals. And I never let myself run out of garlic, onions, peppers or celery. So, lets do this thing.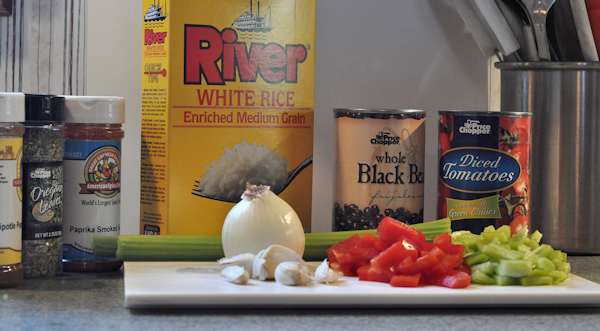 Heat two tablespoons olive oil in a good sized saute pan, for which you have a lid. Saute, over medium heat
1 medium sweet pepper, green or red or a combo, diced
1/2 large onion, diced
3 medium stalks celery, diced
a couple sprinkles of kosher salt
The heat is a bit higher than it would be if we were just sweating the vegetables – you can get a little of color on these. Then, add chopped garlic. How much is up to you – I think I put about 4 big cloves in here. We never have to worry about vampires. Mosquitoes don't bite us either. In any case, don't let the garlic get browned, because it will get bitter – just let it go a minute or two.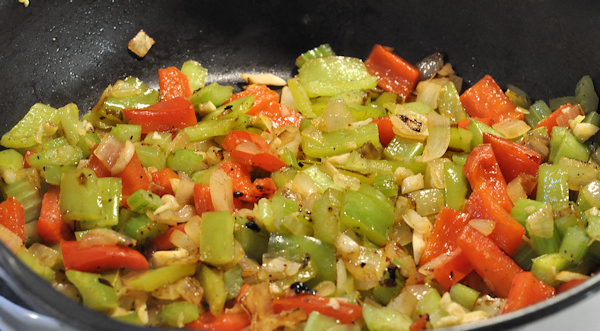 To this, stir in
1 15 oz. can of stewed tomatoes with chilies*
1 15 oz. can black beans, drained and rinsed
3/4 cup long grain white rice
1 & 1/3 cups water
1/2 teaspoon kosher salt
few grinds of black pepper
1/2 teaspoon dried oregano
1/2 teaspoon chipotle chili powder** [any chili powder will work]
1 teaspoon smoked paprika
1 teaspoon ground cumin
1/2 teaspoon dried cilantro or parsely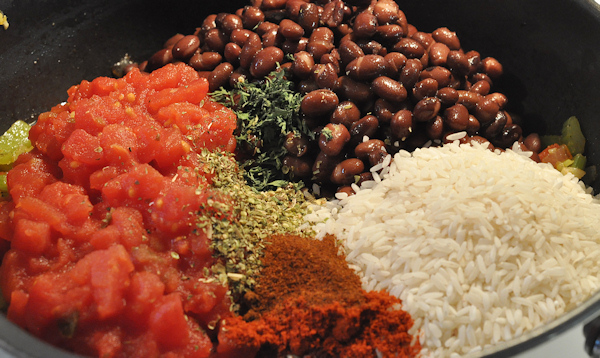 * You can use Rotel®, but the cans are smaller. I prefer the store brands and I think maybe Hunts might have them in 15 ounce cans now. **If you are making this for kids, or other wimpy souls, you might want to leave out the chili powder the first time you make it, to check the heat level. If you use chipotle chili powder, remember that it is usually hotter than other chili powders.
Cover the pan, and simmer over low heat for about 25 minutes, stirring occasionally and adding a little more water if it gets too dry. It is done when the rice is done. Taste and add more salt if needed.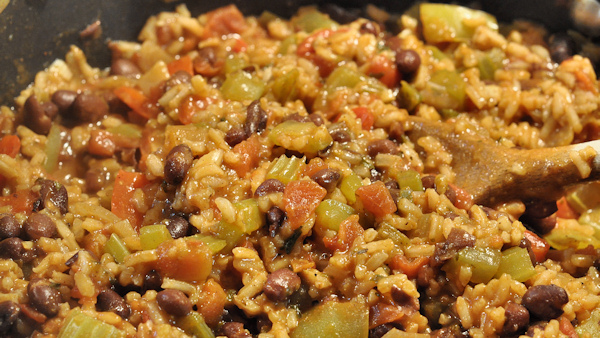 This is great with pork chops, burgers or like this, with chicken breasts, sauteed with a little spicy stuff on them, topped with cheddar cheese for the last couple minutes of cooking.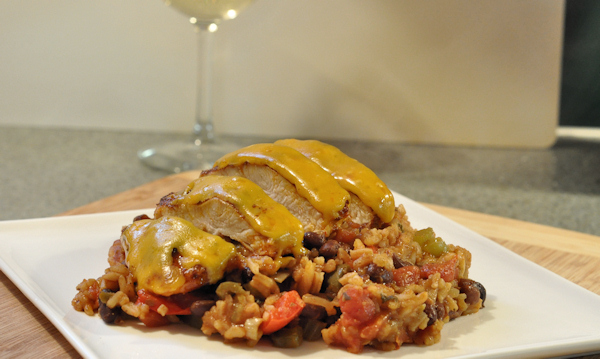 There you go – only a little more trouble than emptying a packet, but a whole lot better. Pour yourself a nice glass of wine to enjoy while you are chopping and sauteing and stirring – life will start to look better right away!