I know, I know – you want to tell me to step away from the feta, try another tangy, crumbly, rich cheese for once. Maybe next month. In the meantime, we are going to have some more feta and we are going to drown it in some of my other favorite things, like sour cream and garlic. I was in a bit of hurry when making this dressing since going to work sometimes interferes with blogging, thus only a couple of photos. This is the easiest dressing ever though, so more photos aren't really necessary. We have the two biggies – what to put in it and what to put it on, so we should be fine.
Ingredients:
1 large or two smaller garlic cloves
3 tablespoons vinegar, preferably white wine vinegar
3 tablespoons milk or half and half
1/2 cup plain yogurt
1/2 cup mayonaise
1/2 cup sour cream
1 teaspoon salt
1/2 teaspoon freshly cracked black pepper
6-7 sprigs flat leaf parsely
1 tablespoon fresh oregano leaves
1/2 cup crumbled feta cheese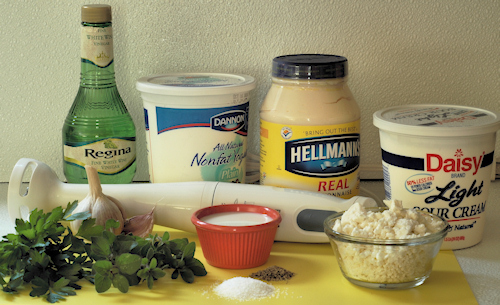 I use my immersion blender for this – quick and easy. You can use a food processor or even blend by hand. Give the garlic a couple quick chops and put in a container with high sides – I use a large yogurt container usually. Add the vinegar and milk or cream and zap until the garlic is more or less liquified. Add everything else, except the feta cheese and run through it maybe 10 – 15 times with the hand blender until it's all uniform and the herbs are minced. Add the feta cheese and give it 3 or 4 zaps to mix and break up any larger pieces and you are done. Keep refrigerated of course. I try to make it early in the day to give the flavors some time to really develop and blend.
Then, do this: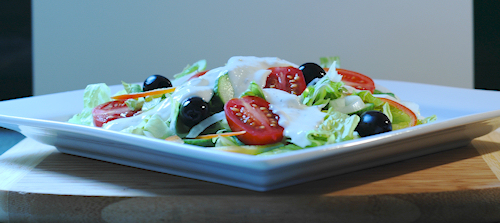 Trust me – you will not be sorry. Enjoy!