Seriously – it's official!  If you follow me on Twitter, you might remember me mentioning that my hometown – Owego NY, was one the towns chosen by Budget Travel as one of the coolest small towns in America and last week, it was announced as the winner!  CBS has a video on their site of the announcement and the Binghamton Press and the Owego Pennysaver both have stories about the win. In the CBS video, you will here mention made of the old jailhouse that has been turned into a restaurant, project that was conceived and brought to life by one of Larry's cousins. He doesn't own it anymore, but they haven't changed the great job he did of repurposing a building a lot of people thought would never be used again.  
I don't live in Owego anymore, but I am not far away and I still go there pretty frequently for groceries, or when I run out of birdseed or peat moss.  It was a great place to grow up and remains a pretty little town of old buildings that have been preserved or restored.  
Last week, I had to go there for errands, so I took my camera along.   I didn't have time to walk around town, so I decided to go for the big picture instead.  I drove up to "Cemetery Hill" [actually known as Evergreen Cemetery], a favorite hangout spot of mine since childhood.  I know I am not alone in my fondness for cemeteries, but some people do find it odd that I enjoy them so much.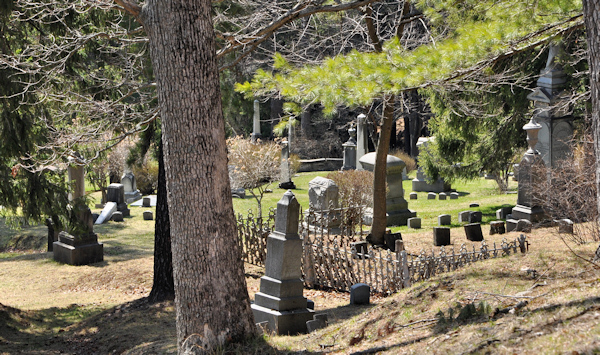 This one is particularly wonderful, in that it has twisting roads climbing the side of a pretty steep hill, with the cemetery wrapping around it.  They didn't level it off or change the natural formation of the hill very much, but just situated graves where they would fit.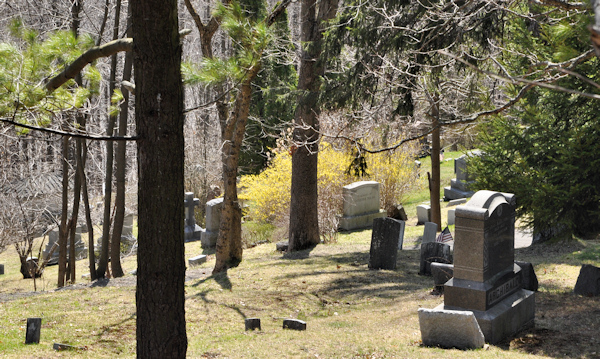 I hadn't been there in some time, so I was glad to see that it wasn't an old memory that didn't stand up well on reexamination – it is still just as wonderful as I remembered.  You can see glimpses of the town through the trees.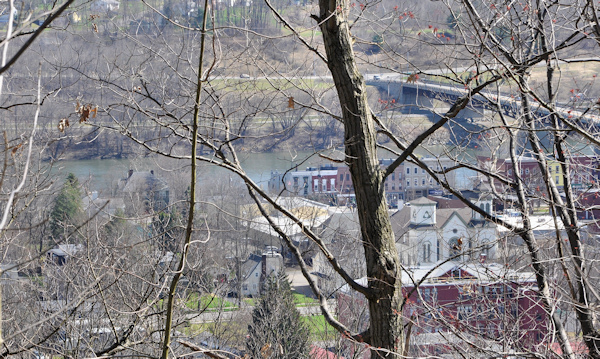 At the topmost spot, is the monument to a young Indian woman, who was killed in a train wreck. There is an interesting page, explaining how she came to be buried in Owego here .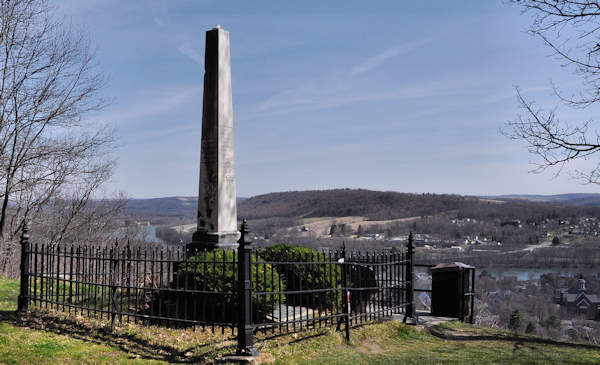 From there, you can see the whole town: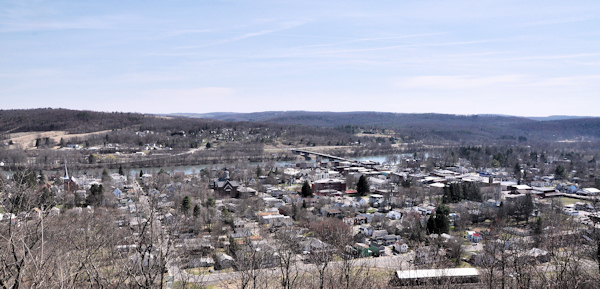 And in this photo, the arrow indicates a particularly historic spot.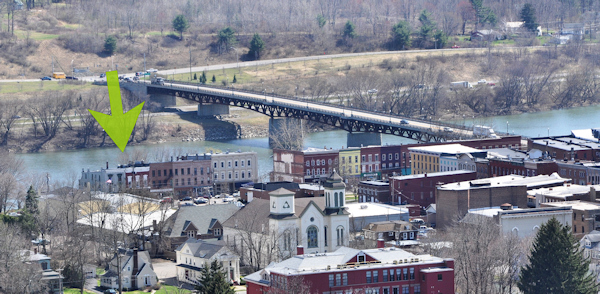 In that building is the bar where on a fateful night, many long years ago, Larry and I met. The town has erected a small, tasteful marker out in front, to commemorate this auspicious event.*
It was a great place to grow up and I still love it. All of this has made me curious, though. So, in the comments, leave us a little blurb about where you grew up and how far away from that place do you live now?
*you know I'm kidding, right?