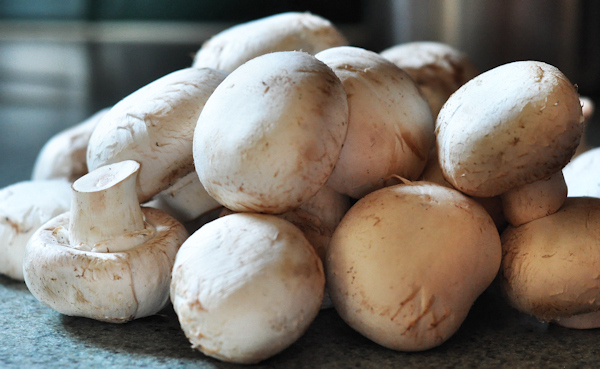 I like fancy mushrooms – morels, oysters, shiitakes, portobellos. All delicious and we eat them often. But white button mushrooms have their place too – like for these stuffed mushrooms.
I just realized that I didn't take a single note when I made these. That is ok though. First, we have the photos and I was pretty meticulous about catching all the ingredients. Second, there aren't really hard and fast amounts. A little of this, a little of that. It's how I cook 98% of the time anyway – I only measure for you guys. [I do measure for baking of course. usually.]
Start with a 24 ounce package of large whole white mushrooms. Brush gently to remove any dirt and ease the stems out of the caps. Place the caps opening side up on a rack placed on a heavy baking sheet. Roast at 350º for about 15 minutes.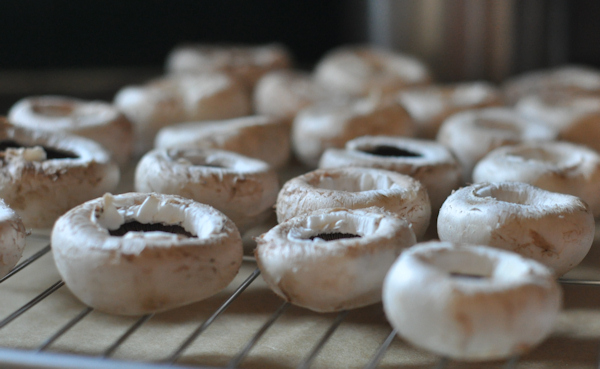 Meanwhile, chop the stems in a large dice.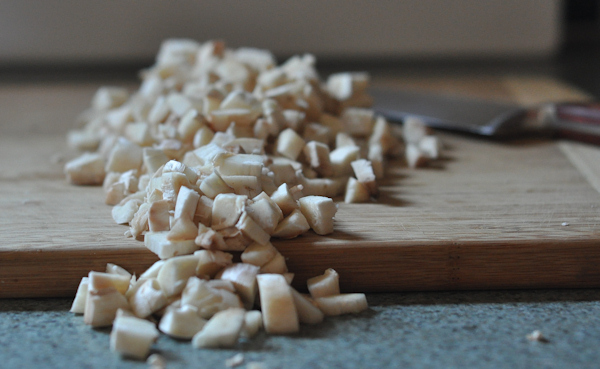 Chop 1/2 of a medium onion in a medium dice and place in a saute pan with about 3 tablespoons of butter.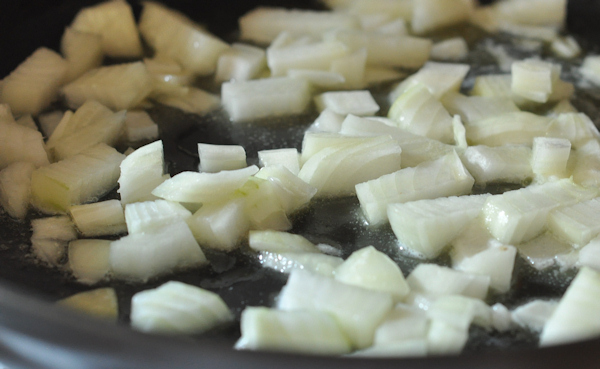 Saute for about 3 minutes over medium heat and and add the chopped stems, and 2 large cloves of garlic that have been minced. Sprinkle with about 1/2 teaspoon kosher salt and saute about 5 or 6 minutes, until the onions are pretty soft and just beginning to take on a bit of color.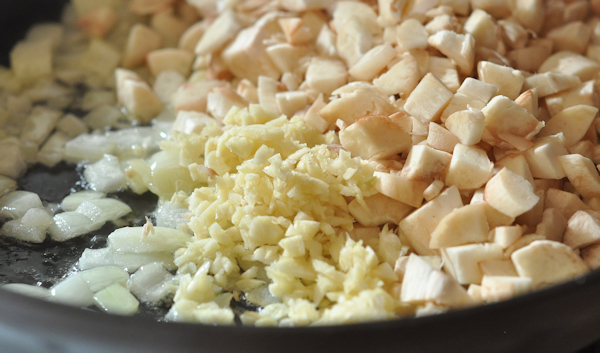 By then, it will be time to take the caps out of the oven. You may see a bit of liquid has accumulated inside, or this could happen as they sit for a minute, so turn them all upside down to drain out.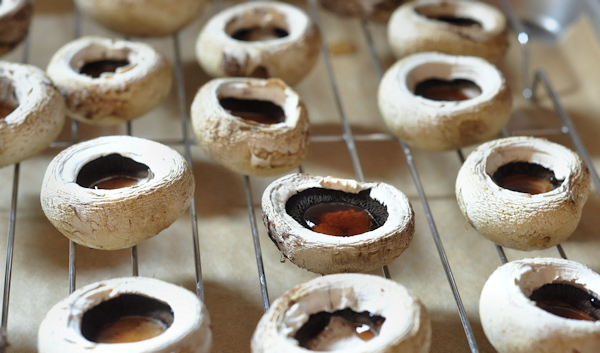 To the sauteed veggie stuff, add some herbs. My fresh herbs are gone now, with the exception of rosemary. So I used a generous sprig of rosemary, and about 1/2 teaspoon each thyme and oregano. This is truly a matter of taste – put in a bit, cook a minute or so add see how you like it. These three herbs go well together and they also go nicely withe feta cheese I used – we will get to that in a minute.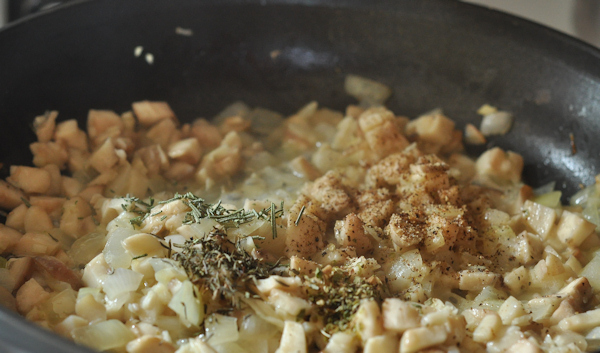 This is one heaping cup of fresh bread crumbs, made from some nice crusty rolls, zapped in the food processor – no Wonder Bread please!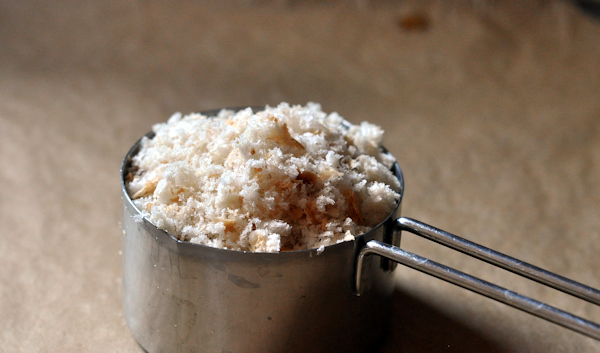 When the veggies look like this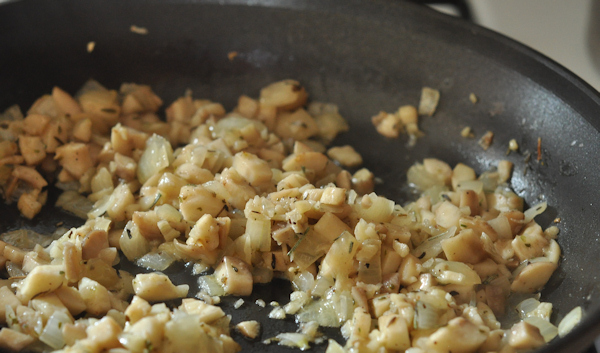 Add the bread crumbs and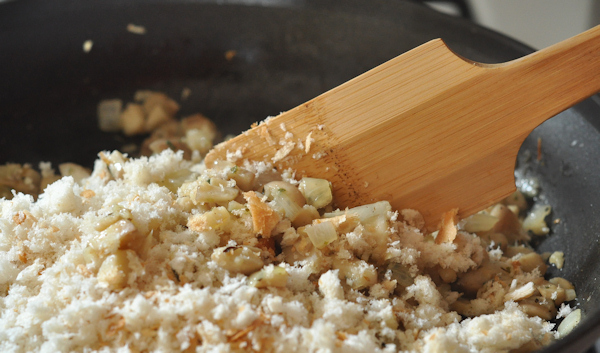 continue to saute until the crumbs are a little toasty.
This is 3 ounces of crumbled feta cheese – mix that in.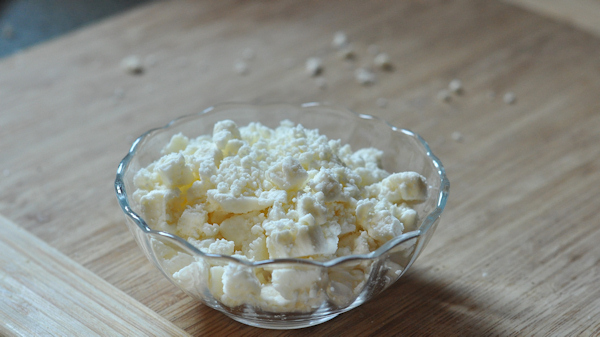 Use a teaspoon to fill the bottom part of each cap, then pack the tops full – I love a little disher like this one to get that done.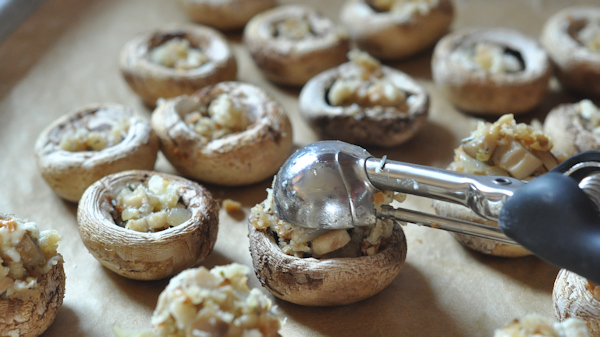 You may have to press down a bit on each one – this filling is a bit on the chunky side, so you need to make sure it's not going to be so tall that it falls off sideways. I used parchment paper on the sheet, but if you use a bare baking sheet, make sure you oil it so they don't stick.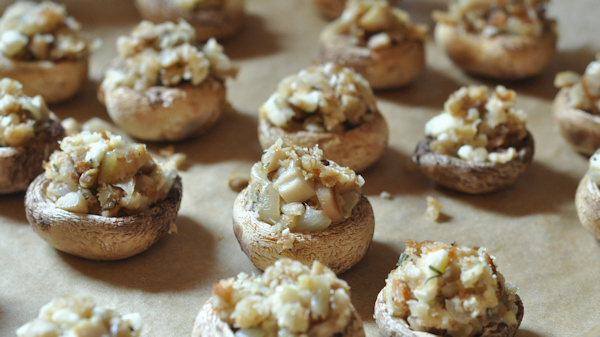 Bake at 350º for about 20 minutes, until the tops are nicely browned all over.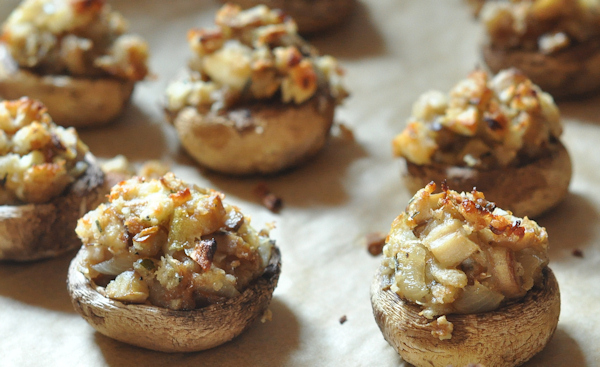 Serve hot, as an appetizer or a side. We had these with some grilled pork chops and roasted asparagus. They were fantastic – give them a try!