A few years ago, this photo was featured here on my blog.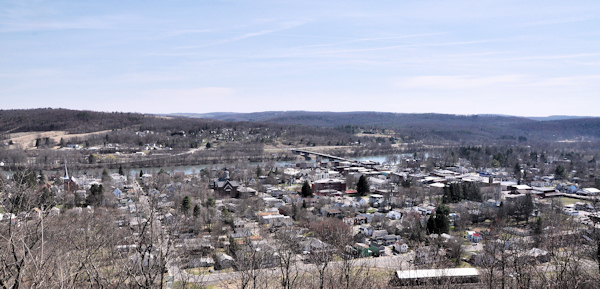 This is my hometown, Owego NY, and I went to town to take the photos on the post, to share and celebrate the fact that Owego had been voted "America's Coolest Small Town". Quite a distinction for the little place where I spent all of my childhood.
Tropical Storm Lee visited us this past week, and though we live where two creeks meet, we are on ground high enough to be fairly safe. It was nerve-wracking, spending Wednesday watching rushing water rise toward the banks only a few steps from our back door. That creek did spill over the bank the year before we moved here, and while the much larger sluice pipe that is there now would handle just about anything, we are never entirely comfortable when we get really large amounts of rain. But, as it has been for the last 28 years, all was well, as more than 7 inches of rain fell on ground already saturated from Hurricane Irene, only a few days before.
But, we knew that was not the case everywhere. Our power was out Thursday morning, but I kept track with my phone as it was obvious that the rivers and creeks in the area were causing huge problems for the towns around us. Living alongside a fairly major river, we have had floods here before, some quite serious, but this time, areas that had never before been in danger were completely overwhelmed. My hometown is devastated. I borrowed this photo from the website of the local newspaper, and it shows Owego this past Thursday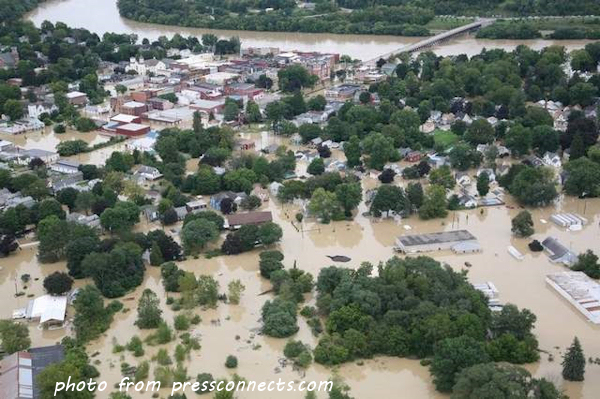 Nearly 90% of the village was under water, and even today, all of the water has not yet receded. I know the people who are just beginning to deal with the aftermath of this disaster would appreciate prayers from those so inclined, and you can donate to the Red Cross, which will help not only my area but areas in other parts of the country affected by both storms, as well as the fires in Texas and other states.
America's Coolest Small Town, as well as the towns in the surrounding area, will take a lot of work, but coolness doesn't just go away – it will be back.