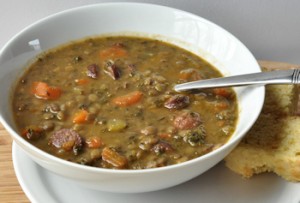 This is not the first Lentil Soup recipe I have blogged. Nope – I am a lentil addict, so one soup is not enough for me. Back in January, I blogged this lentil soup. And while lentils do have a nice, even distinctive flavor, it is a background flavor and you end up with very different tasting soups, depending on what else you add. This soup gets its unique flavors from kale and sausage, a combination you find often in Italian cooking, and one that is paired for a very good reason – they are delicious together. I used some smoked bratwurst, but any sausage, from keilbasi to a spicy Italian sausage will be good. And if you haven't cooked with kale before, just make sure you choose leaves that are bright green, with no yellow. You will need to rinse it, just to be sure there is no grit, but unlike some other green, kale is clean already, and it is easy to wash.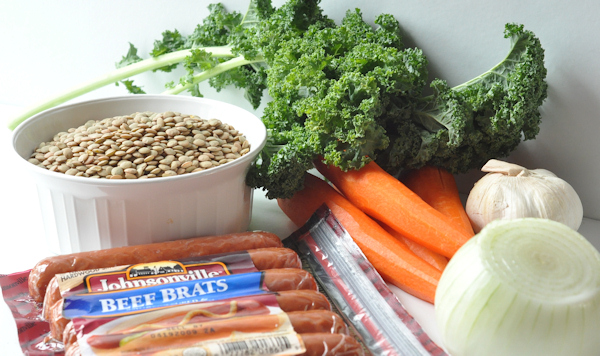 Heat a couple tablespoons of olive oil in a 5 quart soup pot or dutch oven.
Peel a large onion and cut in a medium dice.
Cut 2 large ribs of celery in a large dice.
Peel 3 large carrots, cut in half lenghtwise and then cut in slices
2 teaspoons kosher salt
8-10 grinds pepper [1/2 teaspoon, ground]
Add to pot and stir to combine – keep heat at medium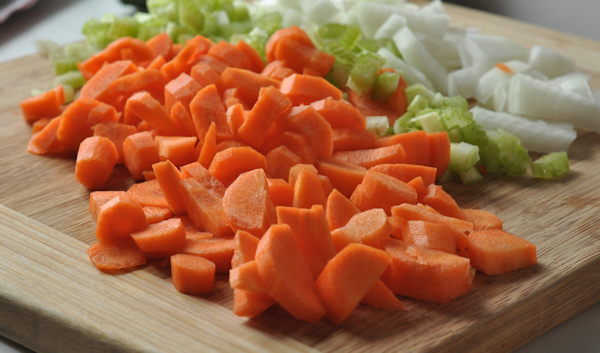 Slice the sausage into rounds, about 1/4 inch thick. If using keilbasi, cut in half lengthwise before slicing. For a completely raw sausage, like Italian, I would brown the links before adding the veggies to the pot, and then slice it, or just remove from the casings and cook with the veg. In any case, add the sausage to the pot, and stir.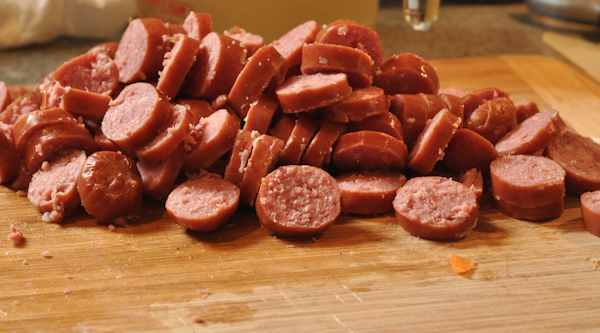 Remove the ribs from the kale, by sliding a sharp knife alongside and then chop the kale roughly, just making sure that you don't leave any long ribbons. If you don't have kale, you can use spinach, either fresh or frozen. Add to the pot and stir. Allow to saute for about 5 minutes.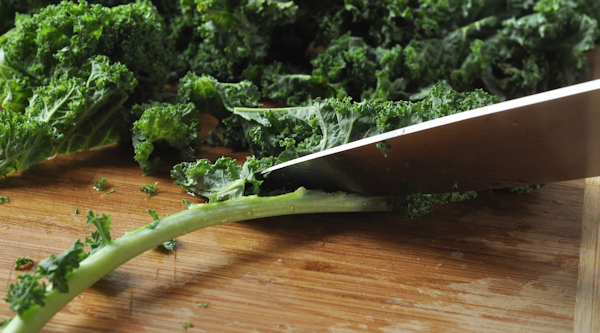 Then add
2 cups rinsed and picked over lentils
3 or 4 big cloves garlic, chopped
6 cups chicken stock or broth.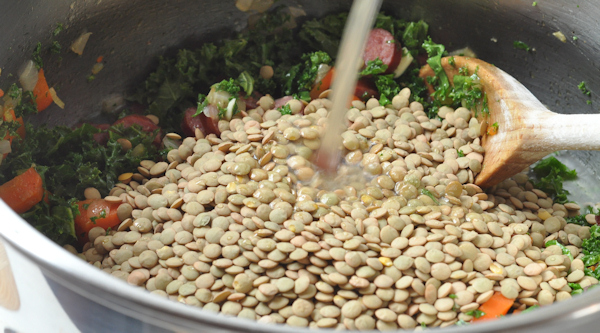 Stir all of that together well and add some seasonings. I used the following, but you can adjust it however you like
2 tablespoons cumin
1 teaspoon smoked paprika
1 teaspoon chipotle chili powder
1 teaspoon dried oregano
3 bay leaves
Mix together and taste to see if it needs salt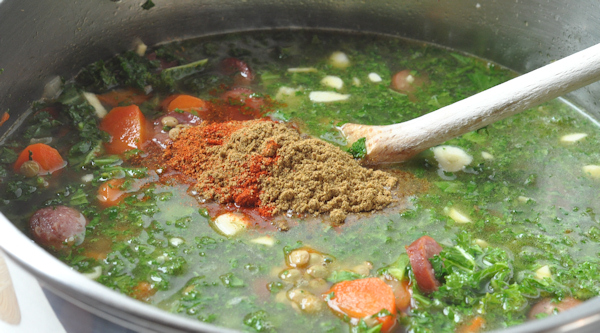 Simmer for about an hour or so, until the lentils are soft. I actually like to make this so it has time to sit off the heat for a couple hours, because the flavors will deepen on standing. If you are pushed for time, it is really good right away. Like many soups, it will be even better if you refrigerate it overnight and heat up again right before serving, but I don't usually manage to think that far ahead.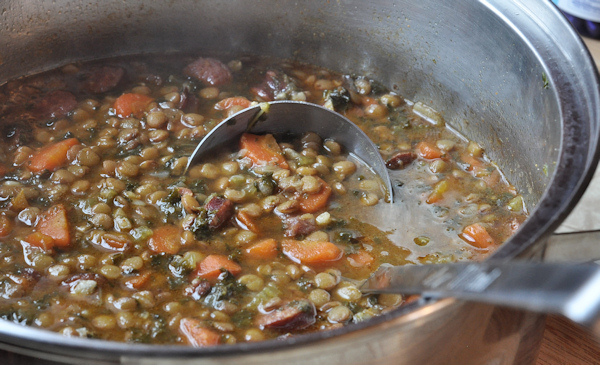 I like to serve it with crusty wheat bread or corn bread .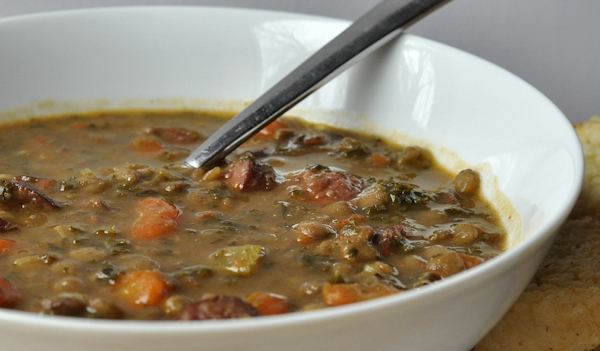 It's earthy and satisfying and you might want to make a double batch, because it's going to go fast!