The most difficult part of this recipe may very well be finding bulgur, though it is more available than it used to be in American grocery stores. It is made from wheat, and has already been cooked and then dried, so it only needs to be soaked in boiling water for a bit to make it edible. You might find it near the couscous in your store, or in the Middle Eastern section. It has a nutty, almost sweet flavor that is a great background for some of the stronger flavors going on in this salad.
There is a more traditional salad made from bulgur, called Tabouleh, but I wanted to incorporate more of the fresh vegetables from our garden, so my version of this is a little different.
Begin with the bulgur. Combine
1 cup bulgur wheat
1 cup boiling water
Let that sit for about 30 minutes. All of the water will prrobably be absorbed by then, but if not, then just drain off the excess.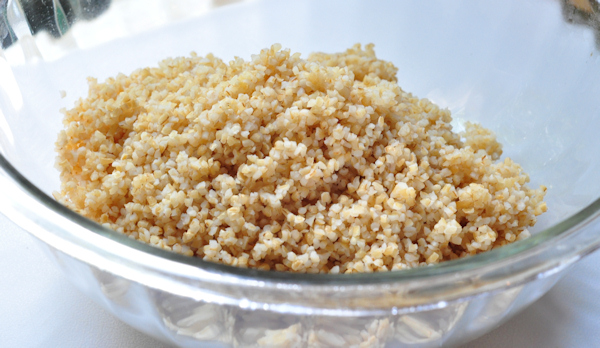 Next, make the dressing. Whisk together
Juice of 2 lemons
1/4 cup extra virgin olive oil
1 small garlic clove, mashed to a paste
1/2 teaspoon honey
10 grinds fresh pepper
1/2 teaspoon salt
Set that aside and chop the vegetables. This is what I used, but you can change it around to suit your own taste
1 cup shredded carrot
1/2 cup small yellow summer squash cut in matchstick pieces
1 cup chopped tomato
1 medium cucumber, diced
And then, the herbs. Use a combination of whatever appeals to you most. I chopped about 1/2 cup flat leaf parsely, and a couple tablespoons fresh Thai basil.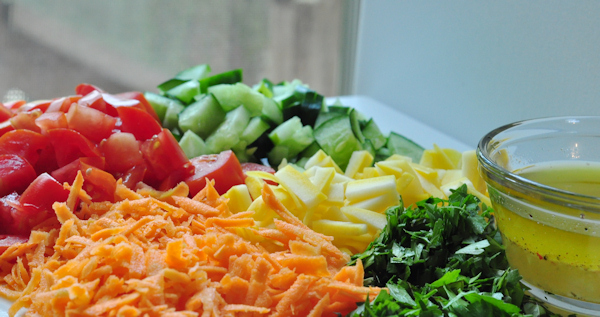 Add the dressing, vegetables and herbs to the bulgur and mix to combine. Allow it to sit at room tempurature for at least 30 minutes before serving. If you refrigerate the salad, bring it back to nearly room temp before serving, as too much cold will deaden some of the flavors.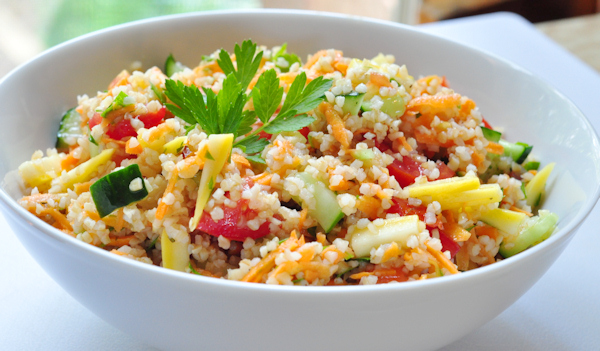 It is so light and refreshing. Great with grilled chicken or pork chops, or just by itself for lunch. However you serve it, it is going to make your mouth very happy!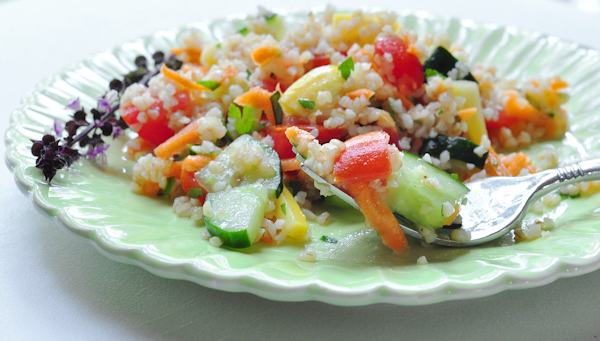 Some other salads you may enjoy:
Creamy Dill Cucumber Salad
Orzo Salad