My favorite grocery store is finally starting to get some really good produce in.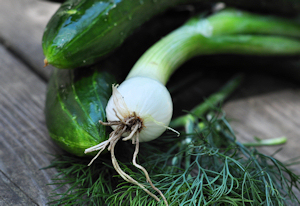 In the last week we have had snow peas, radishes, romaine, red leaf lettuce and broccoli.  The guy who runs the store is a rather nice looking fellow, even if he does favor somewhat odd looking costumes at times [cutoff shorts, old work boots with white socks and a straw cowboy hat] and he saves all his best stuff for me. You know who I mean, right? That guy I married? The guy who decided we needed another 100 square feet added to the already huge garden, but who ran out of room anyway? The one who will plague my life later in the summer with endless buckets of vegetables that need to be put up for next winter? Anyway, this past weekend, we got the first cucumbers – these lovely burpless, or English type cukes. So, I had to make our favorite cucumber salad.
This is one of my usual flexible recipes. You can expand it to feed more people and adjust the dressing components to suit your taste, but the basic ingredients are cucumbers, onion and fresh dill.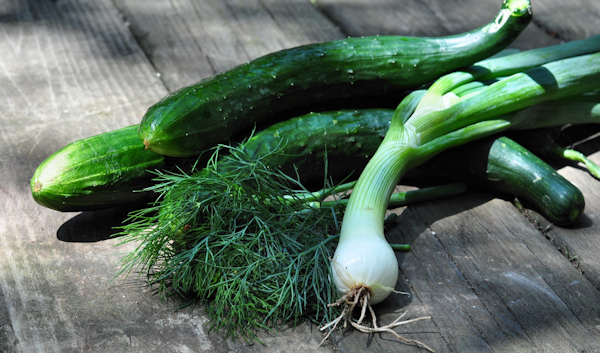 We'll start with the dressing – the amounts are approximations rather than hard and fast amounts.
1/2 cup sour cream
2 tablespoons mayonnaise
1/4 cup good cider vinegar [I like Braggs]
5 or 6 sprigs of dill – the ferny side shoots, coarsely chopped
2 teaspoons sugar
1 small garlic clove mashed to a paste
3/4 teaspoon kosher salt
About 10 grinds of pepper – 5 peppercorn blend here
Mix that all together in a medium sized mixing bowl.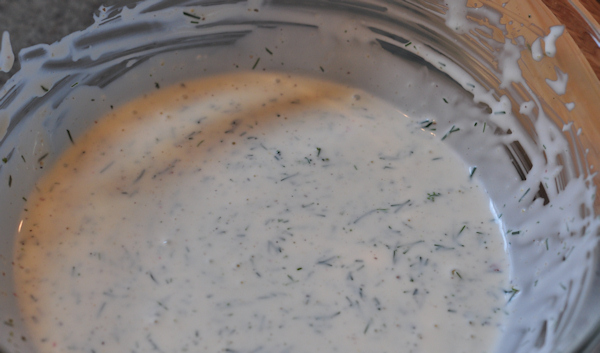 Wash 3 medium cucumbers, and cut into fairly thin slices. Cut 1 small spring onion [1/4 cup white or yellow regular onion – a sweet one like a Vidalia would be good] into thin strips, along with several inches of the green tops.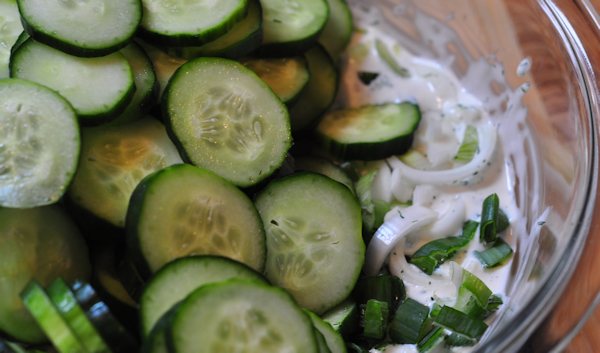 Stir gently into the dressing. Chill several hours to blend flavors. We actually like it even better the next day – the cukes really soak up the flavors from the dressing and wilt just a bit, which is very nice. To serve, put in a nice bowl and top with a bit more chopped green onion.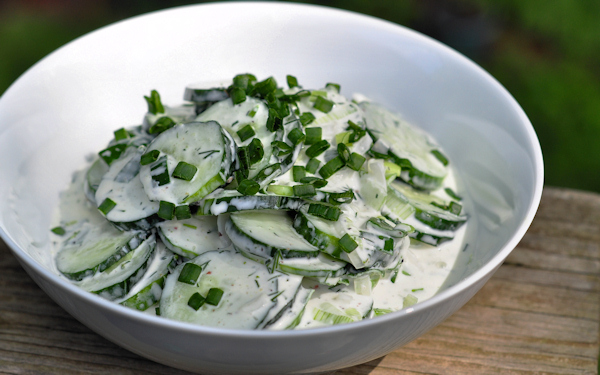 If you don't have a gigantic garden in your back yard, check out your local farmer's market or a roadside vegetable stand. You will get better, probably cheaper food and you'll be supporting your local economy a bit as well. Enjoy!