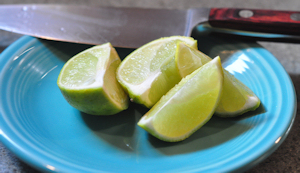 When I got home from Arizona, I found at my house 1 grand-dog named Daisy and a bag of limes. Limes? Limes and lemons actually. Grand-dog Daisy's people were going on a trip and thought that the citrus wouldn't last until their return. So now I have the responsibility of making sure a half dozen lemons and limes don't go to waste. Not a problem as it turns out. First – lemons? Our never ending addiction to hummus pretty much ensures no lemons ever go to waste around here.  And just to be on the safe side, I whipped up a batch of these.  
 Limes usually have me thinking Mexican though, so first I made a big batch of guacamole, because you can never have too much of that around, right?   I knew we were both working late last night, so I wanted something quick and easy for dinner – something that could be done partially ahead of time, and then finished up quickly.  Quesadillas seemed like a good idea and this particular recipe uses at least 1 lime – two if they aren't very juicy.  So, this is how I like to make them. 
Trim skinless, boneless chicken breasts and pat dry.  Drizzle very lightly with olive oil and spread the oil to coat all surfaces.  Sprinkle generously with a spicy rub or any mixture of spices that you like. I used this one, with some extra chipotle in it.  Chipotles are smoked jalapenos, and you often find them in the store, canned in adobo.  But they are also dried and ground into chili powder and they are one of my favorite flavors.  They have a bright, spicy smokiness that hits you immediately, but as is always the case with jalapenos, dies right back so that the next bite has the same punch as the first. 
Once the breasts are seasoned, you can let them sit for a bit, so that the rub flavors penetrate the chicken a bit.  Then, heat a couple tablespoons of oil in a saute pan and carefully add the chicken, skin side down first.  I keep the heat pretty high, because I like a nice blackened crust, but if that doesn't appeal to you, just pull the heat back a bit.  You can also grill the chicken, if you prefer, but it was raining when I made this, so I opted for the stove.  Turn the chicken after about 5 minutes and allow to take on a nice color on the other side too.  Then, quarter a lime and squeeze the juice over each piece of chicken.  I used 1 & 1/2 limes – probably 1/3 of a cup of lime juice total.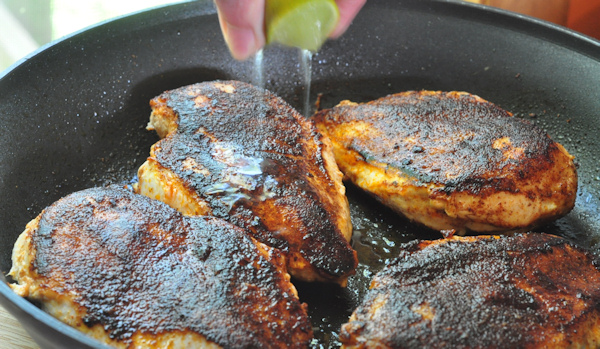 Keep cooking over high heat. Adding the lime is going to pull a bit of moisture from the chicken, so keep basting the top of the chicken with the pan juices, which will reduce down to a syrup – don't waste any! Remove to a plate and set aside. Slice into 1/2 inch strips while the vegetables are cooking.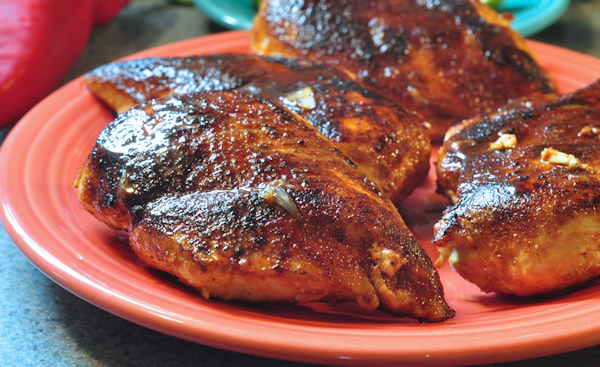 Cut some peppers and onions in substantial strips – I used 1 medium vidalia onion and 2 sweet red peppers. Add another couple tablespoons of oil to the saute pan and cook the onions and peppers for about 5 or 6 minutes – just till they begin to soften and take on a bit of color. You can throw a couple cloves of minced garlic in there for the last 2 minutes too. I usually sprinkle a bit of the rub I used on the chicken over them right before removing from the heat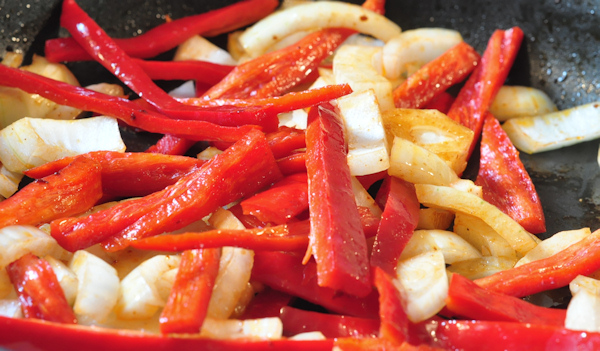 Then, assemble the quesadillas. I use a heavy sheet pan which holds two large tortillas. Line the pan with parchment if you like [and you know I always do!] Brush one side of the tortillas with about 1/2 teaspoon of oil each and lay the oiled side down on the parchment.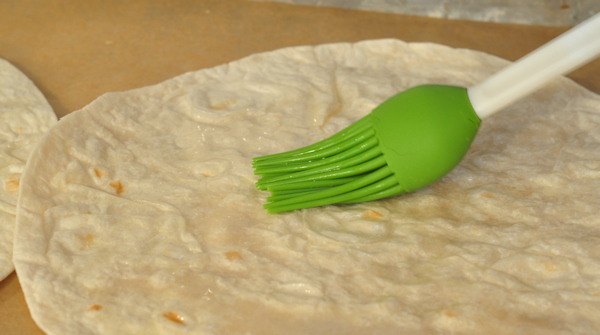 Then, layer on the other ingredients – grated cheese[this is a mixture of extra sharp cheddar and longhorn colby], followed by strips of chicken, followed by the onions and peppers, followed by more cheese. Don't overload them, or it will be too hard to get them turned over. I use about 1 ounce of cheese on each of them, 3 ounces of chicken and about 1/3 cup of the veggies.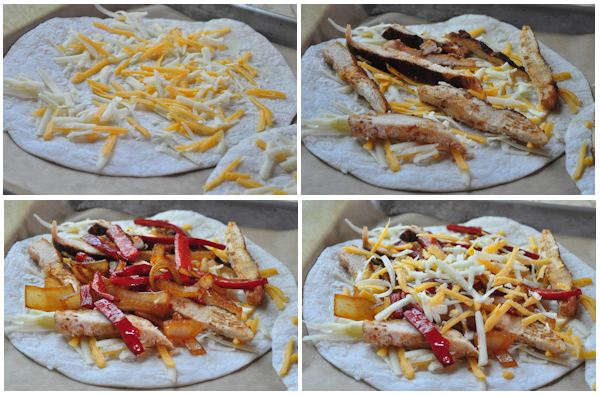 Top with another flour totilla and press down lightly to compact ingredients a bit. Brush top with more oil.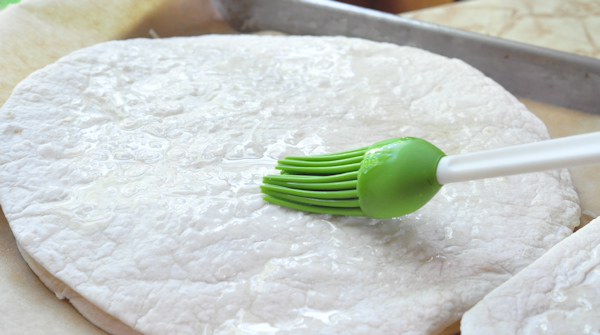 Bake in 400º for about 10 minutes, then carefully turn each quesadilla over and return to the oven for another 5 minutes. The tortillas should be nicely crisped and the cheese inside should be completely melted.
Cut each one in quarters and serve with some salsa, sour cream, and quacamole for dipping.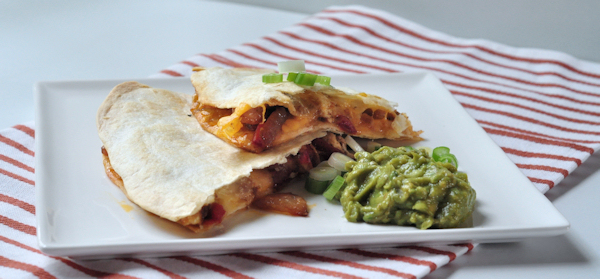 So good – and it has all your most important food groups – guacamole, jalapenos and cheese!