I always use lots of garlic in hummus, but sometimes I like to change it up a bit by roasting the garlic first. Roasted garlic has a depth and sweetness that you don't find in raw garlic and it is wonderful in this hummus.
Begin by cutting the top from a head of garlic- about 1/2 inch down or so. Scrunch a piece of aluminum foil around the head of garlic to hold it upright in the dish. Place in a small, oven-proof baking dish. You can do multiple heads at one time. Slowly pour about a tablespoon of olive oil over the top, allowing it to run down inside and between the cloves. Sprinkle with a bit of kosher salt and a few grinds of pepper.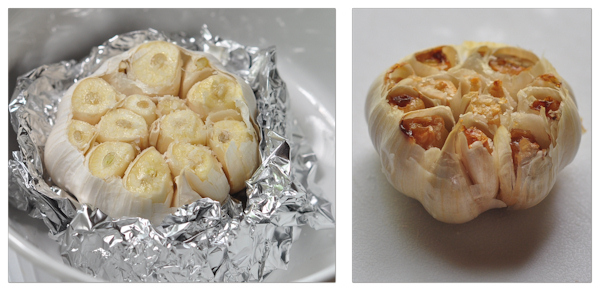 Roast at 325º until it takes on a nice golden color and the cloves are slightly shrunken inside the papery skins. It took about 20 minutes for this one, but the fresher the garlic, the longer it will take – just keep an eye on it. You can test it with a toothpick – it should be soft all the way inside. Allow it to cool and then peel off the skin – it will come off very easily – you can kind of squeeze the cloves out once you have them separated.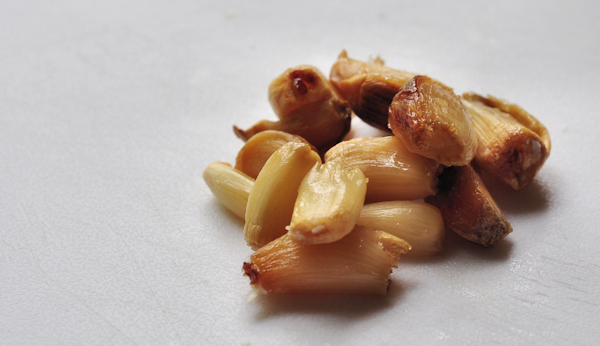 Now, on to the hummus!
In the bowl of your food processor, place
1 can of chick peas, liquid drained and reserved
2 tablespoons tahini [sesame seed paste – most grocery stores carry it now]
the juice of a whole lemon
2 to 4 roasted garlic cloves
1 tablespoon olive oil
1/2 teaspoon salt
5-6 grinds of pepper
1/4 cup of the reserved liquid from the chick peas
Cover and turn the processor on high. The longer you run it, the smoother it will become and how smooth it ends up is a matter of taste. I like it pretty smooth, but with just a little slight chunkiness from the chick peas. You may have to add a little more of the chick pea liquid to get it to the right consistency. For this batch, I ended up with 5 cloves of garlic, so taste it and add more if it's not garlicky enough for you. I mixed in 1/2 teaspoon of thyme at the end too.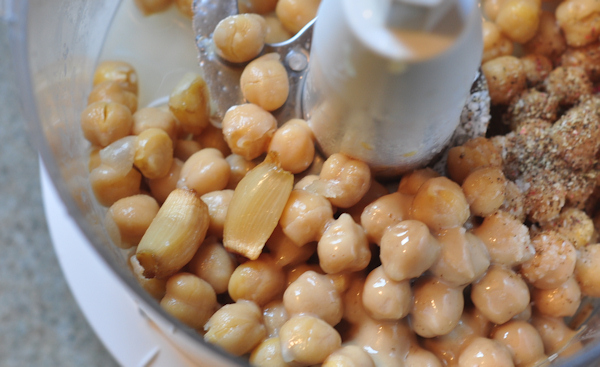 Remove from food processor and allow to sit at room tempurature for an hour or so, to really blend the flavors, or refigerate overnight. If I manage to remember, I like to serve it closer to room temp too, so I try to take it out of the fridge about an hour or so before we are going to eat it. It is great with cut up veggies, crackers or my Baked Pita Chips, which is today's bonus recipe.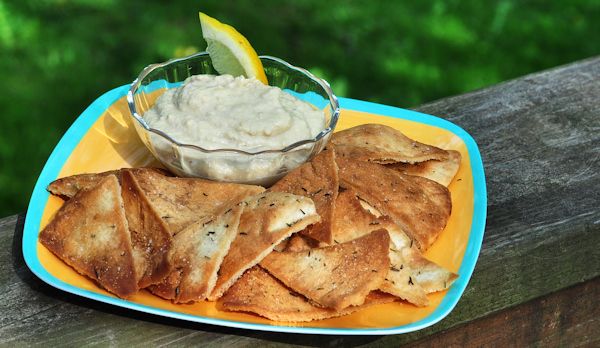 The perfect cocktail hour nosh!