I lead a charmed life.  No, really – I do!  I won this when Charlane did it, and then I won it again when Kate did it over the weekend.  And when I won Charlane's, it was because I saw it mentioned on Kate's blog.  And that was the second time I entered a giveaway I saw mentioned on Kate's blog.  She's like the rabbit's tail of blog giveaways for me!  Last week I won one of Fage yogurt's daily giveaways too.  Can the lottery be far behind?  Wait – I bet you actually have to buy lottery tickets to win that, don't you.
Did I tell you that a Pine Siskin ate out of my hand the other day?  It was the coolest thing.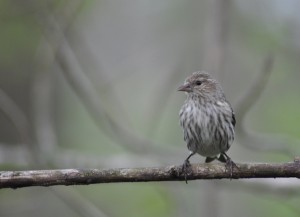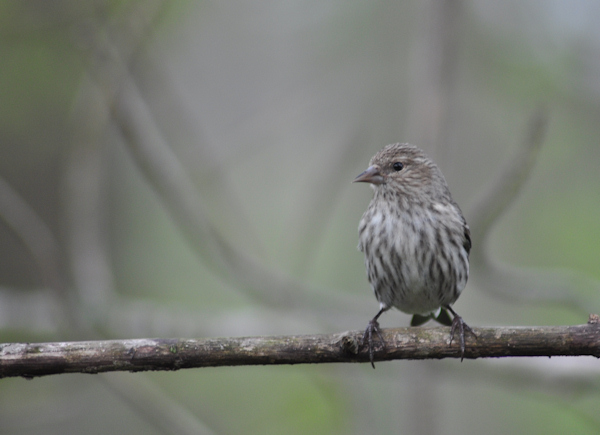 I was out by the finch feeder, weeding and he was just sitting there watching me.  I sprinkled a few niger seeds on my palm and he hopped right on my hand to eat them.  I think he heard I was putting Pine Siskins on my blog and he wanted to get in on the action.  Too bad for him that my camera was in the house.  Too bad for me too.
I have to go outside and get more containers planted today – I will have some pics of those probably.  Annuals and herbs and hanging baskets of begonias and impatiens and lobelia. 
I'm expanding my front garden too – an arduous taking-far-longer-than-I-had-anticipated task.  It keeps getting bigger as I go along, seemingly out of my control.  Aliens may be involved – not sure about that yet.
I will be back later with a recipe.  I think I will anyway.  Unless the aliens who are expanding my garden are the kidnapping-humans kind that they have out in Arkansas and Oklahoma.  Then I may not be back at all.
Make sure you look at yesterday's post and think about donating to one of the organizations supporting our troops and their families. That is going on until next Monday, but be sure to comment on that post if you participate, so that I can add to my own donation in your honor.
So – getting to this Pay it Forward giveaway.  If you want to play along, be sure to comment on this post.  You have to have a blog** in order to enter, because if you win, you have to agree to Pay it Forward yourself and give a gift to two
people who enter when you post the contest. That is the only stipulation. It doesn't have to be a huge prize – some of the best things come in small packages you know.  If you post about the giveaway on your blog, or mention it on Twitter or Facebook, you get an extra entry – just be sure to come back and comment again with the link to the mention.  The prize?  A nice print of any photo in my Flickraccount. [well – not my grandkids, but anything else]  It will be either a 5×7 or a 5×5, printed on acid free matte paper and mounted on 1/8inch foamboard – sent right to your door from the lab. I sprinkled a few of the photos in my Flickr account through this post, but you can choose any of the ones out there.  This will end at midnight Eastern time Thursday, winner chosen by random draw and announced Friday.
**And remember my Comment Love  monthly giveaway – every comment you make on any post gives you an additional entry – a little consolation prize for those who don't have blogs to do a Pay it Forward thing.