I like giving stuff away. It makes me happy. Something that doesn't make me happy lately is that I have just about zero time to respond to comments. I love connecting with my readers and feel badly about not getting back here everyday to respond to everyone. But, I want to show my appreciation; so – here is what we are going to do. Each month I am going to choose one photo to give away to a commenter. Completely random and anyone in the US and Canada can win. [my family just snivels waaay too much when I exclude them from a giveaway]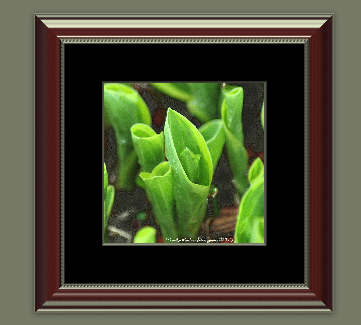 Every time you comment, you get another entry. [the only exception to that would be if someone puts in 10 gratuitous comments a day just for the entries – trust me, the winner is going to be a genuine commenter] Every comment, on any post, during the entire month of May means another entry. This giveaway will run through May 31st, with the winner, along with the prize for June, being anounced June 1st.
To get started, for the winning commenter during the month of May, is this one to the right. It's an 8×8 print of some hostas just coming up in my back garden last May. Matted in black with a mahogany frame [total size is about 12×12] – shipped straight from the lab I've been using. They do really nice work and ship very quickly. [If you are impatient, this same item is for sale, for $65.00, shipping included.]
So comment away! I can hardly wait to see who wins!