Like most people, I have had two Grandmothers. Unlike most people, both of mine lived into their nineties and even more unusual, one of them is still alive at 97. It would be difficult to find two people who had less in common than these two women.
For instance, one had underwear with legs and the other did not.
[have I mentioned that I use a tracking widget to see who has visited my blog and how they got here? and that one visitor last week arrived after doing a Google search on "old people in underwear? gives you something to think about doesn't it? it sure did me.]
But, I digress and that is not what I will remember the most about them. What will stick with me, with all of us, I am sure, are the expressions that they used. I think that an examination of their favorite sayings, reveals a lot about their personalities.
We also have some nice photos of them. I chose these particular ones because they were taken at around the same time, when they were both in their early 90s. I hope I look as good as either of them if I live that long.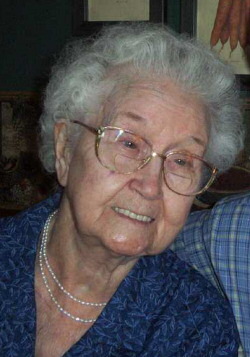 This is Grandma K, my Mom's mother.
[yes, the undies with legs – you people have to get over this obsession with underwear]
We grew up next door to her and Grandpa, so we saw her every day.
[if you want to see my Dad flinch, stick your head in their back door and yell "Yahootie!"]
She has two expressions that she threw about with abandon and I honestly have no idea exactly what either of them means. She was from Alabama though and I expect they have a lot of sayings there that are not common in Upstate NY.
"Moses in the Bullrushes!"
Say what? This was used as an exclamation of amazement. I am sure it is exactly what the Pharaoh's daughter said when she saw Moses for the first time. Since Grandma K was a Christian, referencing a pivotal moment in Biblical history is quite understandable.
But try this one on for size:
"Great Big Guns and Little Bittie Fishes!"
Again, this was an exclamation of amazement, perhaps employed when Biblical references did not have quite the strength of expression she was looking for. Not only do I have no idea what it means, she didn't either. I know because I asked her. "I don't know hon, it is just something that I say." If you tracked mud into her kitchen, you were likely to hear Grandma employ one of these two phrases. Something shocking on the news would elicit the same response. She probably said "Great big guns and little bittie fishes!" during the Bay of Pigs and "Moses in the bullrushes!" when men landed on the moon for the first time. She said MITBR if she burned the snickerdoodles and GBGALBF if one of us grandkids misbehaved.
We lost her in January of 2005 at the age of 93.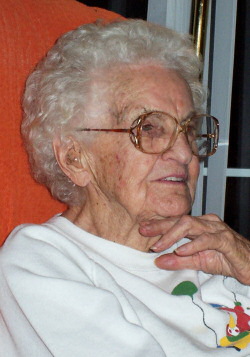 This is Grandma S, my Dad's mother.
She and Grandpa lived in California most of the time that I was growing up. Where Grandma K was an everyday fact of our lives, Grandma S seemed exotic and her and Grandpa's yearly appearance in our lives was exciting. She was a of a far saltier bent than our sweet little next-door Grandma. Her favorite sayings followed suit.
"You would kick if you was hung with a new rope."
This expression was employed just about any time anyone complained about something. It worked for everything from wanting more jelly on your peanut butter sandwich to the partial detachment of a limb. Grandma definitely held with a "no sniveling" policy.
Here is where I find myself wanting to employ some caution. The fact is, some of Grandma S's expressions were…….. kinda gross, if you thought about what they really meant. Which we, or at least I, never did. They just meant a certain thing, like "stop yer complaining" and we didn't consider the derivation. Cause, of course, if you are being hung, you are going to kick, no matter how old the rope is. Though if I were going to be hung, I would want a new rope. A green one please, with a lot of nice padding on it.
While Grandma K's expressions were incomprehensible, Grandma S's were all too understandable, once you thought about them.
So, throwing caution to the wind, here is her other favorite saying – "If you touch that, you are going to draw back a bloody stump!" This came in handy if you were sticking your little paws into something she was doing. It was said with humor and affection [really!], I am reasonably certain she never followed through with it, and I honestly never thought at all about what it really meant.
Until the day, many years ago, that I said it to Larry, in front of his Mom.
She was utterly horrified, and trust me, when this woman is horrified, she is not one to hold back. And I don't blame her one bit in this case. When she was a child, her father lost his hand in a corn chopper, so she had had some experience with a you-know-what.
Grandma S is 97, still lives in her own house next door to my aunt and uncle, and does all her own cooking and cleaning, though my uncle does mow her lawn now. I got to hear "You would kick if you was hung with a new rope" this past summer, but I will have to wait till I get to heaven to hear "Great big guns and little bittie fishes" again. Though I am a Grandma now and I might need a stray expression once in awhile myself.