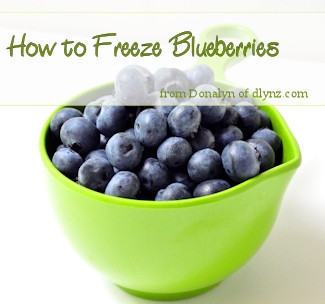 Like much of the country, it has been very dry here in the northeast. The vegetable garden is suffering a bit from the hot dry weather, but there is one thing that seems to be thriving, no doubt, due to the wetter spring we had. That is the blueberries. We have just a few bushes of our own, but on the farm that now belongs to Larry's siblings, there are about 20 bushes – all about thirty years old and absolutely huge. And this year, they are just loaded with berries. This hot weather has them ripening more rapidly than usual, so we have been enjoying them every day. There is just no way to eat or use up all of them before they spoil though, so I like to get plenty of them in the freezer to save for the winter months.
I love baking with frozen blueberries, because I think they actually taste better in baked goods than fresh ones do. Freezing the berries makes them just kind of melt when you bake them in a muffin, or cook them on the griddle in pancakes, giving you a huge boost, flavor-wise. I honestly can't think of a single recipe that uses blueberries for baking, that would not be able to use frozen berries. The best part is, there is nothing easier than freezing blueberries – no blanching, or other preparation is needed. There are just a couple of simple steps, and you will have something that will bring back the taste of summer all through the cold months.
To get started, pick over the berries, to make sure there are no spoiled ones in there, though they can even be a bit over-ripe and still be ok to use. If any of the stems are still intact, pull those off. Use a strainer, or colander and rinse the berries well.
Shake off the excess water, and pour them out on a large kitchen towel [I love these flour sacking towels, and use them for everything] and allow to dry completely.
Once they are dry, spread them in a single layer on a baking sheet that has been lined with parchment paper or plastic wrap, and place the sheet in the freezer for an hour or two, untill all of the berries are frozen completely solid.
Measure the frozen berries into packages that will be a convenient to use [I go with either 1 cup, or two cup packages]. I like to use my Foodsaver for berries, because they are prone to freezer burn, but I also used ziplock bags for years with great results.
Label and date the packages, and get them into the freezer again, for a most welcome addition to your wintertime baking.
So, there you have it – one of the fastest and easiest things you can do to get some of the abundance of summer put away for the winter!
And, just in case you need some ideas, click on the photo below to find some of my favorite ways to use blueberries – fresh OR frozen: