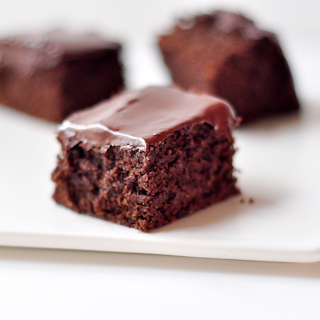 This is one of those "what would happen if I…" recipes. You know the kind – what if I put some of this into that, or why haven't I ever tried combining these two things, or how come you never see this thing served with that thing, or why is the sky blue, Mommy? sort of things. Maybe not that last part, I guess. This time of year, I welcome the return of fall flavors and warm spices. They make the house smell fantastic, and give everyone a nice cozy feeling that makes the end of nice summer weather easier to bear. Now, you know I love brownies – just search on brownies on this site and a dozen or so recipes for bars, blondies and brownies will pop up. I'm also insanely fond of gingerbread and other sweets with molasses. Combining the two was a no-brainer, and though it took a couple tries to get it just right, I think the result speaks for itself.
These can be mixed in a 2 or 3 quart saucepan, if you want to melt your butter on the stove, or in a glass bowl, if you want to melt the butter in the microwave. Either way, preheat the oven to 350, and generously butter an 8 by 8 pan, or similarly sized pan, setting it aside for a few minutes.
4 ounces butter
1/2 cup light brown sugar
1/3 cup molasses
1/2 cup baking cocoa
2 eggs
1 teaspoon vanilla
1 & 1/4 cups whole wheat flour
1 teaspoon baking soda
1/3 teaspoon baking powder
1/2 teaspoon salt
1 teaspoon ground cinnamon
1 teaspoon ground ginger
1/2 teaspoon allspice
1/2 cup dark chocolate chips
Melt the butter in a 2 or 3 quart saucepan on a low flame, or in a medium glass bowl in the microwave. When the butter is melted [remove from heat if using the stove], stir in the brown sugar and molasses, and then, the cocoa. I prefer a wooden spoon for this. Combine until very smooth. One at a time, mix in the eggs, and then the vanilla, until thoroughly combined. In a smaller bowl, whisk together all of the dry ingredients, and then add to the butter mixture and mix until combined and smooth. Scrape into the prepared pan, and bake in the oven for about 20 to 25 minutes. When you insert a toothpick to test to see if they are done, there should be some moist crumbs on it – don't bake till the toothpick comes out clean or they will be too done.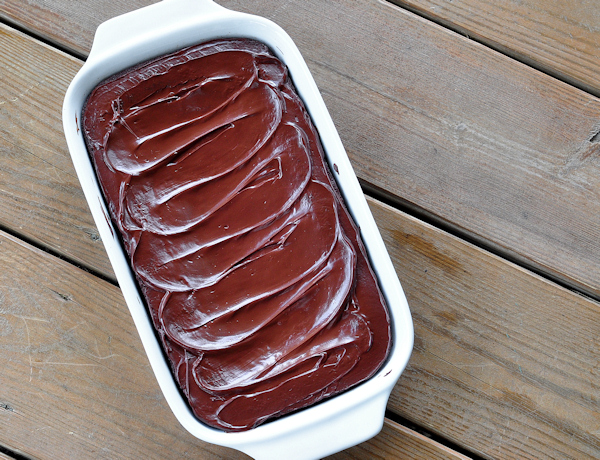 Set the pan on a cooling rack, and immediately spread the chocolate chips over the hot brownies. You can even use more than 1/2 cup – I won't tell anyone. Let the chips sit for about 5 minutes, until they look shiny, and then spread evenly over the brownies. You can cut and serve them right away if you like – they will be gooey and melty. Or you can cool them off a little and then cut into squares.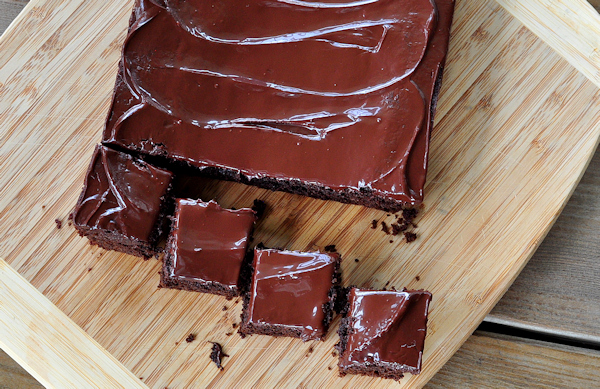 They are very rich and the molasses seems to intensify the chocolate flavor, which can only be a good thing, if you ask me. They can be stored at room temperature in a sealed container for 3 days – longer really, though they will start to get a little on the dry side after 2. Not that they are going to last that long, of course!