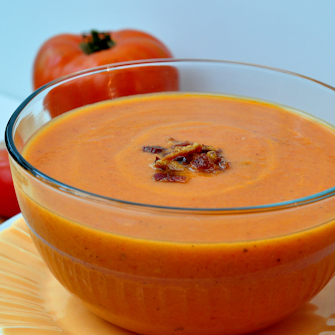 Despite the fact that we didn't have the best weather for gardening this summer, Larry continues to haul 5 gallon pails of tomatoes into the house with alarming regularity. Fortunately, I can always come up with new ways to use tomatoes. This soup is quick to put together, hearty, satisfying and pretty darned healthy. Not bad for some thing with "Bacon" in the title, eh?
Now, about the tomato sauce. I use my own homemade sauce, of course, [recipe for my tomato sauce is here] without reducing it at all, or using any tomato paste to thicken it as I might if I were making pasta sauce. If you don't want to make your own, you can easily use sauce from the store, thinned out with some chicken or vegetable stock, or even use all tomato juice, which will probably be about the right consistency already. For store bought tomato sauce, I would use about a 4 parts sauce to one part stock ratio to thin it down. Everything else about this recipe is pretty straightforward and easy to do.
4 ounces sliced smoked bacon
2 cups sliced carrot
1 cup sliced celery
1 cup chopped onion
1 large garlic clove, minced
1 teaspoon kosher salt
About 10 grinds black pepper
A pinch of dried pepper flakes
2 -3 sprigs fresh thyme
1 tablespoon fresh oregano, chopped
8 cups thin fresh or canned tomato sauce or tomato juice
1 cup half and half
In a large, heavy soup pot, cook the bacon, over low heat, until cooked through and crisp. Remove the bacon to a paper towel to drain.
There should be 3 to 4 tablespoons of drippings in the pan, once the bacon is removed – if it is more than that, take out any extra.
Add the carrots, celery and onion, salt and peppers to the pot, and sweat over medium low heat until very soft – about 10 minutes. Scrape all of the vegetables into a blender or food processor, along with 1 cup of the tomato sauce, and blend or process until very smooth. Take care when doing this, as hot foods can pop the lid off a blender. I take the center plug out of the lid, and hold a folded kitchen towel over the opening while blending, to prevent getting burned.
Return the pureed vegetables to the pot, and add the remaining tomato juice. Add the thyme springs, tied together with kitchen string, and the chopped oregano. If using dried oregano, 1 teaspoon will probably be enough. Add the half and half.
Simmer gently for about 10 minutes, to blend flavors. Remove the thyme. Serve with bacon crumbles sprinkled over each serving.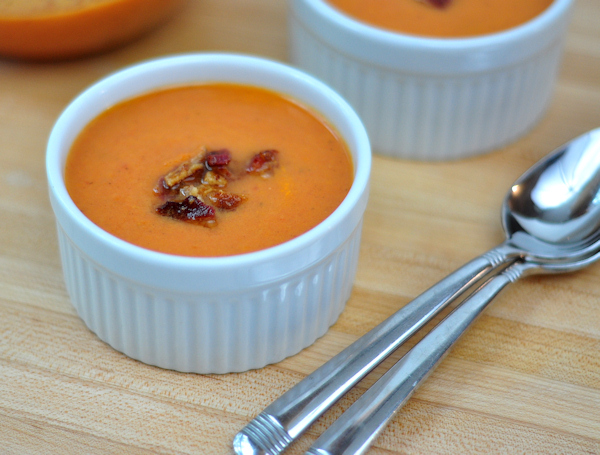 Then, get ready to make another batch, because this first one will be gone in no time at all!