I am getting a late start today, but it's the weekend, so you will forgive me, right? On a lovely, blustery winter weekend day like this one, what could be better than a soup that you can throw together in just a few minutes, adjust to your own liking so easily and feel financially virtuous about all at the same time? Not much to my way of thinking. Lentils lend themselves very well to this scenario because unlike so many dried beans, they take no time at all to cook – right around 45 minutes.
Often, if I am blogging a recipe, I cook earlier in the day, when the light is better, but I didn't get to this until it was late enough that I had to turn on the lights in the kitchen. So these photos have a little more rustic quality than some – just like this soup actually.
You are going to need some kind of stock. I whipped this together from the ham slice I am using for the soup. I trimmed the bone and all the fat, browned it all off in a dab of olive oil and simmered it in about 3 cups of water for about 30 minutes or so. After straining it yielded about 2 cups. [I spooned off the fat before adding to the soup, but you can leave that in if you prefer] You can easily use chicken stock or broth, or for vegetarians who don't plan to use the ham at all, use a vegetable stock.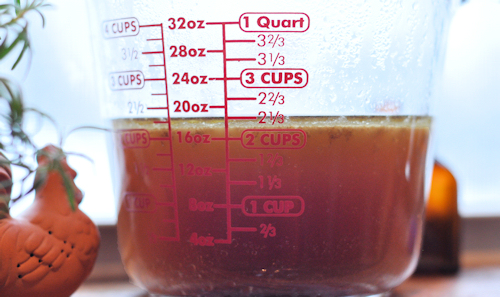 In a 5 quart soup pot, heat 1 tablepoon olive oil and add
2 cups chopped ham [around a lb ham slice will give you this much]
1/2 cup onion, cut in a large dice
2 large carrots, cut in a large dice
2 large stalks celery, cut in a large dice
Sprinkle lightly with kosher salt and a few grinds of pepper and brown for about 5 minutes.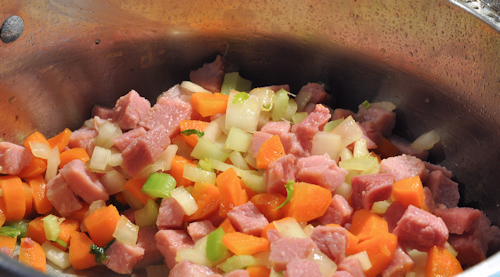 Add and saute for 2 or 3 minutes
4 medium cloves garlic, smashed and minced
1 teapsoon cumin
2 teaspoons thyme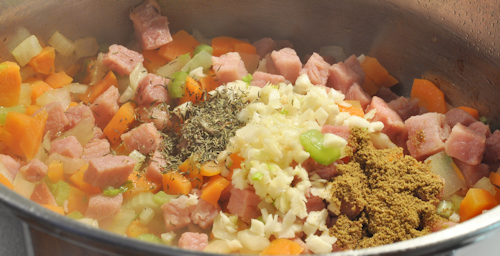 Pour in
2 cups of ham, chicken or vegetable stock
2 cups tomato sauce
3 cups water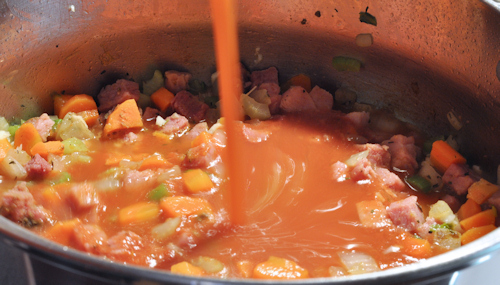 Pick over a 1 lb bag of dried lentils to remove any debris that may be in among them and rinse well.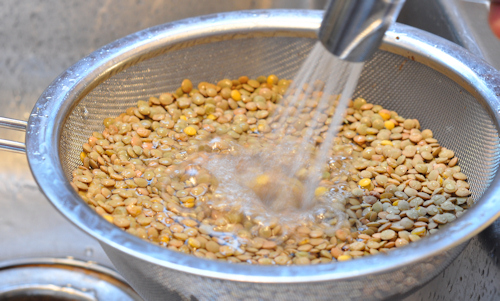 Stir into the pot and then taste the broth to see if you need more salt. I can't really give you any definite amount here – it depends on the saltiness of the stock or broth that you use, so you will just need to go by taste. Simmer this covered for at least 45 minutes, or until lentils are soft. You can keep it at a low simmer awhile longer if you like – the flavor will just improve. If it gets too thick, add more water and bring back up to a simmer before serving.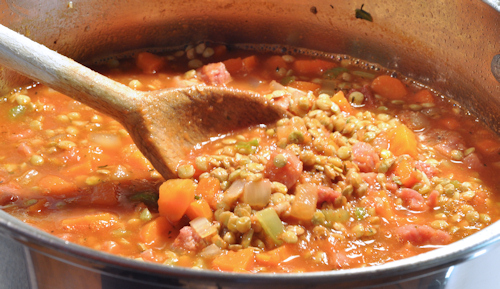 Doesn't that look like a nice way to end a cozy winter Saturday?