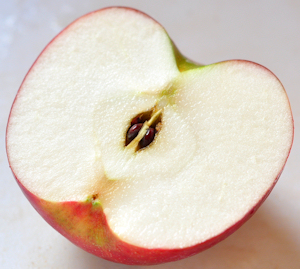 When it comes to baking, this is just a wonderful time of year. Upstate New York is a huge producer of apples and since we are so near the Finger Lakes, prices are great right now. While it may be difficult to improve on the natural goodness of an apple, the abundance we are enjoying definitely gets my culinary wheels turning, thinking of great ways to use them. And let's face it – a regular old apple just doesn't cut it if you are looking for ways to add more sugar, fat and carbs to your diet – you need to add a few things for that!
Clafoutis is a French dessert, containing fruit surrounded by a custardy cakey kind of thing. And for heaven's sake, don't pronounce the "s" on the end, or you will get some foodie going all snooty on you. It is Cla-Fooo-Tee. It is a simple, and really a rather elegant dessert – if you have never tried it, I highly recommend that you do.
Begin by liberally buttering a 2 to 3 quart flat baking dish, and preheat the oven to 325.
In a small bowl, combine until thoroughly incorporated:
2 cups peeled, cored and coarsely chopped fresh apple
2 tablespoons light brown sugar
1 teaspoon ground cinnamon
1/2 teaspoon freshly grated nutmeg
1/4 teaspoon allspice
pinch of salt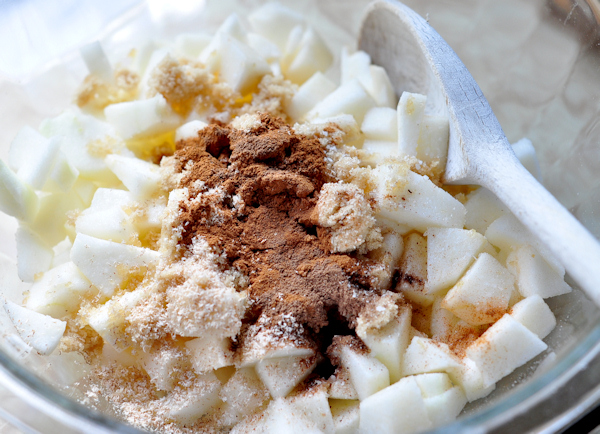 Add the following ingredients to the container of your blender:
3 eggs
1/2 cup whole or 2% milk
1/2 cup low fat buttermilk
3/4 cup all purpose flour
1/2 cup light brown sugar
2 teaspoon vanilla extract
1/4 teaspoon salt
Process at medium speed until smooth.
Pour into the buttered dish, and spread evenly over the bottom.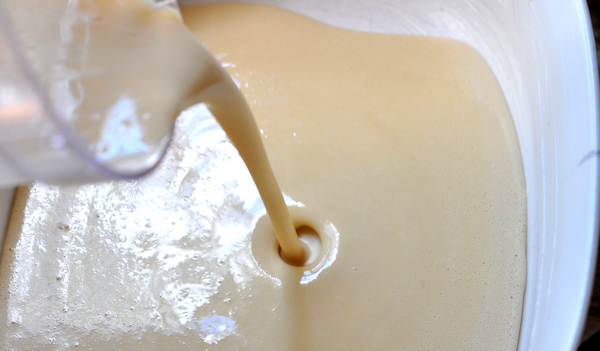 Spoon the apples over the flour mixture, trying to leave a 1/2 inch or so around the edge – do not mix the apples in.
It should look like this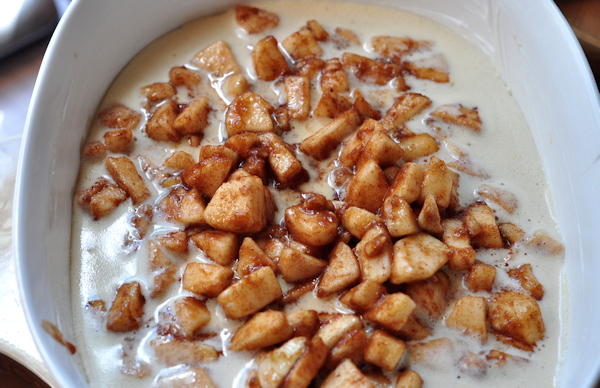 This is optional, but I like to scatter a handful of sliced almonds and an extra sprinkle of coarse sugar [like raw or sanding sugar] over the top.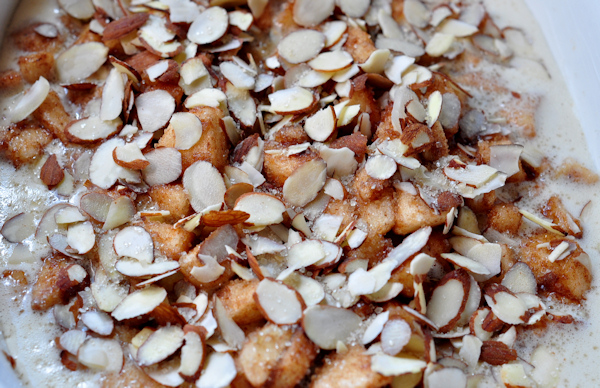 Bake for about 30 to 35 minutes, until the edges are puffy and the center is mostly set.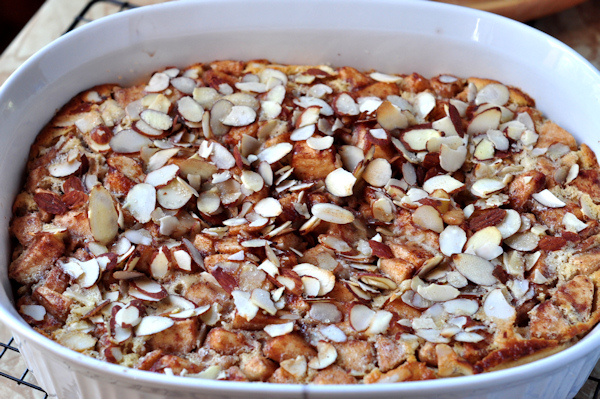 Cool briefly, and serve warm with vanilla ice cream or whipped cream. Yummy stuff!
Some other Apple recipes you may enjoy:
Apple Walnut Kuchen
Fresh Apple Snack Cake
Apple Cheese Crisp