What makes a cake fit into the category of "snack cakes"? To me, it means a cake you can put together quickly, in one bowl. They are moist, and usually fruity, though I never turn down chocolate cake. And generally, they aren't frosted, though a little squirt of whipped cream or a scoop of ice cream would not go amiss on the same plate.
Gather up your ingredients and we can get going. If you like using toasted nuts, you should do that ahead a bit so that they can cool off. I often do this in the mocrowave – lay on a plate in a single layer and nuke at full power for 20 seconds, stir, nuke for 20 secends, stir, nuke for 20 seconds – until they are smelling toasty. How long depends on your microwave – mine does the job in about a minute and a half, for the half cup needed in this recipe.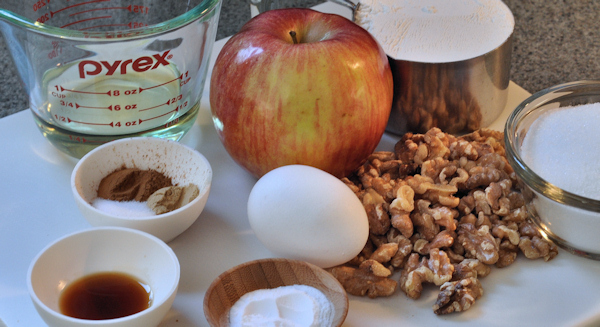 Preheat the oven to 350º. Grate one large apple. This one was an Ida Red if memory serves. You can chop it or run it through the food processor, but I prefer the grater for the texture.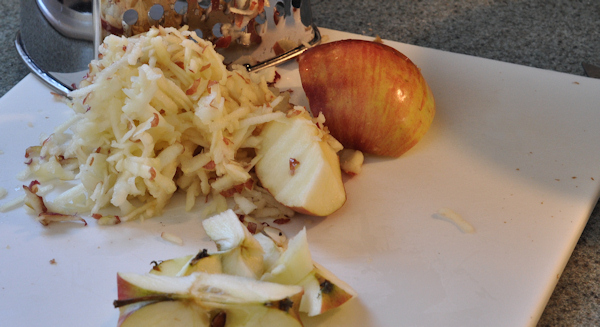 Here we go – all in one bowl
Whisk together:
1 cup unbleached all purpose flour
1 cup granulated sugar
1 teaspoon baking soda
1 teaspoon ground cinnamon
1/2 teaspoon ground ginger
1/4 teaspoon salt
1/2 cup chopped walnuts, preferably toasted
In a 2 cup measuring cup, mix togther
1/3 cup vegetable oil
1/4 cup milk
1 egg
1 & 1/2 teaspoon vanilla extract
1 large apple, grated
Pour the wet ingredients, into the bowl and stir, just until combined. Don't over mix.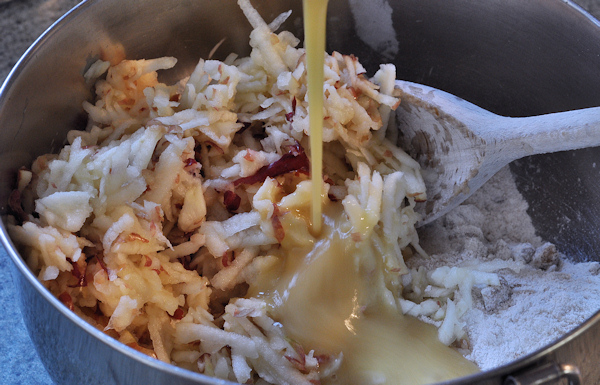 Spread the batter evenly in an 8 inch square [or equivalent], well greased baking dish.

Bake for 20 to 25 minutes until toothpick inserted near center comes out clean. Cool on a rack for at least 10 minutes before cutting.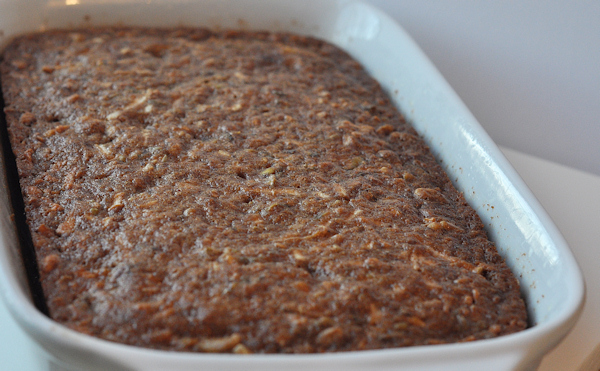 Serve cut in squares. With some whipped cream. Cause whipped cream makes the world go 'round, right? It's actually good even without the whipped cream, but it got eaten up too fast to get a photo of it without any. Twice. That Larry – I tell ya!