So, apples right? I love apples and I especially like baking with them. Not that I don't appreciate a nice naked, low fat apple. I do. But with just a few, slightly more calorie dense additions, you can really improve not just the apple, but perhaps your entire outlook on life.
Larry loves apple pie and though I am working on it, I am not fond of making pie crusts. I have mentioned my grandmother's ability to seemingly draw forth a perfect pie crust from thin air, but I am no where near as skilled as she. I like apple crisp because it is easier than pie. [ha! get it? easier than pie!] The addition of the cheesecake layer is pure inspiration in my book. You can let me know what you think.
Preheat the oven to 350 degrees and grease a 10 inch pie plate liberally with butter.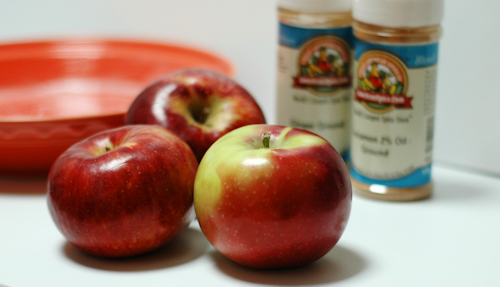 Peel and slice 3 large apples. You want enough apples to loosely fill the pie plate about 2/3. Combine the apple slices with a pinch of salt, 1/4 cup sugar, 1/2 teaspoon ground ginger and about 3/4 teaspoon cinnamon.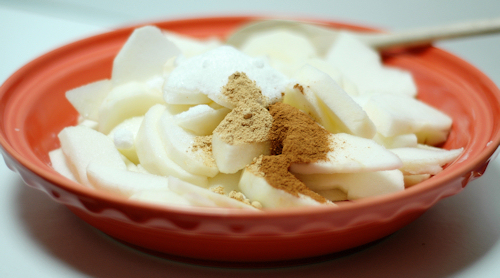 Mix well and spread evenly in the pie plate, leaving plenty of gaps for the cheesecake filling.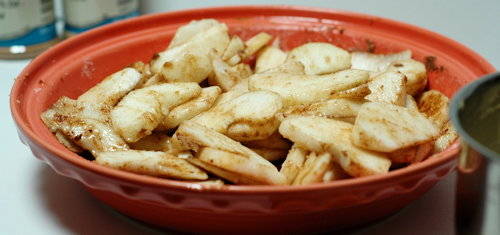 Beat together 8 ounces of room temperature cream cheese or neufchâtel, 2 eggs, 1/4 cup brown sugar, 1 teaspoon vanilla and a pinch of salt. Beat until very creamy and pour over the apples, letting it settle into the empty spaces and spreading evenly over the top.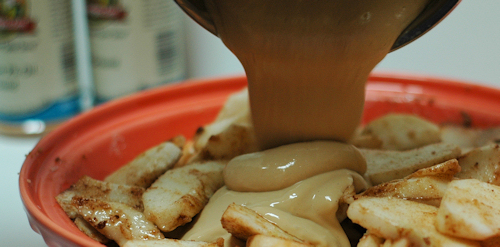 Finally, combine 1/2 cup each all purpose flour and oatmeal, 1/3 cup brown sugar, 1/3 cup coarsely chopped walnuts, 5 tablespoons softened butter, 1/2 teaspoon cinnamon and pinch of salt. I use a pastry cutter for this but you can use a fork or just your hands. Spread this mixture evenly over the top.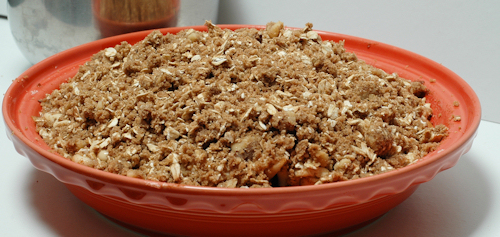 Bake at 350 for about 40 minutes – until the apples are nicely soft, the top is browned and there is bubbly sauce from the apples around the edge.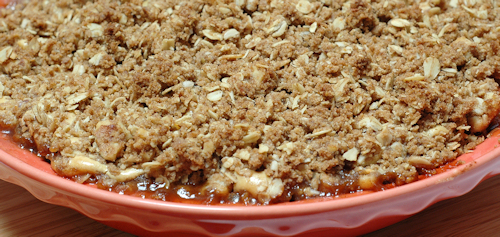 And then – you cut a nice big slice and eat it. Repeat as necessary.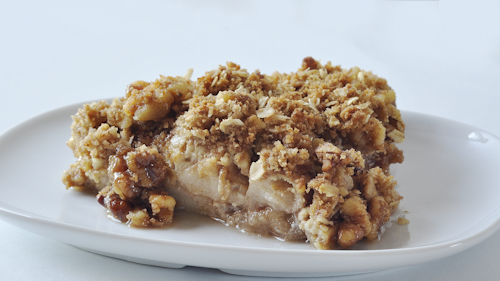 I would say it should be kept in the fridge after the first day, but it didn't last long enough to have to worry about it. Enjoy!