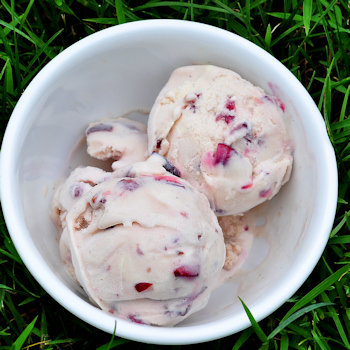 Our obsession with cherries runs on, with no end in sight. Sweet cherries are not for cooking – they lose much of their flavor when you heat them much past room temperature. I know some people do cook with them, but I have tried it numerous times, and was never happy with the result. You need sour cherrries for cooking, and those can be difficult to find, unless you have an orchard nearby. Sweet cherries are widely available though, and if they can't cooked, they can be enjoyed in desserts that are on the frosty side. Like this Cherry Vanilla Bean Ice Cream.
Making ice cream at home is one of summer's great pleasures as far as I'm concerned. An ice cream machine does take up a bit of space, but is well worth it. I keep the bowl part in the freezer year-round, so that it is always ready to use. Just make sure you keep it securely wrapped up in a plastic bag, so it stays clean inside, and to prevent frost from forming. And making the ice cream base is a skill well worth tackling, since the same technique is used for other yummy things, like custards, puddings and creme anglaise. They may seem a bit daunting, but once you practice a few times, it gets a lot easier.
This custard base has to be well chilled before you put it in the ice cream machine, so you need to start it a good while ahead of time. I try to remember to do it the day before, but it will chill in about 3 hours, so do it at least that far ahead of when you make the ice cream. And, of course, you need to make sure the bowl of your ice cream machine is comepletely frozen, according to the manufacturers directions.
3 cups half and half
1 whole vanilla bean [about 6 inches long]
3 eggs, rooom temperature
3/4 cup granulated sugar
Sweet cherries
First, pit and coarsely chop sweet cherries, until you have a heaping cup. I try to mix them up a bit as far as ripeness, for some flavor contrast, avoiding any that are soft or over-ripe. Mix in 1 tablespoon of granulated sugar, and set in the fridge.
Put the half and half in a roomy saucepan. Split the vanilla bean lengthwise, and scrape down the insides to get out all of the seeds. Add the seeds and the pods to the cream, and bring it up to slow boil. Reduce the heat to low and let it simmer for about 30 minutes.
In a medium bowl, whisk the eggs and suger until very thick and a bit pale in color.
Remove the vanilla bean pod from the cream, and measure out about a cup. Very gradually, beat this cup of cream into the eggs, and sugar, whisking constantly. Then, add that back to the rest of the cream in the saucepan, whisking all the while. [trust me, this sounds much more complicated than it actually is - the keys are not to rush it, and to keep whisking] Bring the mixture back up to a slow simmer, continuing to whisk it, and cook until it coats the back of a spoon. This means that when you dip a spoon in the mixture, and run a finger across the back of it, a well defined line remains.
Strain the custard base, cover with plastic wrap placed directly on the surface, and chill completely. Once chilled, assemble your ice cream machine. Put the chopped cherries in the freezer to chill further – I do this right before I get the ice cream churning. You want the fruit to be very cold but not frozen, so the half hour it takes to churn the ice cream is perfect. Then, follow your ice cream maker's instruction for adding the ice cream base, and churning. Add the cherries during the last 5 minutes of processing, to ensure they are evenly distributed. Remove the ice cream from the machine and place in a freezer safe container. Cover the surface with plactic wrap, and then cover tightly. Allow to ripen for several hours before serving.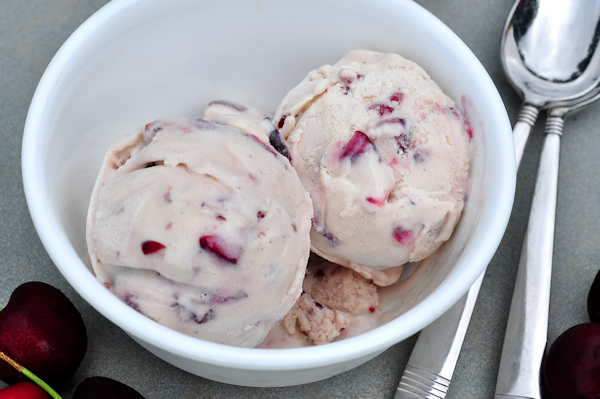 It is heavenly perfection. You can just skip dinner and sit on the porch swing the container and a couple of spoons. Not that we did that or anything, but you are welcome to give it a try. You won't miss dinner a single bit!