Yeah. Life. Busy, isn't it? I know that a lot of people have wondered where I've been – thanks for the tweets and emails checking to make sure nothing is wrong. And, no, I am not going to stop blogging. The fact is, fitting a regular, scheduled job back into my life has proven more difficult than I had anticipated. The job itself is not difficult, and, in fact, is quite enjoyable, but there are a lot less hours in the day than I remember from the last time I worked a regular job. So, I'm figuring out how to fit in everything I want and need to do.
Add to that, the fact that we have had weeks of hot, humid weather that inspire little else in the way of cooking, past the making of ice cubes, and you can see why you haven't seen a lot of recipes here lately. But, last weekend, we had a few days of nice cool weather, and I wasted no time in breaking out the baking stuff and getting to work. I didn't have to look far for inspiration either, since it has been a banner year for the garden. We are still getting gorgeous zucchinis and Larry brought in one that had gotten a little on the large side, so I decided to use that. At one time, I was not fond of zucchini bread and the like, but I have learned a few tricks to punch up the flavor. Citrus goes nicely with zukes, and I love poppyseeds in muffins, so I combined them all to come up with these tasty little treats.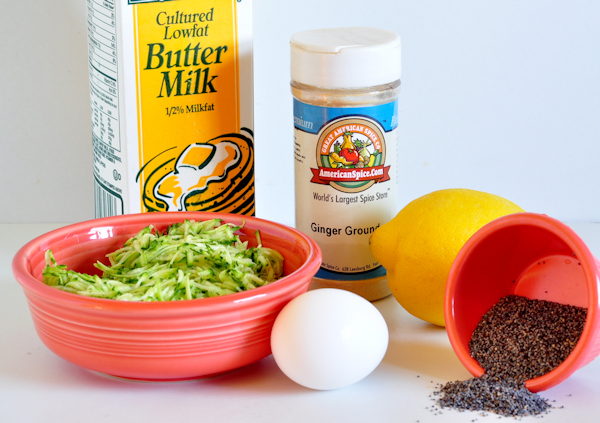 This a pretty standard muffin recipe, and as with all muffins, the key is not to over-mix the batter, which makes them tough. So, you combine the dry ingredients in your main mixing bowl, and the wet ingredients in a smaller bowl, and then combine the two, taking care to stop mixing as soon as the two mixtures are fairly well incorporated. There are going to be lumps, but that is fine, so don't try to get those smoothed out.
Preheat oven to 350 degrees. Prepare either a 12 spot regular or 24 spot mini muffin tin, by greasing with shortening or lining with paper cups.
In a medium mixing bowl, combine:
1 & 3/4 cups all purpose flour
1/2 cup sugar
1 teaspoon ground ginger
1 teaspoon baking powder
1/2 teaspoon salt
2 tablespoons poppy seeds
In another bowl, combine
1 cup finely grated zucchini
1 egg
3/4 cup buttermilk
1/3 cup vegetable oil
zest of a medium lemon [save lemon for glaze]
Pour the wet ingredients into the dry and use a rubber spatula or large spoon to combine the mixtures. Do not over-mix. Divide evenly in the muffin tin.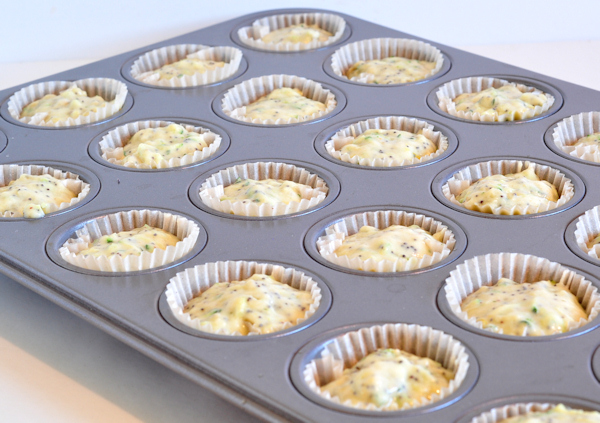 Bake at 350 for about 15 to 18 minutes for regular sized muffins, and a little less for minis. They are done when a toothpick inserted near the center of a muffin comes out with just a few moist crumbs. Remove the muffins to a cooling rack and prepare the glaze:
Mix together
1 cup 10X confectioner's sugar
enough fresh lemon juice to create a thick glaze
It is easy to get too much lemon juice in there, so just put in a teaspoon at a time and mix it well before adding more. Dip the tops of the muffins in the glaze and return to the rack to finish cooling, or serve immediately.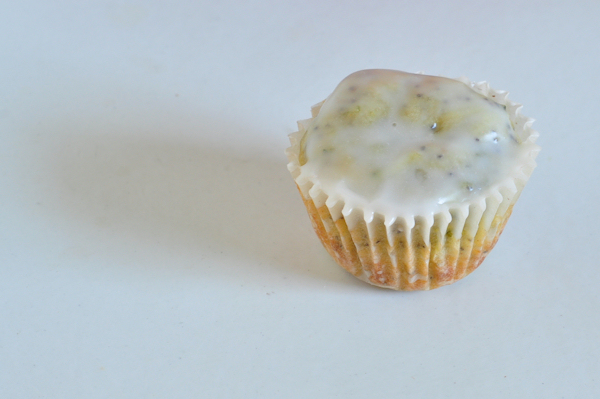 Serving immediately is probably a really good idea.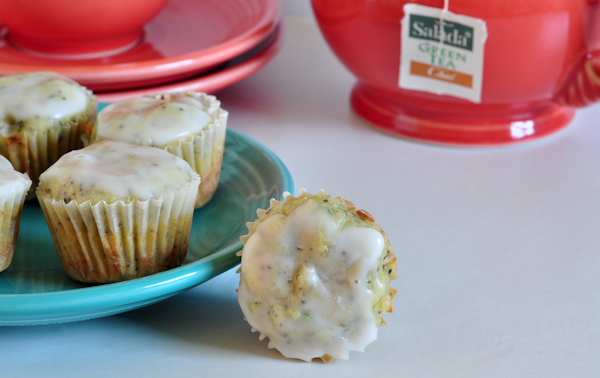 Better make sure you hide one for yourself though – they won't last long.
have a great weekend folks!