Before illness forced him to retire, Larry's Dad grew sweet corn every summer. A LOT of sweet corn. He sold it to local grocery stores and vegetable stands. A lot of years, it was in the field right next to our house, or just across the road. We were welcome to eat all we wanted as well as putting some up for winter. It has been a few years since we had access to that much bounty. But the other day, our friend and neighboring farmer, Bobby, came by and dumped a couple dozen ears on our porch. It was just picked and we had an orgy of blissful corn enjoyment for dinner that night.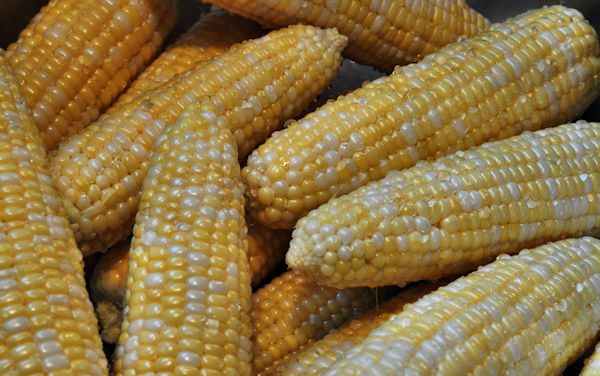 I knew we would never eat it all before it lost a lot of its quality though, so I blanched [drop peeled ears into boiling water for about two minutes, then put immediately into very cold water to stop the cooking] the rest and cut it off the cob so that we could enjoy it for a few more days. Now, I realize that regular creamed corn doesn't actually have any cream in it at all, but this isn't the creamed corn your Grandma made for you. It is a creamy, spicey garlicky wonder of corny goodness. We better get it started.
Begin by melting 3 tablespoons butter in a large saute pan.
Add:
1 small onion, diced
1 medium sweet pepper, diced [I used a red one]
1 hot pepper*, diced
a sprinkle of salt and few grinds black pepper
Cover the pan and sweat the veggies over lowish heat for about 5 -7 minutes. Sweating means we are not looking to add any color, but rather just kind of simmering the mixture in a pan with a lid on it.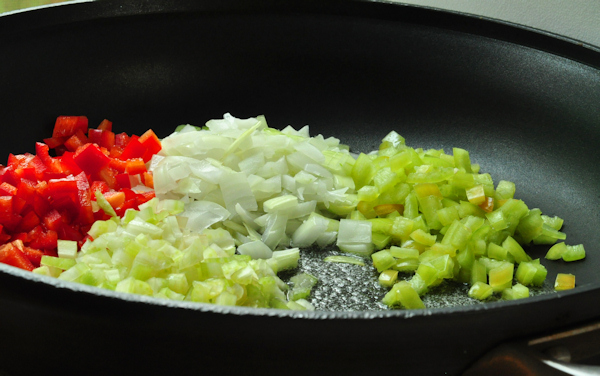 Add 2 minced large garlic cloves and cook another minute, then add
3 or so cups of corn kernels, along with any juice
Cook over low heat a few minutes and add
1 teaspoon ground cumin
1 teaspoon smoked paprika
1/4 cup heavy cream
2 ounces cream cheese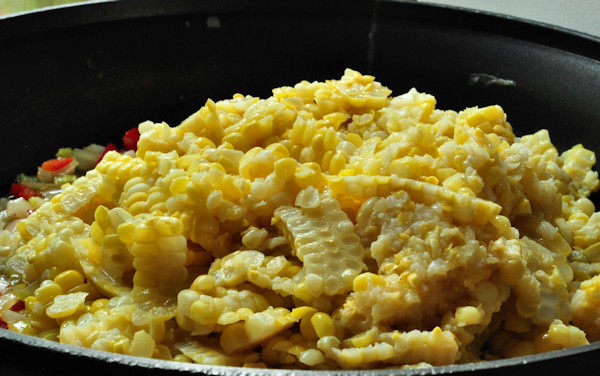 Mix well, but gently so as not to squash the corn too much, cover the pan and simmer for about 6 to 8 minutes. Taste and adjust seasonings – I actually added a bit of hot sauce and a little more cumin, but that is strictly a matter of taste. Then – enjoy!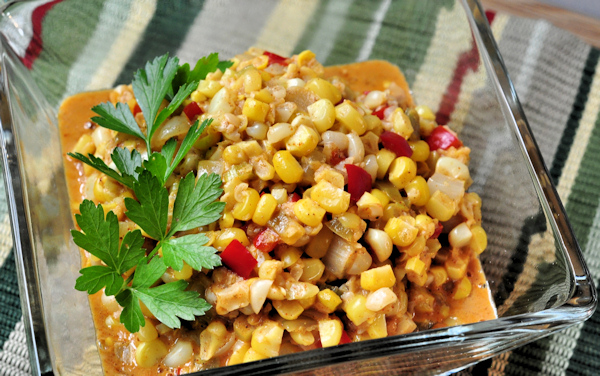 *I would ordinarily used jalapenos in this probably, but too late we realized that the jalapeno plants we thought we bought, were mis-marked and were actually more hot cherry peppers. Just another anoyance in this year of gardening disasters. I used a hungarian wax pepper instead, but I think the flavor of the jalapeno would be a lot better.
More posts you might like:
Lemon Garlic Zucchini
Refrigerator Pickled Hot Peppers