We had a lot of drama with wrens last year. [I apologize for sending you back to my old blog, but as is the case with a distressing number of photos, these have not yet been moved to the new joint. I should have done it last night instead of watching the Mets/Yankees game. Maybe I will do it tonight while I am not watching the Mets/Brewers game. Losing to the Brewers would just be too depressing don't you think?] But, I digress. As I always do.
Before I left for Arizona, I noticed that Mr. Wren was once again determined to occupy the bird house on the porch. He kept bringing sticks to put inside.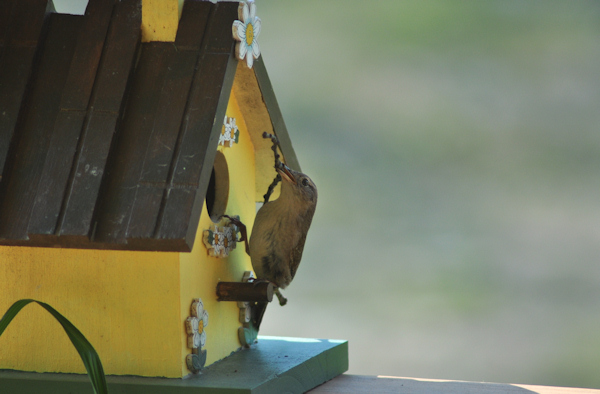 And then sitting outside the house [on my gardening gloves in this case] and singing his fool head off about what a great stick gatherer he is.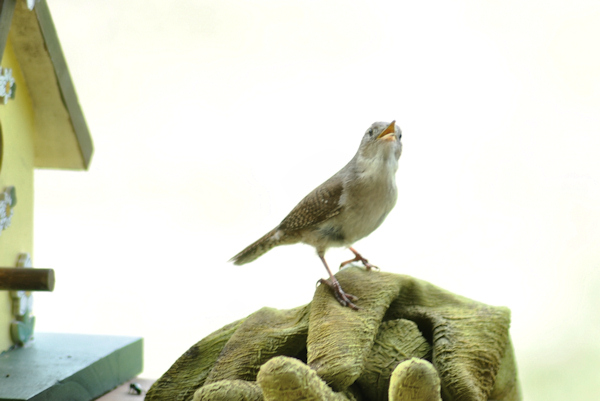 So, I made sure to turn that house face down before I left. The one out in the garden was already in place, so it's not like I was leaving him with no options. Besides, wrens will try to put a nest anywhere and we have a whole lot of anywhere around here.
By the time I got back, he had apparently had a whirlwind romance, a quickie Vegas wedding and there seemed to be some egg tending going on inside the house in the garden. Last week I heard babies cheeping and this morning I went out to grab a few shots of the Mama and Dad feeding their family.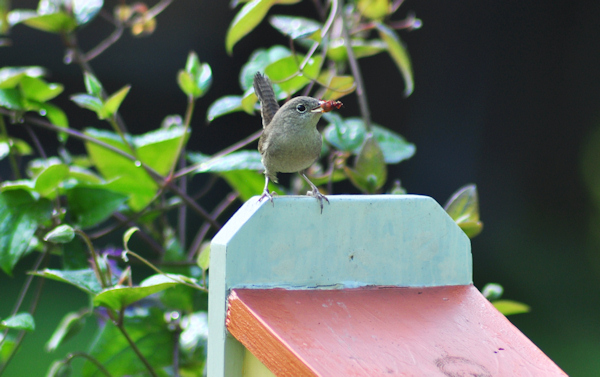 They would greatly prefer that I just went away. But, I work in this garden all the time, so they are somewhat used to me being around.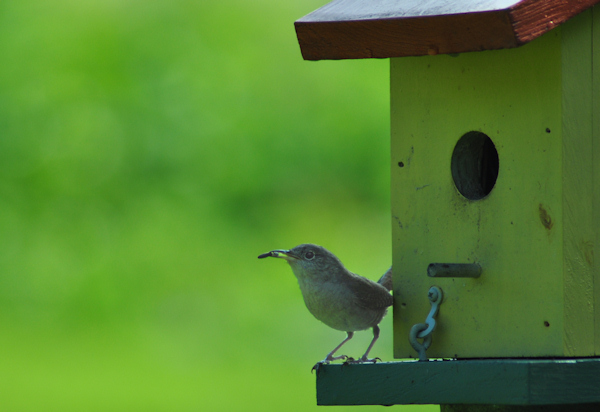 In a few days, they will probably all be gone, as wrens finish raising their families in trees, leaving the nest pretty quickly. Though considerig how early they got started this year, chances are they will be back with another batch of eggs before the summer is over.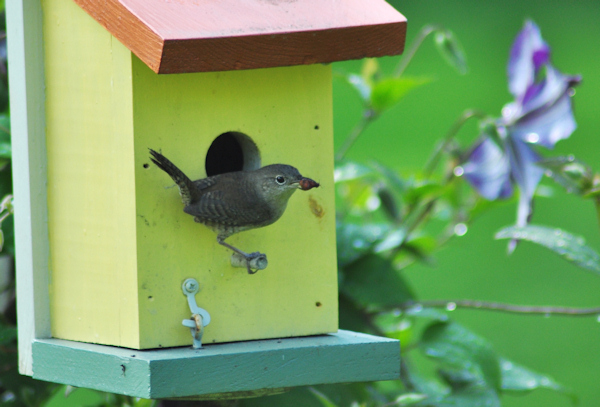 And standing out in the early morning sunshine to take these photos is a pretty darned good way to start the week. It almost made up for a 3 game sweep I will likely never hear the end of.