I know I have a problem. A cornmeal problem – I'm addicted to stuff made with it. We have this, and this.  These are amazing and these are downright unreal.  I am sure there is more, but today, we are going to make a cornbread that is so easy and so delicious that you are going to come back to the recipe again and again.  Unlike other cornbread recipes, this one uses yeast for the leavening, so the texture is different and the time it takes to rise also allows the corn flavor to deepen.  The yeast adds it's own unique taste and the fact that it is a batter bread means very little work for you.
I threw this together in a hurry, and didn't think about blogging it until it was half done, so there are no shots of the early parts of the prep.  No matter – it's so easy that you really don't need them.  And don't worry if you don't have a stand mixer – I whipped it up by hand for years, and you can too.
Scald 1/2 cup milk and place in mixing bowl
Stir in
3 tablespoons sugar
1 teaspoon table salt
1/4 cup melted butter
Cool mixture slightly
Add
1/4 cup very warm water
1 package active yeast
1 beaten egg
1 & 1/2 cups all purpose flour
1 cup yellow cornmeal
Mix on medium speed for 2-3 minutes or stir by hand for about 4-5 minutes, until very well combined. The dough is going to be stiff and not nearly as smooth in apprearance as a kneaded bread.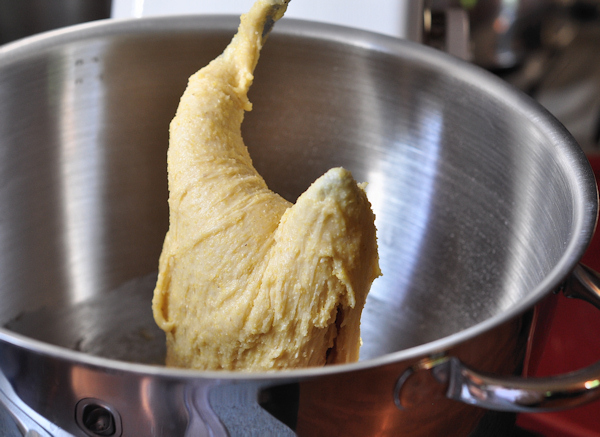 Spread evenly in a well greased flat, round baking dish or pan – this is a 9 inch pie dish, but a cake pan works nicely too. Drizzle olive oil over the top – about a teaspoon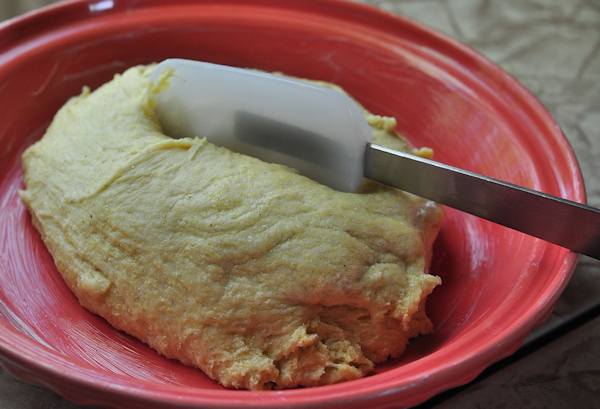 Allow to rise for 45 minutes to an hour in a warm spot – it will puff up nicely. I actually let this go a longer than I should have.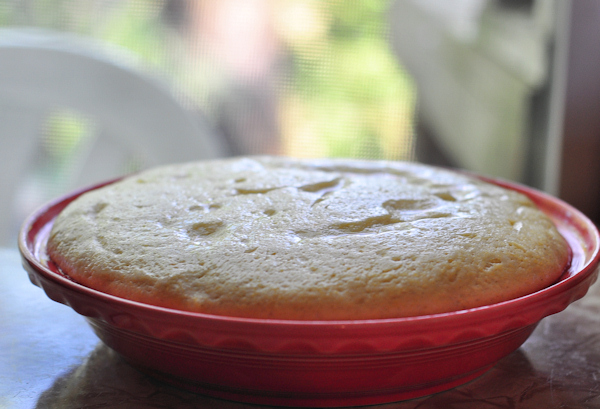 Bake at 375º for about 30 minutes. The top should be nicely browned and the bread should sound hollow when tapped. You can tell I let this one rise a bit too long because the middle collapsed a bit – not to worry though – it is still going to be mighty tasty. Cool slightly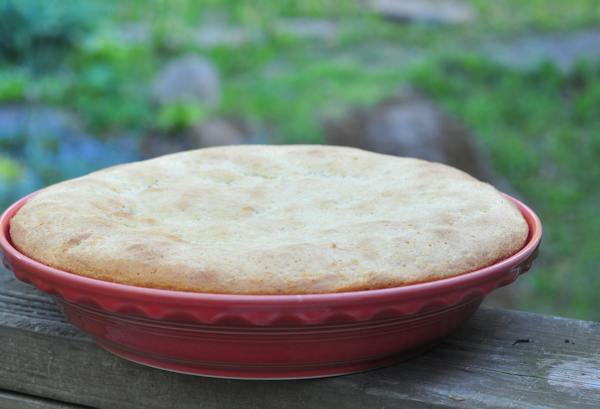 Cut into wedges and serve with plenty of butter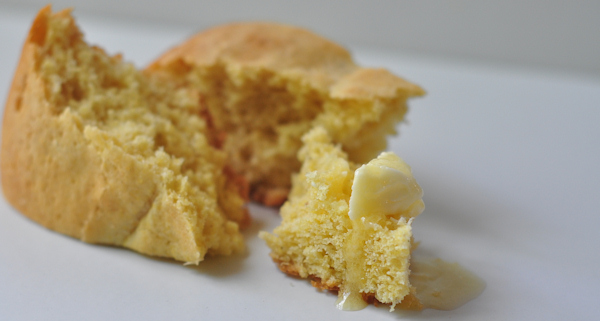 This is best eaten soon after baking, but that is usually the case with any corn bread. Give it a try and let me know what you think!