I am still home until Tuesday – arrangements have taken awhile and I had a ton of stuff to get done here before leaving for Arizona. Your comments here, in emails and on Twitter and Facebook have really meant the world to me, and to the others in my family who have come and read them. Remember in the late 90s and early 2000s, it was predicted that the internet would be isolating and turn us all into a bunch of antisocial, twitchy freaks? They were wrong. Either that or I just plain like twitchy freaks, because your kind words have touched my heart, as well as those of family members who have read them, far more than I ever thought possible. So, I just wanted to say thank you.
These Ostrich ferns are growing in the back shade garden. Larry and I dug them up a few years ago from by the creek that runs along the bottom of our property. They continue to prosper and spread and they make me think of a very happy day every time I see them. This photo has a Ghostbones texture applied. We are in the gloom these days, but there is sun out beyond this, and we'll get there again.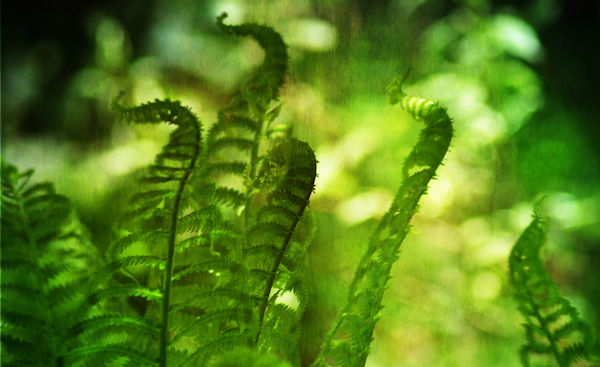 Have a great weekend friends.