This is so ridiculously easy, it almost seems an exaggeration to call it a recipe. But local high-end groceries carry pita chips for about $10 a pound. That is pretty pricey, and to my way of thinking, worth figuring out a cheaper way. And better too, as it turns out!
Begin by cutting pita bread into wedges. I used plain pitas, but I am sure other flavors would work just as well. Cut each pita in half, then in quarters and then again, until you have the size you like. I prefer them smaller, for two reasons. The first is that they are going to cook more quickly and uniformly and the second is that they are easier to eat and you get a higher hummus to chip ratio with smaller ones. The chips are good, but it's all about the hummus for me!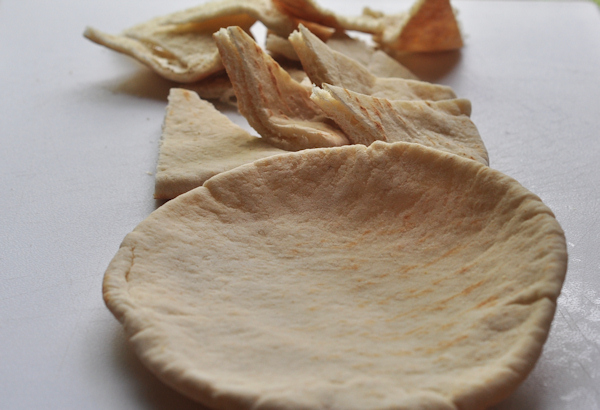 Spread the chips evenly in a single layer on a parchment lined baking sheet and drizzle lightly with olive oil. Shake the pan a bit to get the oil spread under the chips as well.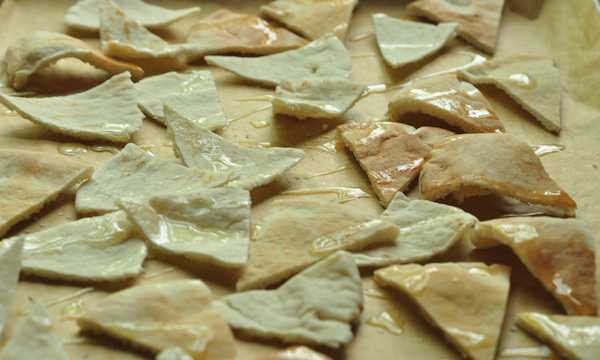 Bake at 400º, checking every 5 minutes until chips are nicely browned and crisp. You may have to drizzle on a bit more oil if it all gets absorbed and they still aren't done. Sprinkle lightly with kosher salt and the dried herbs of your choice – I used thyme and oregano – and return to the oven for another 2 or 3 minutes. Cracked black pepper is also nice. You can use garlic and/or onion powder, but only return to the oven for about a minute if using those, as they will burn and turn bitter tasting very easily.
Allow to cool and serve. They will go nicely with any dip, and are great with cheese, but they are a natural with hummus – like maybe my Roasted Garlic Hummus.