First off – Kacey, over at Wine on the Keyboard, is having her monthly photo contest, and for once I actually remembered to enter.  You can find the contest here, and there are lots of lovely entries.  The theme for this month is flowers.  My entry is "Painted Tulips", and if you feel like giving me a vote, I'd appreciate it, but even if you vote for one of the other lovely offerings, you should go and take a look, because there are some real beauties there!

~~~~~~~~~~
When I plant a tree in my yard, I always have a sense of inadequacy.  The size of tree that I can afford, not to mention the work involved in planting a very large tree, limits me quite a lot.   So, most of the trees I put in our yard and garden are pretty small.  We are surrounded by huge old trees that have grown here wild, so my tree-envy is understandable.
In the spirit of full disclosure, and because he reads my blog, I should mention here that when it comes to planting a tree, and I say "I", who I really mean is "he".  "He", as in Larry.  I have planted some smallish trees, but anything bigger than a couple gallons, and I have to enter into negotiations with the digger-of-large-holes, otherwise known as my husband. 
In any case, the tree I am writing about today is my Prairie Fire crabapple tree.  You can read another post about it here.  That post is about Larry too, come to think of it. 
Anyway – for some reason I am unaccountably thrilled when a bird sits in a tree I have planted.  That tree become a "real" tree when a bird deems it suitable for perching upon.  I am pretty sure the tree gets a kick out of it too.  And when the bird in question just happens to be our state bird, one that was nearly extinct not all that long ago, and one that we don't get to see nearly as often as we would like?  Well, the tree and I are just that much more certain that we have arrived.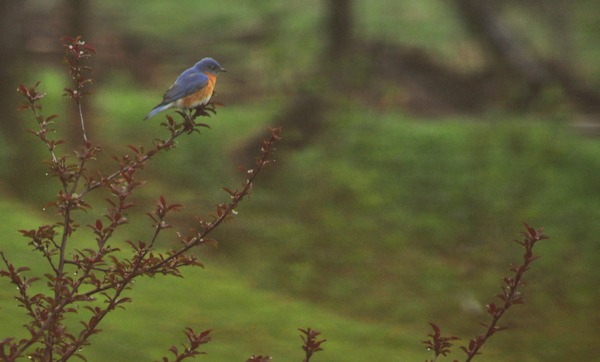 Eastern Bluebird