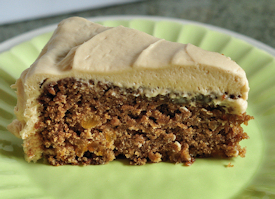 With Brown Sugar Cream Cheese Frosting! I know, I know – you can hardly stand this, right? I don't blame you and I'm sorry if you drool on your monitor or gain 5 pounds just from looking at the photos.
We had company over the weekend and at about 1:00PM, I realized that I had forgotten dessert. Our company was a single guy and I know he likes the sweet stuff, so we have to have dessert when he comes over. I had planned to make Nigella Lawson's chocolate Guinness cake, and while I was scouting around to see what others have been doing with her recipe, I ran across this: Oatmeal Stout Cake .  Unbelievably, especially to me, this idea had more appeal than the chocolate one.  [which I will get to eventually, I am certain]  I had to tweak this recipe a bit to accommodate the ingredients I had – regular oats instead of steel-cut, lemon instead of orange, and I wanted to incorporate fruit – dried apricots to be exact.   Only a few photos today – I was in a hurry to get this in the oven since I knew I barely had time to get it cooled enough to frost  before dinner time.
Since I was using regular oats, I figured my soaking time didn't have to be quite as long – mine went for about 30 minutes. I would have left them for an entire hour if I'd had the time.
Preheat the oven to 350º
Prepare a 9-10 inch spring-form pan, by greasing well and lining the bottom with a piece of parchment paper, cut to size – grease the parchment paper lightly.
In a small bowl, combine, and allow to sit for 1 hour
1 & 1/4 cup Guinness Stout
1 cup regular oats [not quick cooking]
Cream together, until fluffy
1/2 cup softened butter
1 cup dark brown sugar
1 cup granulated white sugar
One at a time, beat in
2 eggs
Add
1 teaspoon pure vanilla extract
1 tablespoon freshly grated lemon zest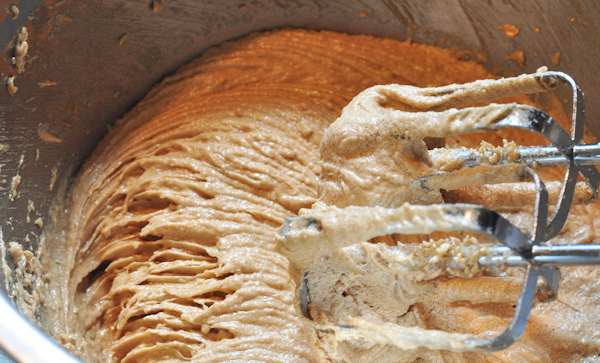 Sift together
1 & 1/2 cups all purpose flour
1 teaspoon baking powder
1/2 teaspoon salt
1 teaspoon cinnamon
1/2 teaspoon freshly grated nutmeg
Add the flour mixture in 3 parts, alternating with the oatmeal/stout, divided into 2 parts. Beat together after each addition, just until incorporated.
Fold in
1/2 cup dried apricots that have been cut in a small dice and tossed with a tablespoon of all purpose flour to prevent them from sticking together.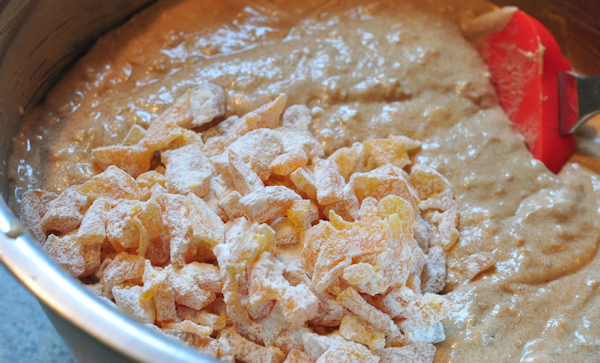 Spread evenly in the prepared pan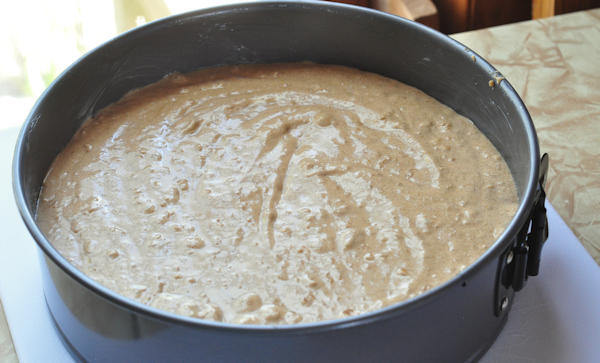 Bake in center of oven for about 45 to 50 minutes, turning the pan after half of that time. The cake is done when it springs back when pressed lightly in the center, or a toothpick comes out clean.
Cool in the pan for about 5 minutes, then using a thin bladed knife, loosen the edges gently, and remove ring. Cool on a wire rack [I actually ended up sticking this in the freezer for about 20 minutes – don't be like me – start it in the morning]. Carefully remove the pan bottom and parchment paper and gently brush any crumbs from the surface.
Center on a serving plate and frost with Brown Sugar Cream Cheese Icing
Beat together
3 ounces softened butter
4 ounces softened cream cheese
1/4 cup dark brown sugar
You want to dissolve the brown sugar a bit, so let this go for 3 or 4 minutes
Beat in
2 cups confectionery sugar, 1 cup at a time
Then add
1 tablespoon half and half
Beat well and add more half and half a tiny bit at a time, until it is of spreadable consistency. This is enough to generously frost a 10 inch cake, and can be doubled for a larger one.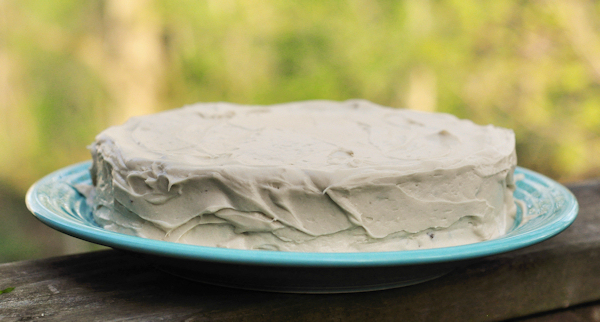 If you are smarter than me, and think ahead a bit, this cake actually improves significantly by sitting a day at room temperature before frosting. After frosting, the flavor continues to improve and being a nice moist cake to begin with, it isn't going to dry out, so this is a good choice if you want to get your dessert made a couple days ahead.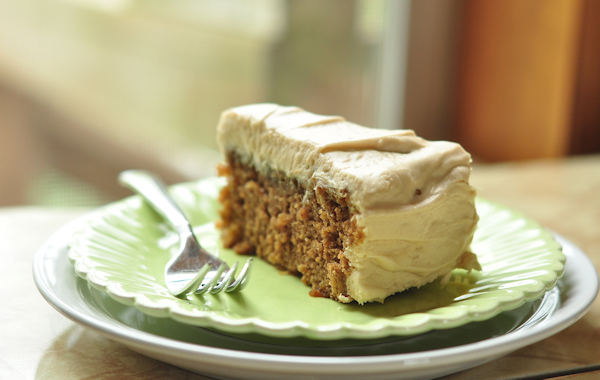 It is blissfully delicious, and if it weren't all gone, I would be having a piece for breakfast this morning. Oatmeal is very good for you, you know.