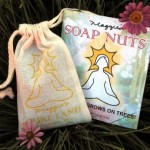 Remember back in February, I first mentioned Soap Nuts here?  I ran across a mention of them on a message board and was intrigued by the idea that this might be truly natural version of laundry soap.
I was thrilled with how they worked.  I had purchased the 5 load trial size, so I immediately went back and bought the bigger one.   I also looked around the Maggie's Pureland website and was happy to see that they have an affiliate program, so I can sendpeople there to buy Soap Nuts and I make a little money from the sale.  I emailed them to get more info on the product and heard back the next day from one of the co-owners, Dariel.  We had a wonderful conversation about how he and his business partner Maggie came to sell this unique product.  She had run across them in Europe and upon returning to the States, realized there weren't many sources here, so she invited Dariel to join her in starting the company, Maggie's Pureland.
He also got a huge kick out of the fact that when I first tried soap nuts, I did Larry's laundry before my own.  The reason for that was two-fold.  Of course I didn't want to risk my clothes on this crazy idea.  The more important reason though is that Larry's clothes get really dirty.  If you hang around here at all, you already know he is a carpenter.  That can be a dirty business.  In the evenings and on weekends, he occupies himself with fixing broken machinery, cutting firewood, working in the garden and other pursuits that all seem to leave his clothing in a terrible state.  The man is a dirt magnet, trust me.  So, if I was going to get a good test of how well Soap Nuts work, Larry's clothes were the way to go.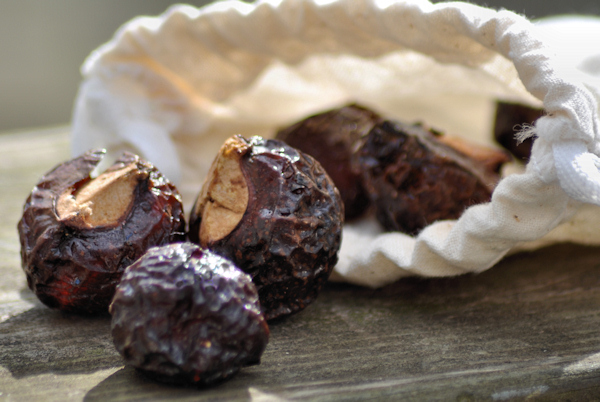 Obviously, I was pleased with the result. And 4 more loads later, using the same 5 nuts, I was still pleased. The clothes are all clean. Very very clean. They smell …. well, clean. Just clean. No perfumey smell, no unpleasant chemical odor that "unscented" products seem to have. Clean. And they are soft, even though I didn't use fabric softener. I can't stand static filled, rough clothes – I always use fabric softener. I don't need it any more though, because the Soap Nuts take care of that too.
In the course of our conversation, Dariel offered to send me a sample of their liquid soap as well. I didn't think it would matter to me if I used the nuts or the liquid, but I was wrong about that. The liquid has a nice tea-tree/lavender scent, though that doesn't really last on the clothes, which still just smell clean. The liquid works just as well as the nuts and is a bit more convenient, particularly if you are only doing a load or two. So, though I have both kinds, I do seem to use the liquid more.
Now we come to price. It is impossible for me to say if you are going to save money, because that is going to depend on what you are using now. If you use a top premium brand like Tide, and buy it in smaller sizes at a supermarket, then Soap Nuts will definitely cost you less. If you are using super cheap off brands and you purchase in bulk at a warehouse store, then this is going to be more expensive than that. Personally, I used a mid-priced brand, bought in a large size at Sam's Club and this is just about the same price.
For me though, price is not the only consideration. I am not a freak about being "green" in everything I do, but I try not to tax the earth too terribly much, and this is definitely a step in that direction. No processing of chemicals is involved in the making of Soap Nuts. You aren't dumping chemicals in the waste water system either. [I put the used nuts in our compost] And you aren't dressing yourself or your kids in clothing that has chemical residue left on it.
Finally – Dariel generously offered to sponsor a giveaway for one of you. Leave a comment between now and Friday at 12 noon Eastern time to be entered to receive your choice of a either a 10 ounce box of the nuts [50 to 80 loads] or a 32 ounce bottle of the liquid [64 loads]. In your comment, tell us: what kind of laundry soap do you use right now? Simple huh?  Entires limited to US addresses only, 1 per person and the winner will be chosen by random draw.
And, I hope if you decide to buy some to try, you will use my affiliate link which will be residing in my side bar from now on. The link is right here to the left too – go check out their website and don't forget to enter to win some of this amazing product by leaving a comment.