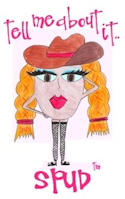 Here we go people!  I have the honor of hosting the Ho-down this month, so I had the privilege of seeing all of this spud-centric goodness in one place before anyone else.  I have to go do some shopping today, so I will definitely be adding some extra potatoes to my list.
Here is the line-up, in the order they hit my in-box.  Make sure you go visit them all and say hello, ok?
First, we have Snooty Primadona's offering: Lulu Larue's Colorful Potato Confetti Soup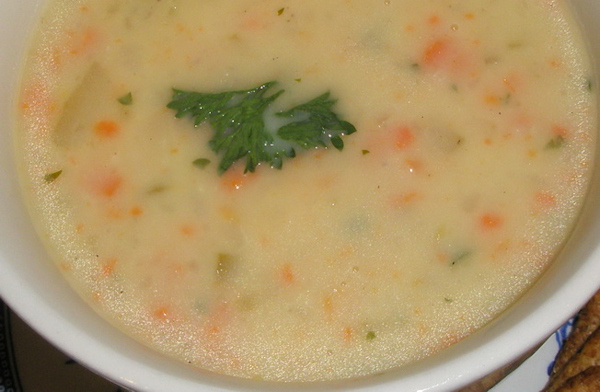 Her blog can be found here: Snooty Primadona's Guide To Cooking Like A Diva
Snooty says: "If it's not cold enough outside to make potato soup, I say do what I do. Crank down the air conditioner, because this soup is too delicious to pass up."
Next is Jamie's Peewee Ann's Creamy/Crispy Potato Latkes With Caramelized Shallots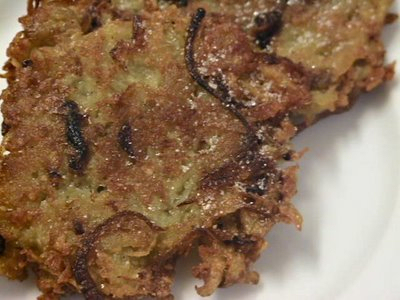 Jamie's blog is here: Life's a Feast, and she has this to say about her recipe: "A fabulous Potato Pancake (Galette de Pommes de Terre or Latkes) – and 
Passover friendly, to boot, with a creamy, smooth inside and crispy 
outside, laced with rich caramelized shallots and dusted with sugar to 
make a delectable contrast."
 Moving right along, we come next to Elra's Loulou's Southwestern Potatoes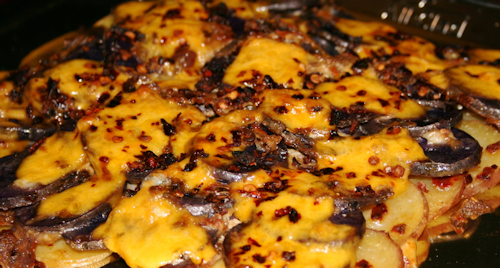 You can find Elra's blog here: Elra's Cooking, and about this dish, she says "A delicious, honest and  down to earth potato dish".
Then, we have two offerings from Chrystal and Amir.  First is Chad Denise's Pan Fried Breakfast Potatoes: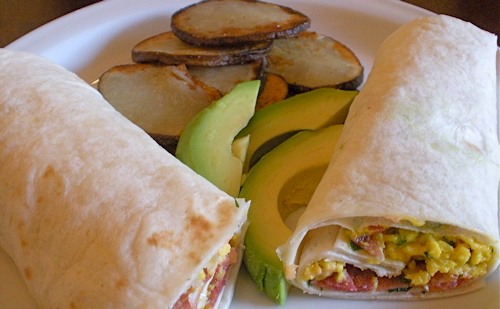 Their website is here: Duo Dishes. 
They sent in a second submission as well, which can be found here: Chad Denise's Chicken and Cheddar Stuffed Potatoes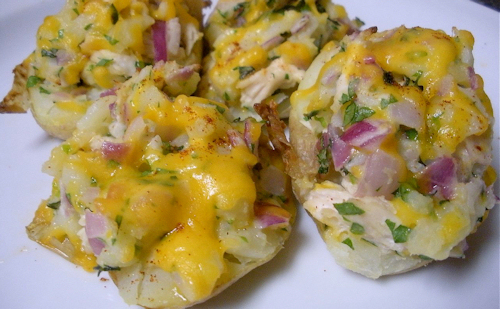 They didn't send a description for their dishes, but they both look great to me.
Then, from Christine, we have Yum Cha Cha Cha's Potato Puffs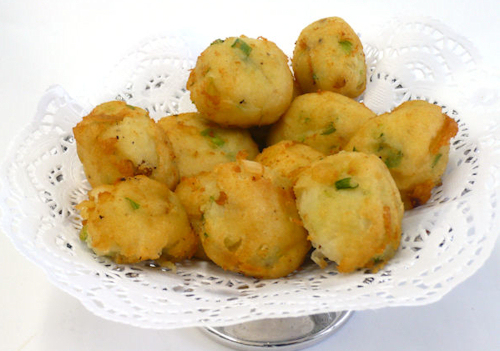 Christine's blog is here: Kit's Chow,  and she had this to say about her recipe: "If you can't decide whether to fry or mash potatoes, do both,  You'll can have fried mashed potatoes."
Next, we come to The Daily Spud's Spicy Skins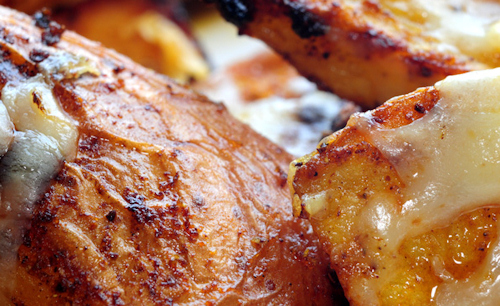 The Daily Spud blog can be found here: The Daily Spud, and they had this to say about their recipe:  "Thickly sliced potato skins, roasted with olive oil and harissa, a spicy chili-garlic mix from North Africa. I guess you could say these were both Moorish and moreish at the same time!"
Then we skip over to Cathy's Maxine Denise's Sweet Potatoes with Pecans and Blue Cheese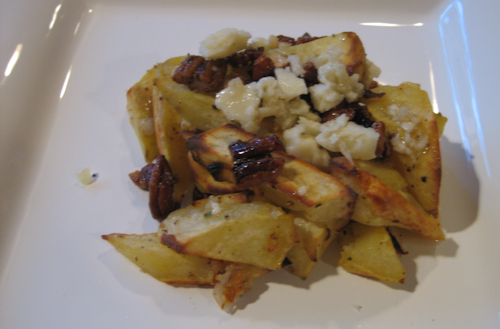 Cathy blogs at Where's My Damn Answer, and she didn't provide a description of her dosh, but the combo of sweet potatoes and pecans has to be good right?
After that, we go to Mrs. L's Trixie Belle's Bacon Wrapped Potato Bites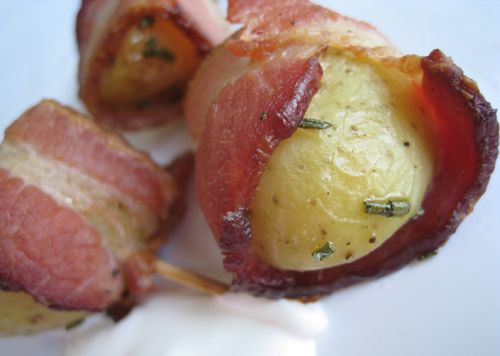 Mrs L blogs at Pages, Pucks and Pantry .  Bacon.  Potatoes.  No description needed really.
Next up is an entry for BigSis/LilSis: Frosty-Gay and Wolfie-Lee's Pink Potatotini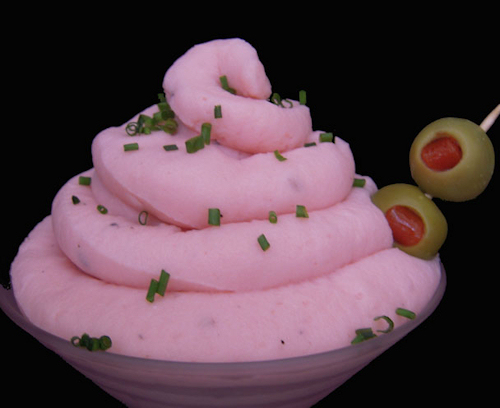 The sisters blog here: BigSis LilSis, and of this recipe, they say " Rich mashed potatoes with cream cheese, butter, and sour cream get a pink tint and are swirled into a martini glass with a sprinkle of chives and a couple of olives."
Now we come to this month's offering from one of the founders of the Ho-down – Cathy: Sparky Marie's Sweet Potato Spice Cookies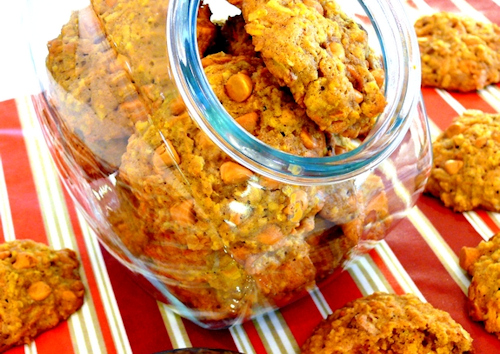 Cathy blogs at Noble Pig, and had this to say about this recipe: "These are of course another genius invention by some potato lover somewhere.  They are just so, so good; soft, chewy and crunchy.  The perfect cookie trifecta."
Then, it's Laura's treat: Popcorn Jeanne's Potato Yeast Donuts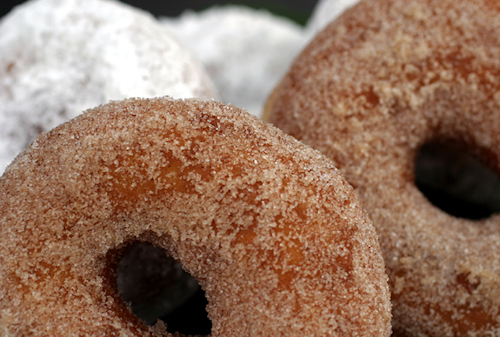 Laura blogs here:  The Cooking Photographer, she had this to say about her recipe: "Potato Yeast Doughnuts made by a real live Idaho gal. We do exist in nature, but are seldom seen. Much like the elusive Sasquatch."
Mary sent this long: Lola Lynde's Golden Corn and Potato Mash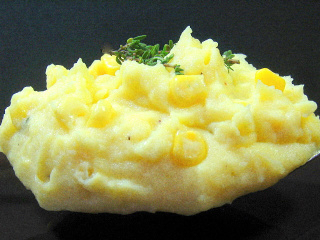 Mary blogs at: One Perfect Bite, and says this about her offering: "A luscious version of an old Swedish recipe for mashed potatoes."
Finally, there is my entry, found here: Riley Marie's Sweet Potato and Pecan Coffee Cake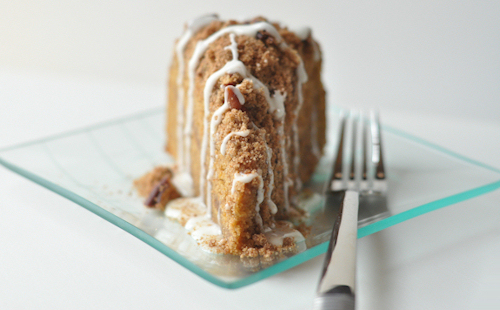 I, of course, blog right here where you already are, and this coffee cake is rich and moist and defintely one of the better ideas I have ever had.
The Potato Ho Down site can be found here, and will always include a link to the event for each month. If you missed this month, I can still add you – just go to the Ho-Down link and follow the instructions there.