You met these two guys, Louie and Rico. They are Mickey Mouse Platies – boy Platies.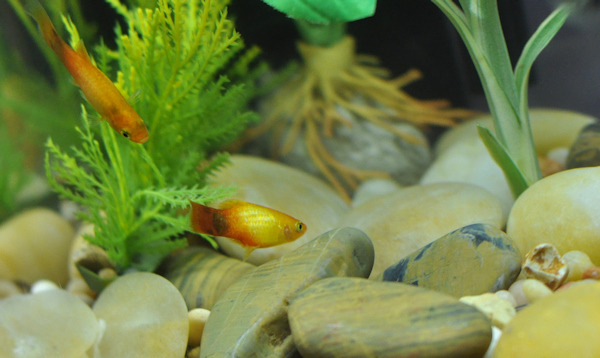 They've been joined by a few more tank-mates. This is (Good Golly)Miss Molly. Miss Molly is the only female fish in this tank – a fact that is important to remember.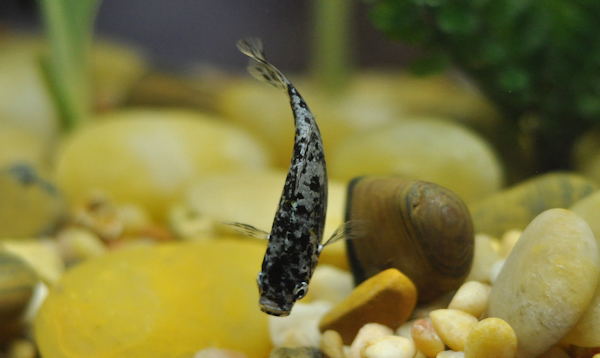 This is Sherman- he is a Turquoise Guppy. A boy guppy.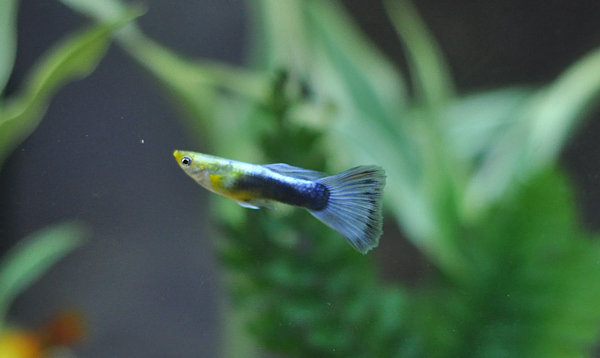 This is Nelson – he is a Lyretail Guppy. Again – a boy guppy.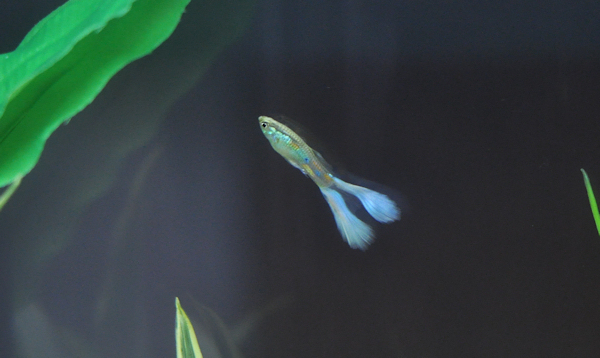 There is another guppy in there – a Red Gold Tuxedo Guppy, but I missed getting his photo. Even without the photo however, it is important to note that he too, is a boy guppy.
When I got these fish, I made sure to get all male fish, with the exception of Miss Molly, who is a female, but the only Molly I will be putting in there, so she won't ever be getting married and starting a family. You see, this is not an especially large tank and 6 fish is about the limit of what you want to be putting in there. And, my Dad used to raise fancy guppies, so I know what a pain it is to deal with the babies. We are empty nesters here, and don't want to be raising any more children. So, at the fish store, I was very specific – I only wanted male fishies.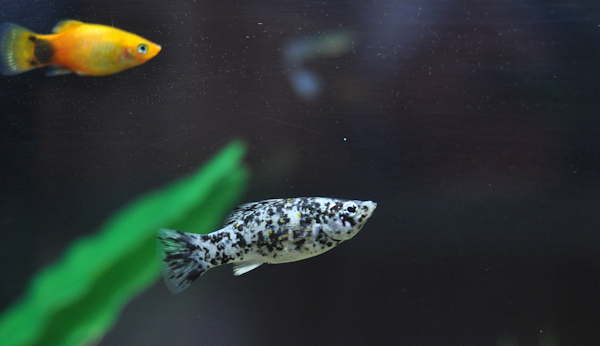 The other day, Larry was watching the fish and asked me "When did you put these tiny little fish in here?" So I replied that I had not put any tiny little fish in there at all and that he must be seeing things. But he was right. There were tiny little fish – about 6 or 7 as near as we could tell.
I didn't want to deal with fish procreation because you have to provide the babies with a safe place to hide. The reason is that to adult fish, baby fish don't look like babies – they look like sushi. I remember the childhood trauma of witnessing a breakdown of some kind in one of my Dad's tanks  – the little floating tank sprang a leak, or maybe there was a premature birth or something but the result was carnage, as all the babies were consumed before Dad could do anything about it. I don't need to relive that, ya know? It looked like I had no choice though, since it was 8:00PM on a Saturday night and we live 40 miles from the nearest pet store.
I twittered that somehow my all-male fish revue was having babies and received a twit back from Fish Geek with some stunning information: Livebearing fish have been known to change sex.  Yikes!  
I think this activity must have happened at the fish store, since I've only had the platies two weeks and the others less than a week.  That doesn't seem like enough time for them to draw straws to decide who will turn female, turn female [I think they go behind a rock for this], mate, gestate and have babies.   Worst of all though, we can't determine who has turned female. I doubt it is the Molly, since the babies aren't speckled, but other than that, I can't begin to guess.  No one is talking.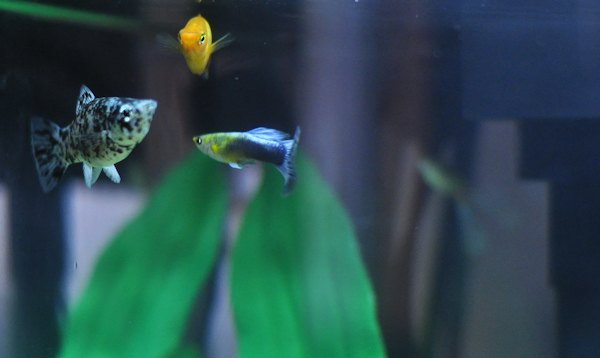 On a positive note, despite our lack of facilities for dealing with babies, at least two of them have survived for 5 days, hiding down in among the plants and rocks. And even though I didn't want any fish babies, I have to admire the fact that they are still around. I never expected this much drama from one little fish tank!