Jenn Fowler of Frugal Upstate asked for guest bloggers while she is away next week and I knew this recipe would be a natural for her site. It is easy first of all – perfect for beginner cooks and great fun to do with kids. And it is definitely frugal. We had this growing up, when Mom was feeding a bunch of hungry kids for as little money as possible, and I made it often when our girls were growing up. All you need to do is add a vegetable and you have a whole meal, because the meat and starch are already there. The recipe will appear on Jenn's site in a few days. You should check out her blog if haven't already – it is full of great ideas for living within your means.
Here are most of the ingredients, except for the worchestershire sauce, which eluded capture at photography time. The gargantuan bottle of ketchup is the result of Larry doing a little grocery shopping – I'm just glad I didn't send him to Sam's Club because he'd have come home with a 55 gallon drum of it. Anyway, there is nothing difficult to prep here and nothing hard to find. We will get into it all in more detail as we go along.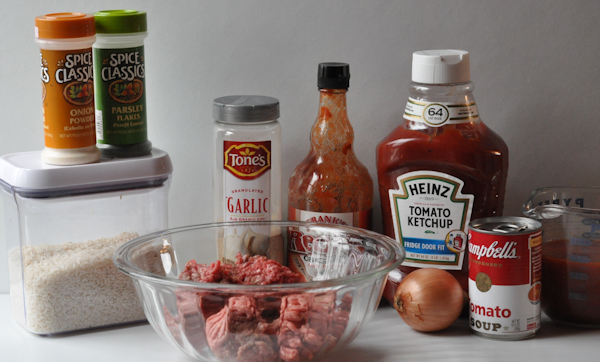 In a largish bowl combine:
1 lb of ground round
1/2 lb ground chuck
3/4 cup white long grain rice
1/3 cup tomato sauce
1 medium onion, cut in small dice
1 tablespoon dry parsley flakes [2 tablespoons chopped fresh]
1 teaspoon salt
1/2 teaspoon pepper
1 teaspoon onion powder
1/2 teaspoon garlic powder/granules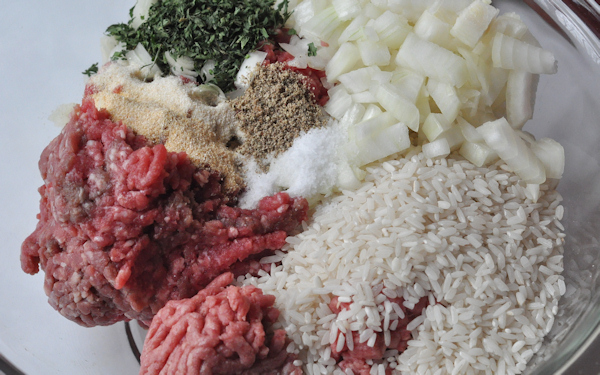 I mix this together with my hands, but you can use a spoon if you prefer – just make sure it is all really well combined. Form into 2 inch meatballs and arrange evenly in a large saute pan for which you have a lid.

Evenly spread a can of condensed tomato soup – about 1 & 1/2 teaspoon per meatball will do it.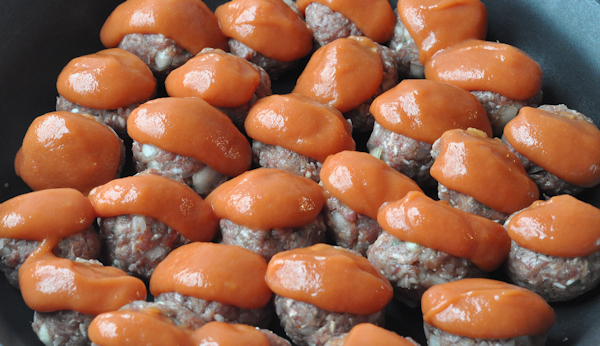 Give each one a good healthy sized squirt of ketchup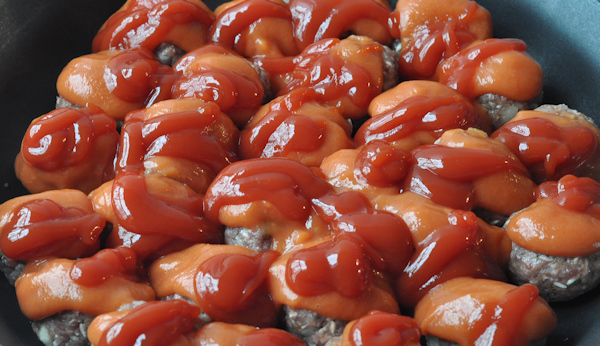 Followed by a tablespoon or two of Durkee's Red Hot [optional] and an equal amount of worchestershire sauce, sprinkled around. Then about 1 cup of plain tomato sauce and 1/2 cup water. Shake the pan gently and cover.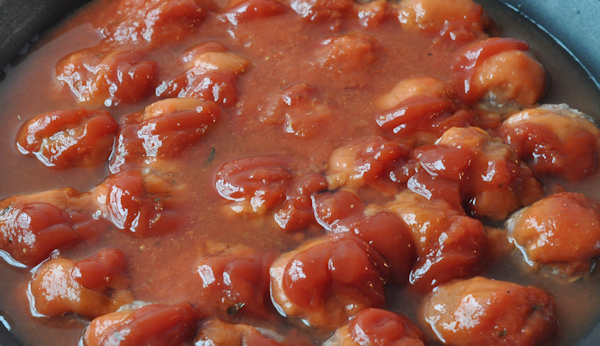 Simmer over low heat for about 45 minutes, remove lid and cook 5 minutes more to thicken sauce a little.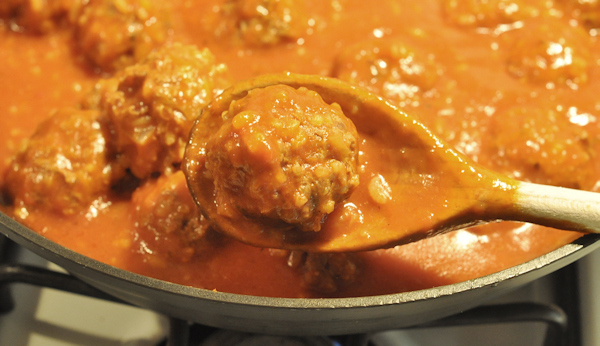 Looking pretty good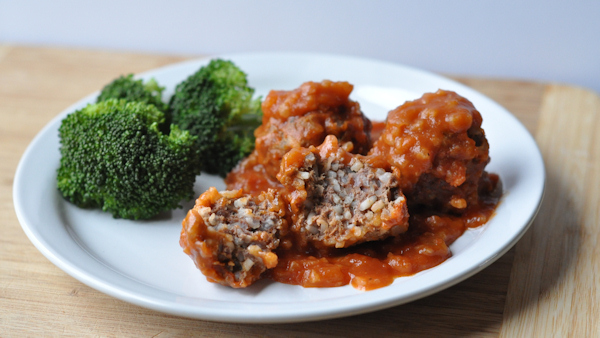 It is total comfort food, with a lot of flavors that kids usually love. And it doesn't do any good to be frugal if it's not delicious, is there?