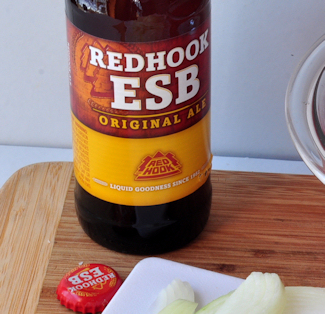 Why ale for braising a pot roast? Because the flavors are SO good together, and the ale, along with the tomatoes, helps to tenderize the beef. This is actually an update on the pot roast I used to make when we were first married. That one had ingredients that I just don't use anymore, like onion soup mix and jarred spaghetti sauce. I have given up all of those prepared foods, in favor of the simpler, more delicious flavors of unprocessed stuff. Which meant the pot roast recipe had to undergo a transformation, and this is it – a basic method that you can use as a jumping off point to add other flavors, and change things up so you never get bored eating the same old thing.
So – you have to start with a roast. This is an Angus chuck roast – about a 3 pounder if memory serves. When you're talking about a "pot" roast, you're talking about a long, slow cooking method that will turn an otherwise tough cut of meat into something richly flavored and tender. When you are serving it, you aren't going to have to ask people how they like theirs done, because it's ALL well done. Like melt in your mouth done. Like "grandma pass the mashed potatoes done". Like, don't invite anyone for dinner cause we don't want to share, done. Because of the price and how well it works, I always start with a chuck roast. Dry the surface of the meat with a paper towel and salt and pepper both sides very liberally.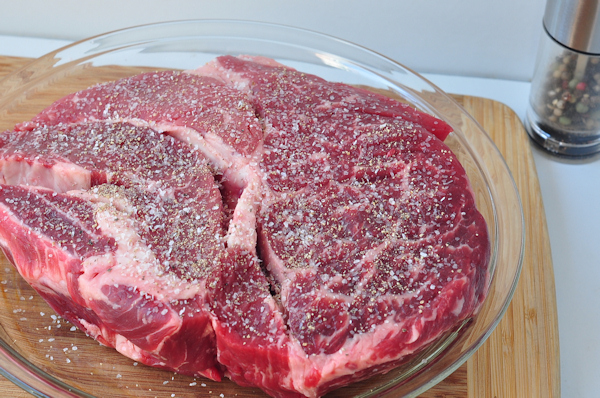 Have a couple tablespoons oil heating in a heavy pan that can go in the oven. This is a porcelain over cast iron braising pan that is one of my favorite things ever. And just to show those snarky folk who say I bought everything I own on Amazon, I got this on HSN. Maybe QVC? Anyway – as I was having trouble sleeping and wandering about on late night TV, Wolfgang Puck was making some fabulous stuff in one of these, and selling them for $39.99. So, I snapped one up and it is of amazing quality. I think it's twice the price now, but I would pay that much for it if I had been asleep when this one was on sale. Anyway – when the oil is very hot, carefully put the roast in and then don't touch it for about 5 minutes. Leave the heat on high and just let it brown brown brown. After about 5 minutes, even more carefully, turn it over and brown the other side too. When both sides are brown, remove it to a large plate for a bit.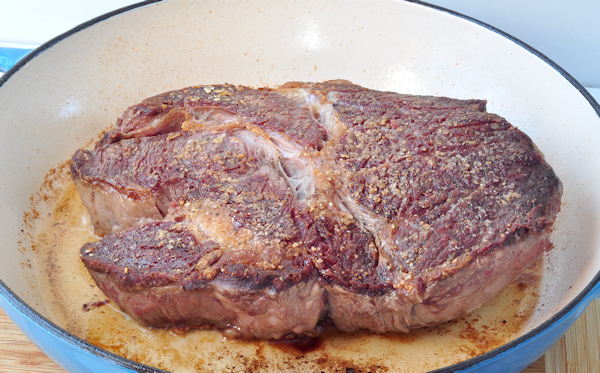 These are the other ingredients you are going to need:
1 12 ounce bottle of some kind of good ale
about 28 to 32 ounces of stewed tomatoes [more about those in a minute]
a couple of large onions, sliced french style
4 or 5 large garlic cloves, minced and divided
thyme – fresh or dried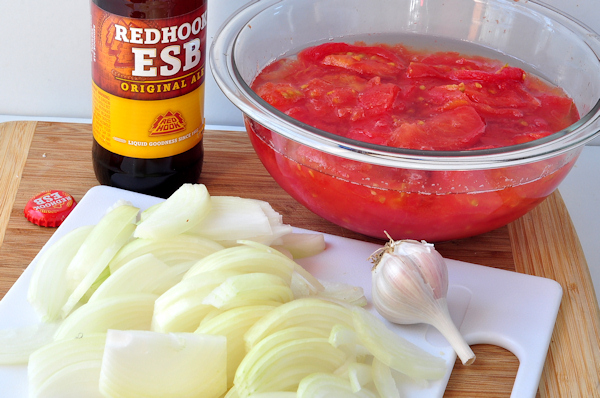 We'll start with the onions. Return your heavy pan to the flame on your stove, and add another tablespoon of oil. Add the onions, along with a good sprinkle of salt, a few grinds of pepper and about a teaspoon of sugar. The sugar speeds up the caramelization of the onions. Once it gets going pretty well, lower the heat a bit and let it cook, stirring every couple minutes until the onions are getting some nice color on them. I don't like to let them go too long, because I do want some texture left at the end.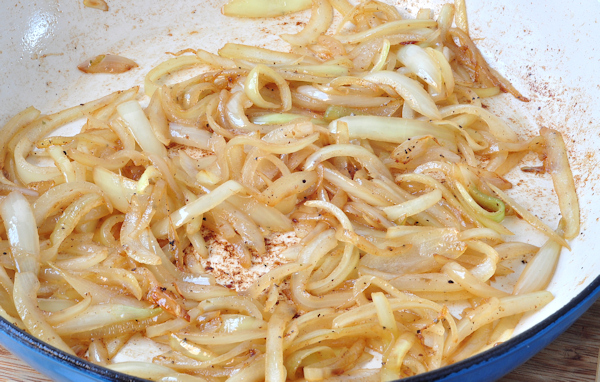 Then, slowly add the ale, and cook for a couple minute to get some of the raw taste of the alcohol out.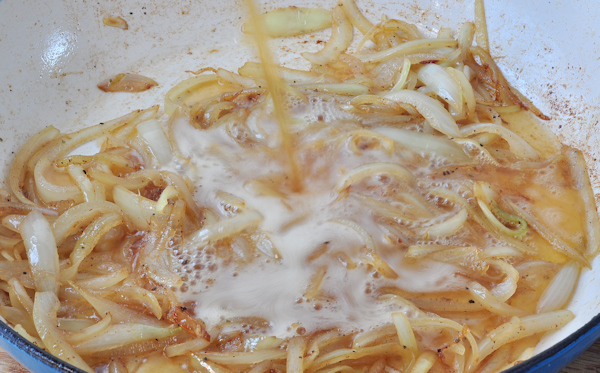 Now, add the tomatoes, garlic and thyme. These tomatoes are from our garden – tucked into the freezer, during the great Tomato Masacree of 2010. I measured and this is about 30 ounces, but canned tomatoes come in 28 ounce cans, so that much will work just fine. If you buy whole canned tomatoes, you can cut them up a bit if you like – I do it right in the can with either a slender bladed knife, or a pair of kitchen shears. Use about half of the garlic, saving the other half to add after a couple hours. The amount of thyme is up to you – I use at a least a heaping teaspoon. This is the last of what I dried from my herb garden last fall – if I had some fresh, I would use that – a couple good sized sprigs. Also, sadly, that was the last head of our garlic too – sob! [is it time to plant the garden yet?] Add another generous pinch of salt and some fresh ground pepper.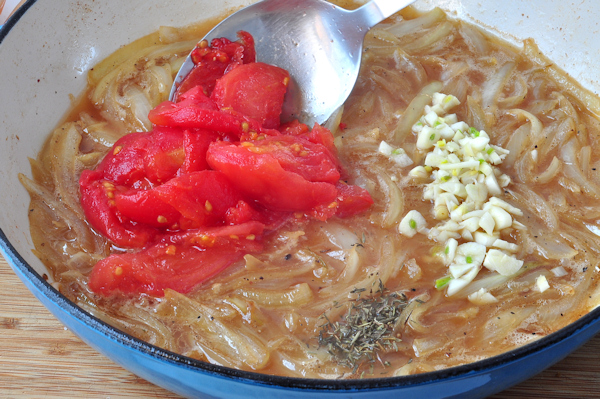 Mix it all together, and then put the roast back in. Put in a 325 degree oven for about 2 hours.  I turn it over about every half hour or so.   Take it out of the even and give the juices a taste. It might need more thyme, maybe a bit more salt and pepper. Stir in the other half of the garlic, cause you need that for sure.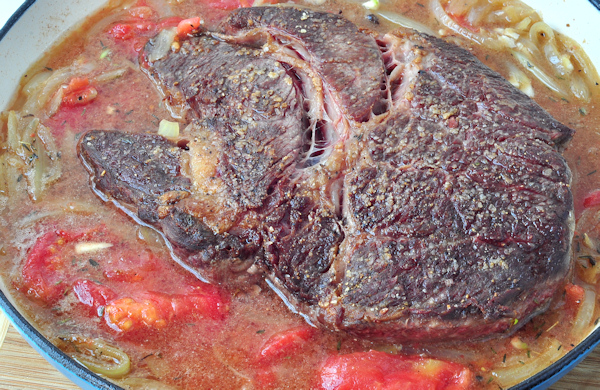 Return to the oven for at least another hour. It might take longer, depending on how tough the roast was to start with. I've heard people say you can't overcook a pot roast and I have to disagree – you do not want dry. Even in liquid it can get dry, so don't let that happen – use a couple of forks to test for done-ness. It should yield fairly easily when you try to pull it apart.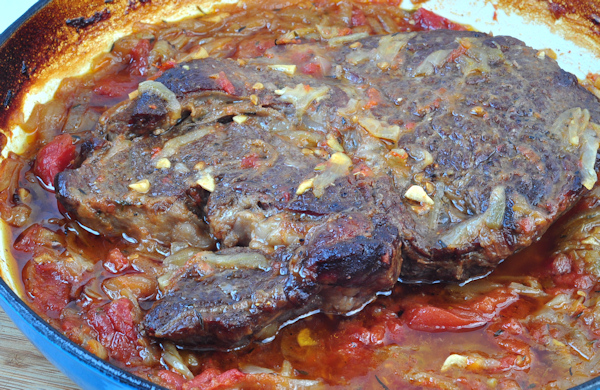 You can cook vegetables right in with the roast. Potatoes, carrots and rutabega are our favorite – they will take about 40 minutes to get done, so plan accordingly. With this particular roast though, I like mashed red skin potatoes. I don't thicken the gravy either – just ladle a bit of the juices and tomato chunks over the meat and potatoes. You could plop a little pat of butter on the potatoes too, if you are so inclined – which I usually am.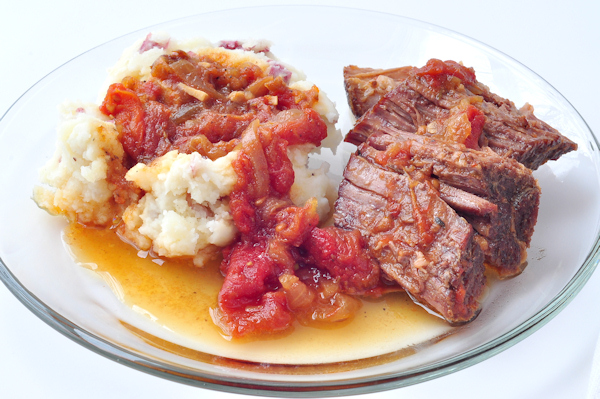 There you have it – a simple preparation that will give you an amazing result and if you are very lucky, maybe some leftovers too.