See the young man in this photo? That is my son. Seriously – he calls me Mom and everything! In 2003, Young-jin, who was an exchange student from South Korea, came to live with us for awhile and he has been a part of our lives ever since. He went to college in California, but he is back home now and preparing to go do his 2 years of manadatory military service.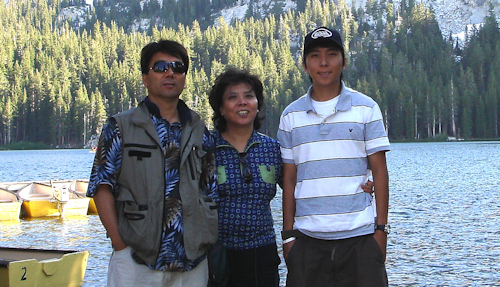 Everything about us was atounding to him. He grew up in Ulsan, which is an industrial city of more than a million people. We live out here in the middle of nowhere. The smell of the air amazed him. The bazillion stars we can see on a clear night amazed him. Our dog, Sadie, amazed him, because she was huge by Korean standards. It was like we had a horse living in our house. Our mini-van seemed enormous to him.  He was used to a mega-church in Korea, so our "little" 100 person worship service seemed like a home Bible study to him.  He made us look at everything around us with new eyes.
Ordinary American food seemed completely exotic to him. I understood that no Korean person can feel really good about life unless they get to eat kimchi, which consists of pickled spicy vegetables, usually cabbage, at lease once every day, so I made sure to always have it around. As is usually the case in Asian cultures, his Mom had waited on him a lot more than I was willing to do, so guest or not, I told him he had to learn to make his own breakfast. I taught him to fry eggs, so every morning, he had rice with kimchi and eggs. The process, for him, took on the air of a chef preparing Eggs Benedict in a 5-star restaurant.
He also loved American food though. In addition to pounding down grape tomatoes by the dozens, from the bumper crop of them we had that year, he became very fond of certain foods that I cooked. Chili was a huge hit, as was spaghetti and meatballs. Pizza, beef stew, chicken and dumplings, pot roast – he loved it all. But his hands down favorite was this recipe – Sloppy Joes.
This is from an email I got from him this week:
P.S
sometimes when i think about the food you cook for me it drives me nuts….
but i forgot it's name….. i think it ends with 'Jo?' or 'JOE?'
chopped beef between the burger buns… oh… man………………..
I told him I would give him the recipe, so his Mom, who is a great cook, can try to make it. I am pretty sure that most of these ingredients much be available in Korea, so it should not be too difficult to recreate.
From our point of view, here in the states, this is one of those easy, fast meals that most kids love. I know there is a canned sauce you can use, but I have never tried it, so I don't know how it compares. Like the burritos, I am a food snob I guess, preferring the homemade stuff. If one can be a food snob when talking about Sloppy Joes that is. It was exotic fare to a 17 year old Korean kid though, and still a favorite of ours.
This is about a pound and a half of ground round, half-way browned, grease drained. A large onion, 2 medium green peppers and 2 stalks of celery, all cut in a large dice, and sprinkled with about 1/2 teaspoon of kosher salt and maybe 10 grinds of black pepper. Continue cooking over medium heat, untl the beef is all browned and the vegetables are starting to brown slightly at the edges.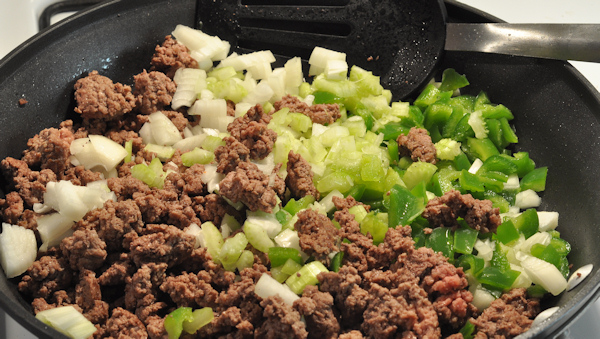 When I am making something like this, I don't measure anything. If macaroni and cheese was the first thing I ever cooked, this was probably the second and I would guess I have made it 500 times since. But, I did my best to measure for this post. You can adjust these ingredients to your own liking very easily. It can made more sweet, spicier, more garlicky – just add a little of this and that until it tastes good to you.
1 cup Ketchup
4 tablespoons cider vinegar
3 tablespoons brown sugar
3 tablespoons worchestershire sauce
2 tablespoons mustard [I used dijon, but any kind will do]
2 teaspoons Red Hot or other hot sauce to taste
1 teaspoon onion powder
1/2 teaspoon garlic powder/granules
1 teaspoon mild chili powder
2/3 cup water
Stir into meat mixture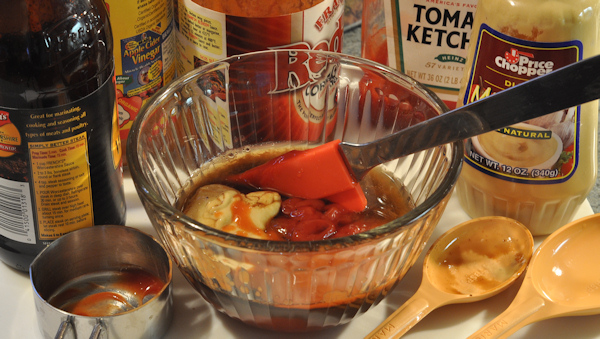 Simmer over medium heat, stirring frequently for about 30 minutes, until nicely thick. Taste to see if it needs more salt.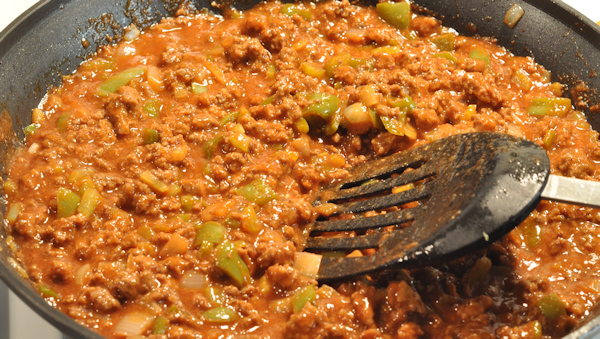 Serve on crusty rolls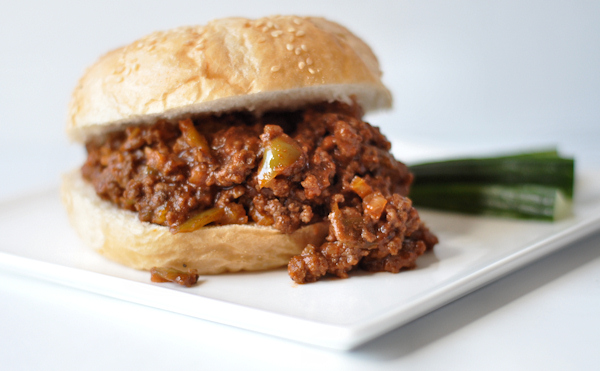 I think Young-jin was right- oh man!