Happy Valentine's Day! What else says "I love you" like a nice spicy burrito? Well, around here it is going to be beef stroganoff and a blueberry pie, but we were pretty happy with these burritos earlier in the week.
I can honestly say that I have never had one of those pre-made frozen burritos that you can get at the grocery store. When I worked at a convenience store a long time ago, they were one of the selections that could be purchased and instantly turned to rubber-with-hard-bits-around-the-edges in a microwave. The smell was certainly enough to prevent my ever trying one.
And I didn't need to, because even 30 years ago, I knew how to make them at home, thanks to a lovely Mexican woman who lived on the next street over during the brief time I lived in Colorado. Lucky me – her dog got loose and I brought it back home right at dinner time, which garnered me an invitation. I was in instant heaven. You have to realize that I had only recently come from the northeast and 35 years ago, there were not many places around these parts that served Mexican food of any description. The next day I went back and spent the afternoon watching her make burritos. When I moved back to NY, I started making them myself. I even made the tortillas though mine were never as nice as hers.
This is pretty cose to what she made, though I use purchased tortillas now. If I am feeling really ambitious, I use canned pintos to make my own refried beans, but for this I used the canned ones. No spice packets or premade mixes are involved though. It only takes an extra moment or two to use real spices and it is a whole lot cheaper. And if you make these just once, you will never be able to go back to the frozen ones – and maybe not Taco Bell either!
We'll get to the seasonings in a moment, but for starters, you need to chop a medium onion into a medium dice, seed and chop one or two or ten jalapenos and smash and mince 3 or 4 good sized garlic cloves. The jalapeno is one of the ones I froze last summer and one was not enough, so I later added another.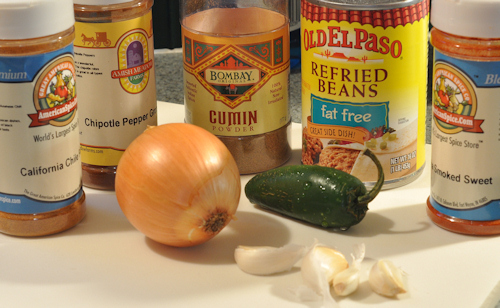 I like to use a non-stick skillet for this because it does tend to stick and I am lazy and don't want to scrub a pan. Brown a pound or so of ground beef in a tablespoon of hot olive oil. This is ground round, but ground chuck will work too. When the beef is still about half pink, add the onion, pepper and garlic. Continue cooking until the beef is completely browned. The veggies can still be pretty crunchy at this point.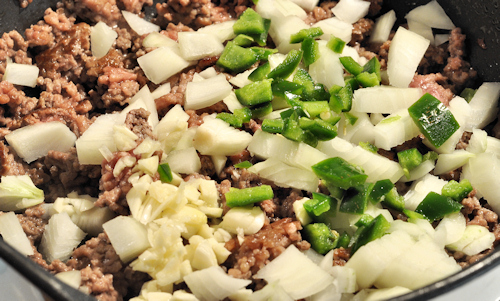 You can skip this step if you like a chunkier texture or if you don't have an immersion blender, but I like to run my blender through everything a bit to even it all out. You don't want to pulverize things to a paste, so go easy and just kind of pulse it around in there.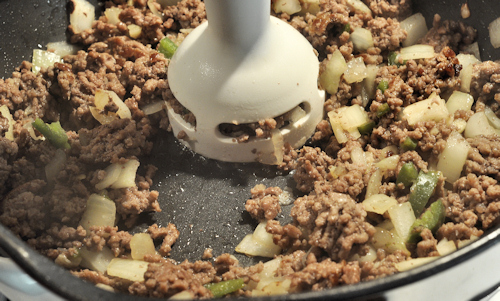 Until it looks about like this.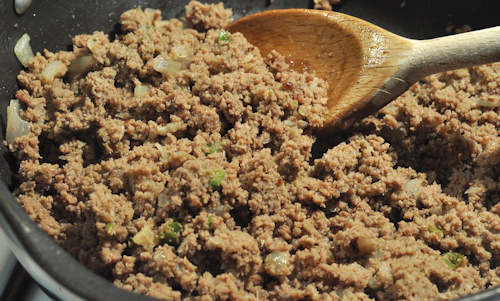 Add the can of refried beans, along with a half a can of water and mix until it's all blended together.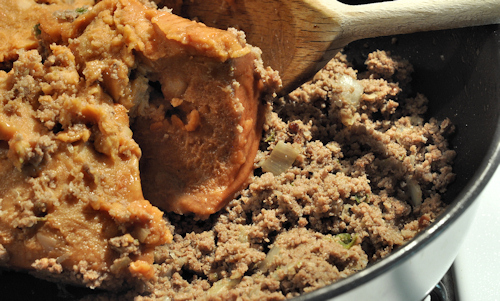 Now we bring the good stuff. Recipes like this have to be adjusted for your own taste and according to the ingredients you have, so these are not hard and fast amounts. We like things pretty spicy, but prefer to be able to taste our next meal, so I don't add a murderously huge amount of chili powder. Below is an approximation of how much I used:
2 tablespoons ground cumin
1 tablespoon chili powder
1 tablespoon ground chipotle peppers
1 teaspoon smoked sweet paprika
1/2 teaspoon onion powder
6-7 grinds pepper
1/2 teaspoon kosher salt
A note about chili powder – I used a mixture of California Chili powder which is about the same heat as a standard chili powder you would buy in the grocery store and ground chipotle peppers. Chipotles are smoked jalapenos and they have quite a lot more kick than the regular stuff. I can't live without chipotle chili powder. If the jar begins to get a little low, I get short of breath and my blood pressure shoots up until I can get more – seedy street corners on the bad side of town are a good place to find it. [or American Spice Company if you want to be boring about it] You really ought to get some if you have never tried it – your life will never be the same. Neither will your burritos for that matter. You can also add some hot sauce or other heatage at this point if it is not seeming spicy enough. I added another hot pepper. Keep in mind that the spice will intensify somewhat as it cooks though. Stir that all around and let simmer over low heat until it is reduced to a nice thick mixture. This takes about 30 minutes or so – make sure you stir it every 5 minutes or so.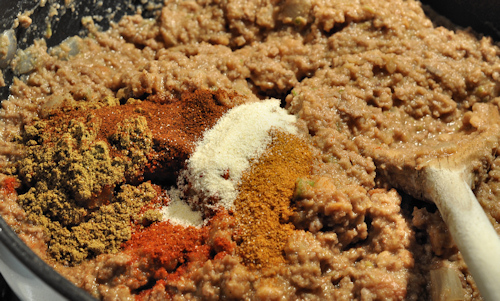 In the meantime, prepare the toppings of your choice. On this night, I used chopped romaine, onion, avocado, black olives, chopped tomato and shredded cheddar cheese. Plus some additional hot sauce, salsa and sour cream.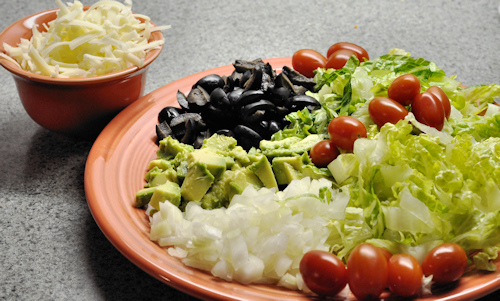 I admit this is not the most attractive substance on the planet, but this is how the filling should look when it is ready to serve. Don't worry – no one is going to waste time gazing at it anyway.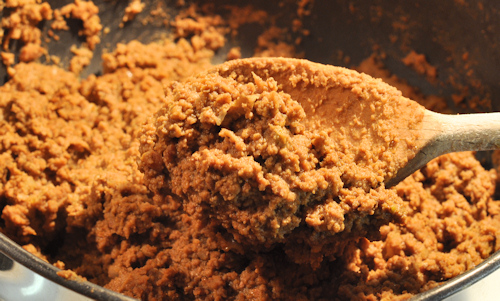 Heat large flour tortillas according to the package directions. Lay down a nice strip of the beef filling, top however you prefer and enjoy.