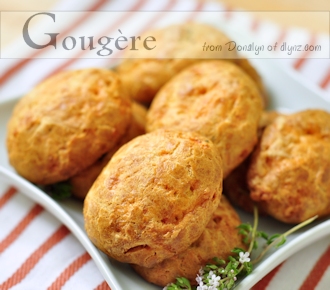 Gougères. Sounds all French and fancy, doesn't it? Well, that's 'cause it is! Gougères, or cheese puffs are a pretty impressive thing to set before guests. Crisp and browned on the outside, light and airy on the inside, rich and cheesy throughout – what is not impressive about that? And, for my money, there are few things that go quite so nicely with a glass of crisp, dry wine. I won't tell you that Gougères are simple or super easy to make at first, but I will tell you that it is a great technique to have under your belt, and once you master it, it truly is an uncomplicated thing. And guess what? The same dough, in a sweet version is what you use to make eclairs, profiteroles and cream puffs! Definitely worth figuring out, right?
I first made these probably 30 years ago, when I ran across the recipe in a magazine. All of our friends were totally amazed, but then we had kids, and my expertise in the kitchen shifted to things like toasted cheese sandwiches, so I forgot about them. Then, as now, I think the first appeal was that they used up a bunch of eggs. When you have chickens, there are going to be times when you have more eggs than you know what to do with, so it's nice to have some recipes that use a relatively large number of them. And, when I made these, a couple weeks ago, the overwintered stuff in the herb garden was really starting to pop, so I wanted to make good use of an abundance of chives and thyme as well.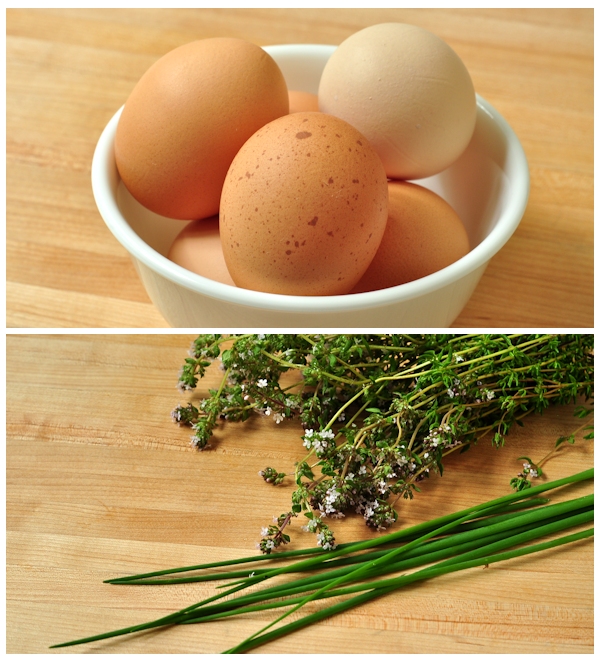 Herbed Gougere
½ cup water
½ cup 2% milk
4 ounces butter
½ teaspoon salt
few grinds fresh pepper
1 cup all purpose flour
4 large eggs, room temperature
5 ounces finely grated dry cheese, divided
1 tablespoon minced fresh herbs
Preheat the oven to 400º, and line heavy baking sheets with parchment paper.
In a large, heavy saucepan, heat milk, water, butter and salt, until butter is melted.
Keep pan over low heat, and add flour all at once, stirring constantly.
Continue to stir until the mixture is uniform, and has pulled away from the sides of the pan, forming a ball around the spoon.
Remove the pan from the heat, and let it rest for about 5 minutes, to cool the mixture slightly.
Add the eggs, one at a time, completely incorporating each one, before adding the next. At the start of each one, just like in the photo below, it is going to feel as though it will never come together, but just keep mixing, and it will. This can also be done with a mixer if you prefer.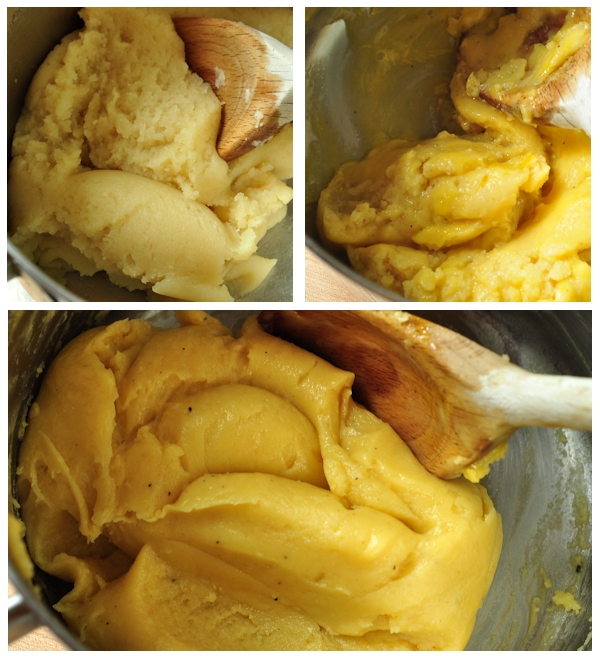 Once all 4 eggs have been completely mixed in, add 4 ounces of the cheese and the herbs, mixing until uniformly blended.
For the cheese, you can use any kind that is fairly dry. I had some lovely aged cheddar, some Asiago and a particularly tasty aged Romano [The last was sent by Gina, my daughter's sister-in-law, as a thank-you gift, after I helped her with some advice on getting a vegetable garden going. Which proves you should always be extra-nice to people who live near large Italian Markets. Thanks Gina – very much appreciated!]
You can use a pastry bag to pipe these onto the baking sheets, but I find my smallest cookie scoop works well. If you have any sort of peak on them once they are on the pan, wet your finger, and gently pat it down – otherwise you will have little burned peaks on the finished puffs.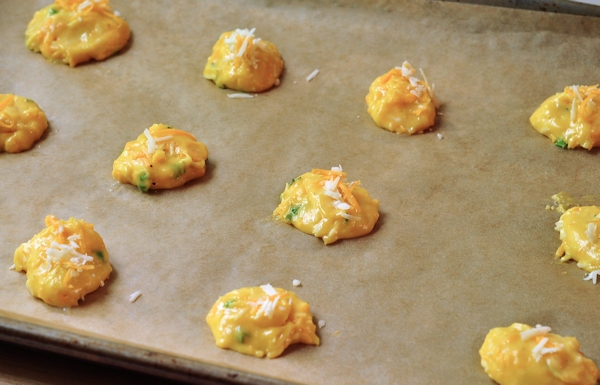 Top each puff with a little sprinkle of the remaining cheese, and place sheet pans in the preheated oven for 5 minutes. Lower heat to 375, and continue to bake for another 20 minutes.
Pierce the side of each puff with a skewer or the tip of a sharp knife, and return to the over for a final 5 minutes, until the tops are a deep, golden brown. [if you forget the piercing part, it is not the end of the world, so don't over bake them just to get that part in] Cool briefly and serve warm.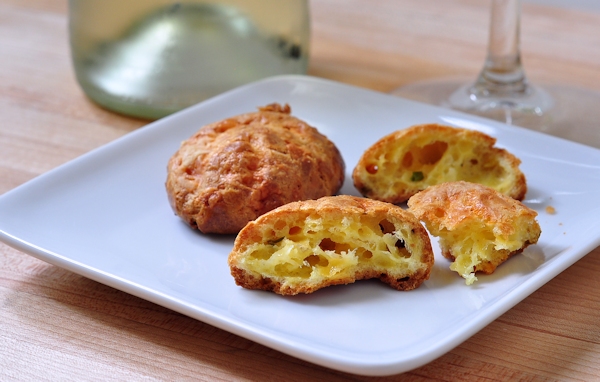 You can prepare them ahead, right up to the baking and let them sit for a few hours, until you need them. Or, you can portion them out on parchment lines sheets, and then stick them in the freezer for a few hours, and then place them in a freezer container of some sort for up to a month. Bake them right from the frozen state as outlined above, and they will taste just as good as the ones you bake right away. This is especially handy if you are preparing some things ahead for a party, because it makes it so easy to get them ready when you need them.
And then, all you have to do is enjoy!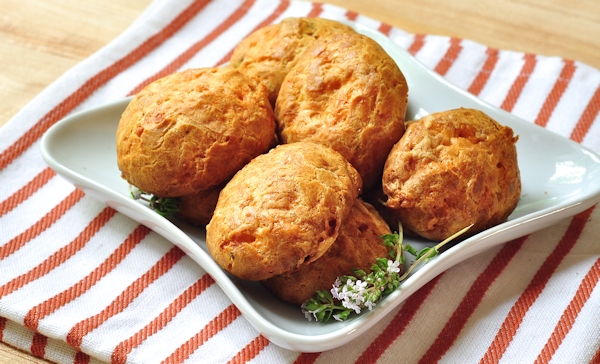 Printable recipe here:Herbed Gougères