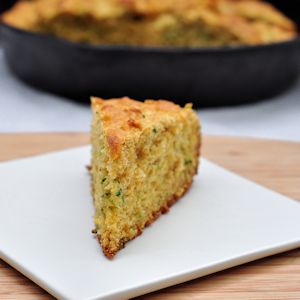 If you spend any time on this blog at all, you are probably already aware of my extreme affection for cornbread. In the winter months, we have it often, alongside chili, stew and soups. This version though, for us anyway, is strictly a garden season version. I refuse to buy summer squash at the market, because I am spoiled rotten by the flavor of zucchini, pattypans and yellow crooknecks that have been off the vine only 10 minutes before we eat them. Nothing else compares, and I would rather do without than eat squash that isn't as tasty as what we are used to.
But, when the garden is going full bore, even we can't keep up with the amount of squash coming out of there. The chickens are starting to grumble about the amount of squash that gets tossed into their yard – "What? Zucchini again? Well – I'm not eating it – my eggs are going to be eligible for that Dr Suess book at this rate! How 'bout if you throw a few tomatoes in here huh?" It is tough to get cooperation around here sometimes.
This cornbread almost goes into the dessert category. It gets a lovely sweetness and moistness from the addition of quite a bit of honey. It would still be great with a nice spicy pot of chili though, where the honey would give you an awesome sweet-spicy contrast. Here is how I made it.
Heat the oven to 425, and use olive oil to grease a 10 inch iron skillet, and set in the oven to get hot. If you don't have an iron skillet, go immediately and buy one at the hardware store! Really, you can just use an 8 or 9 inch square pan, but just grease it without putting it in the oven. But you should have an iron skillet – if I could only keep one of my pans, that would be the one I would choose, because of how useful and durable they are. Anyway – let's make some cornbread.
In a medium bowl or large measuring cup, combine
1 cup grated zucchini
2 eggs
1/3 cup of honey
1/4 cup melted butter
In a separate bowl, whisk together
1 & 1/2 cups all purpose flour
1 cup coarse full grain cornmeal
2 teaspoons baking powder
1 teaspoon baking soda
1/2 teaspoon salt
Don't combine the two mixtures until [if using] the iron skillet is very hot. If using a regular baking pan, you don't have to wait, of course. Pour the liquid ingredients into the dry, and fold together, just until combined. Do not overmix – lumps are fine, and even some small dry spots are not going to hurt anything. Immediately spread the batter in the hot skillet evenly, and return to the oven. Check after about 13 or 14 minutes – a toothpick inserted near the center should have just a few moist crumbs on it – return to oven for a few more minutes if it is not done. [immediately run outside and take 2 dozen photos of it in the waning evening light, while your husband patiently waits for you]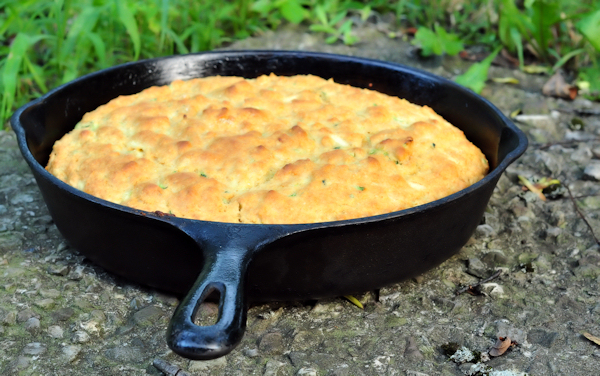 Serve immediately with plenty of butter, and maybe even another little drizzle of honey of you have some handy.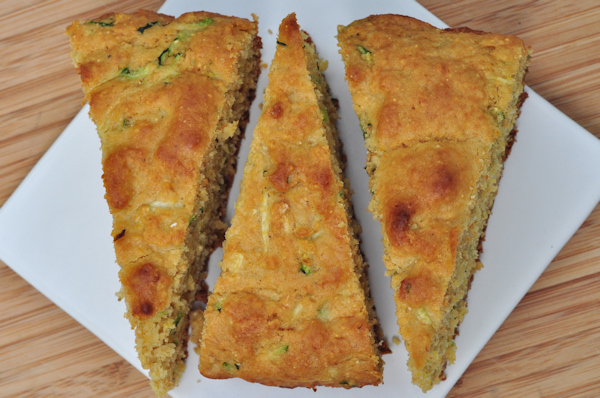 This will keep a little better than most cornbread, retaining a nice texture at room temperature for a couple days. It can be frozen – wrap in plastic wrap and then foil to prevent freezer burn. Any left overs we have though, I give to the chickens. Just like people, they are thrilled with this treat!