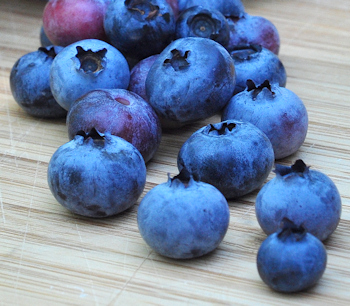 You might have seen me mention these the other night on Facebook. It was nine hundred and eleven-ty degrees out and we were looking for something really refreshing and light for cocktail hour on the porch. We had some blueberries and limes and threw a few other things in there and this is what came out. The color is from the blueberries. I was afraid they would make it look muddy, but instead I got this lovely pink! You know blueberries are very very good for you – lots of those fantastic antioxidants and what-all. Your body will thank you, trust me.
You need to do a couple things ahead – make a 50/50 simple syrup by mixing 1/2 cup water with 1/2 cup granulated sugar – bring to a boil, and simmer for a minute or so, then chill. Juice some fresh limes until you have 1/2 cup. Crush 1/2 cup blueberries, using a hand blender, food processor or what have you. Strain through a medium strainer, pushing on the solids to extract all the juice, and to let a bit of the skin through.
To each 16 ounce glass, add
1/4 cup lime juice
3 teaspoons simple syrup [to taste - you might need more]
2-3 tablespoons crushed blueberries
1 jigger of vodka [or more...]
Give that a stir, fill the glass about 1/2 full of ice cubes and top off with lime seltzer.
garnish with lime slices and a few whole blueberries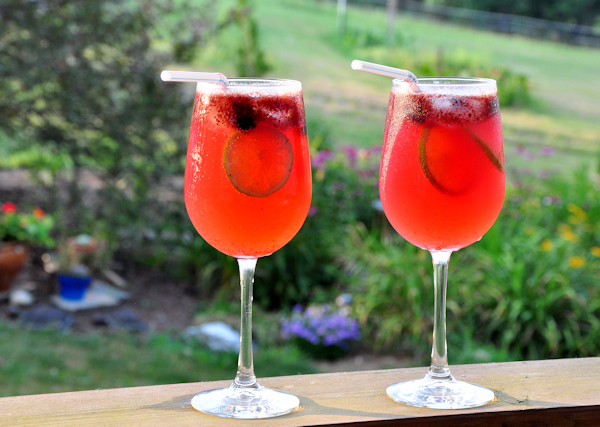 SO delicious and we definitely felt refreshed.
I know that I measure ingredients like a cook, not a mixologist, but so do a lot of you I'm guessing, so I hope you will forgive me. Have one of these and you will forgive me for sure!