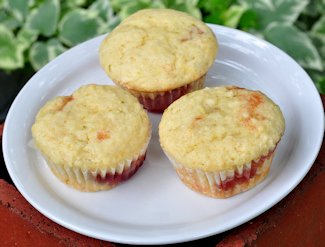 Sometimes, inspiration depends on what you find in the fridge. Yesterday was a cool, rainy day and perfect for baking, so I wanted to take advantage of being able to use the oven, but since it's usually too hot to do much baking this time of year, I didn't have the ingredients on hand for some of our favorite recipes. I nearly always have lemons though, and Ellyn gave me a few limes when we were up visiting last weekend. I was feeling muffins, but I've already blogged Lemon Poppyseed ones, so that was out. Then I saw a jar of strawberry jam in the pantry. I have no idea why I bought it, but lemon and strawberry taste fantastic together, and, around here at least, the local strawberries aren't quite ready, so I didn't feel bad at all about using something from the pantry. If your jam is in the refrigerator, you should take it out and get it to room temperature before you get started, because cold jam would keep the muffins from baking properly. Stir it up to get it a little smoother than normal too.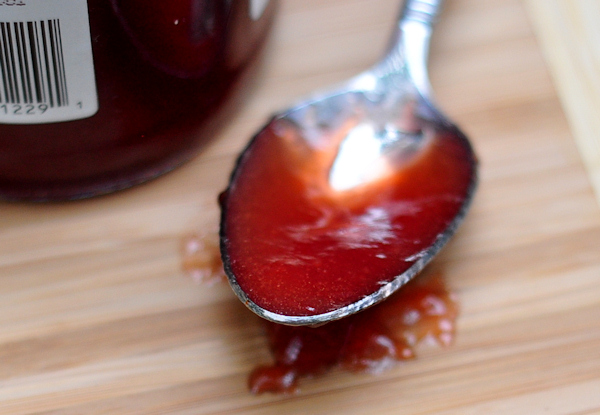 Line a regular 12 spot muffin tin with paper liners, and set the oven to 350 degrees
In a smallish bowl, whisk together
2 & 1/2 cups all purpose flour
1 & 1/2 teaspoon baking powder
1/2 teaspoon baking soda
3/4 teaspoon salt
In a larger bowl, whisk together, for about 2 minutes
3/4 cup granulated sugar
2 large eggs
When that is nice and creamy, add
1 cup yogurt [I used fat free, but any kind will do]
the juice and zest of 1 lemon
the juice and zest of 2 limes [unless they are large, then it would be just one]
Once that is well incorporated, quickly whisk in
5 tablespoons butter, melted
I used a medium cookie scoop and put one generous scoop in each spot in the muffin tin. Add about 2 measuring teaspoons of jam on top of the batter, and then top that with another nice big scoop of batter. They are going to look full, but it will be ok. You will notice that the batter has become rather fluffy already, so take care not to deflate it – handle gently.
Bake for about 18 minutes a toothpick inserted near the center comes out clean – though it may have some jam on it of course. Remove the muffins to a cooling rack, but be careful with any jam that may have oozed out, as it will have about the same temperature as molten lava – not pleasant on the fingers!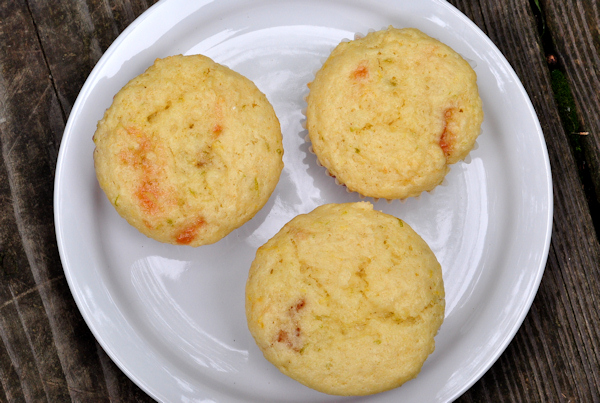 You can eat them plain of course, or with another dollop of jam or even yogurt, but they will be extra good with just a little bit of butter. These have a wonderful balance of flavors and just the right amount of sweetness.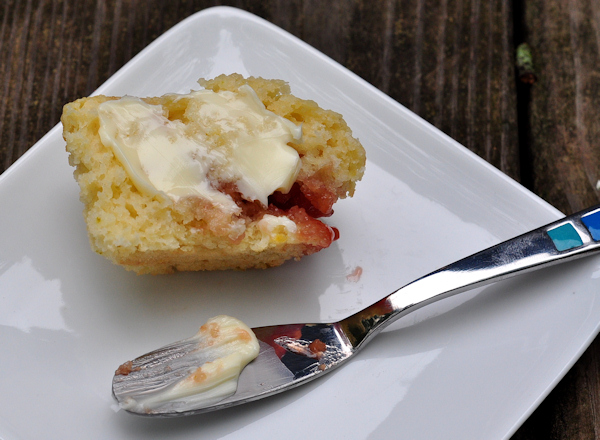 They helped make a dreary day a little brighter, that's for sure.
Like muffins?  Here are few more you might like to try:  Muffins