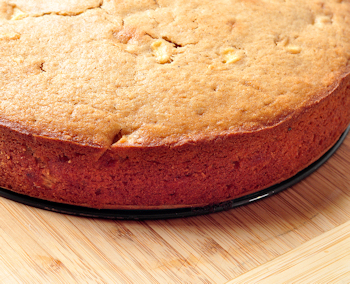 Apples aren't exactly what you would call seasonal right now, I realize. What they are is cheap – especially if you're fortunate enough to live near an orchard store like we are. We picked up some buy one bag, get one bag free Empires, so I was looking for good ways to use them up. First I made some muffins and fooled around with some apple oatmeal cookies – they were ok, but not ready for blogging yet. Then, I made a batch of applesauce and decided to try combining that and chunks of apple in a cake. With bourbon. Why bourbon? Because it gives a nice depth of flavor that plays very nicely with the fruity flavors. And 'cause I can! After a couple tries, it was just right, and now you can give it a try with some late season apples wherever you live. If you don't have time to make your own applesauce, store bought will work just fine, but get unsweetened, or the cake might be too sweet. You can sub apple juice for the bourbon if you prefer.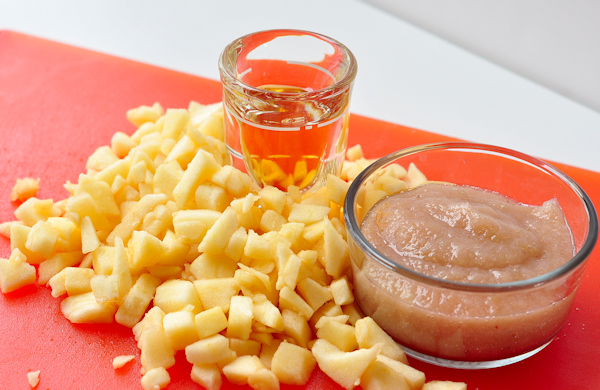 This is how it went:
Generously butter a 10 inch springform pan and cover the bottom with a circle of parchment paper. Butter the parchment paper as well. Preheat the oven to 350 degrees.
In a medium bowl, whisk together
2 cups all purpose flour
1 & 1/2 teaspoons baking powder
1 teaspoon salt
1 teaspoon cinnamon
1 teaspoon ground ginger
1/2 teaspoon freshly ground nutmeg
In a small bowl, combine
1 & 1/4 cups applesauce
1 & 1/2 cup diced apple
1/3 cup bourbon
In the bowl of a stand mixer [or use a largish mixing bowl and a hand mixer], mix until smooth
1/2 cup room temperature butter
Cream in
1 cup sugar
2 eggs, one at a time
2 teaspoons pure vanilla extract
Mix in the dry ingredients, alternating with the applesauce mixture. Combine well, but don't over mix. Spread evenly in the springform pan and bake for 50 to 55 minutes, until a toothpick inserted near the center comes out clean.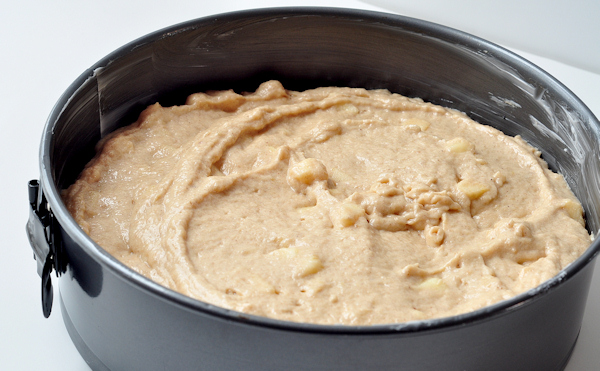 Cool in the pan for about 10 minutes, then remove ring from the pan and cool completely on a wire rack. Then you can remove the bottom and and the parchment paper.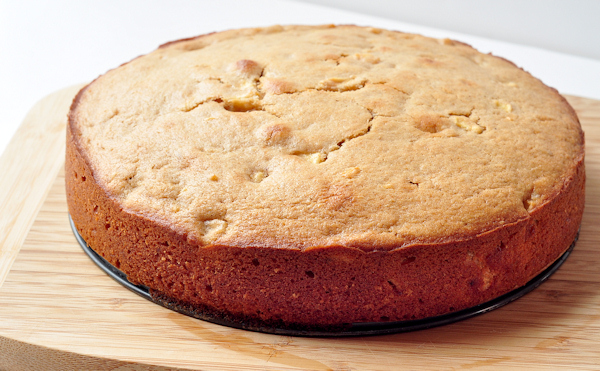 You have lots of options for serving – we liked it topped with a bit of bourbon spiked applesauce, but vanilla ice cream or whipped cream would be great – or any combination of toppings for that matter. It's rich, sweet and moist. I can't think of a better way to use up out of season apples!