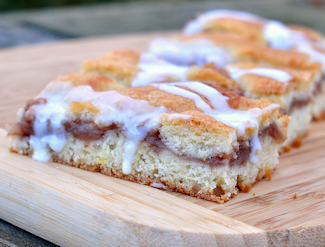 We are still enjoying all the fantastic apples that are in season now. If you spend much time here, you know of my nemesis, the pie crust, and my struggles to make a pie without anyone [like me] throwing a fit because it doesn't come out right. While I am working on that though, I am always on the lookout for things that are kind of like a pie, but with less swearing. These bars definitely fill the bill – they are super easy, very fruity and this recipe makes a lot, so they are perfect for a dessert for a crowd.
The two layers of the bars are prepared separately and then layered in the pan. We will begin with the apples. Combine, in a medium bowl:
5 cups of grated or finely chopped apples
1/4 cup granulated sugar
2 teaspoons cinnamon
1/2 teaspoon allspice
1/2 teaspoon salt
2 tablespoons all purpose flour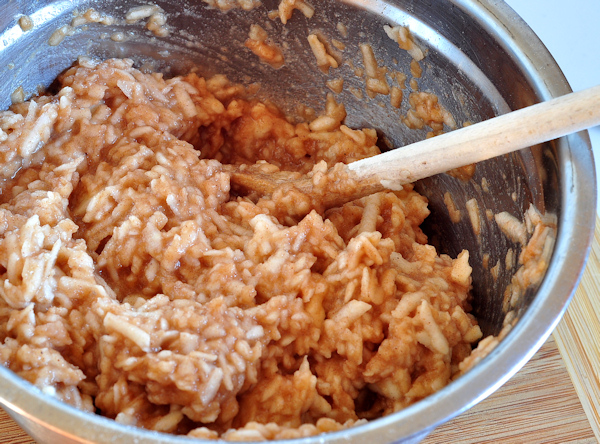 In the bowl of your mixer, cream together
1 cup softened butter
1 & 3/4 cups granulated sugar
One at a time, add
4 eggs
zest of a medium lemon
Beat in
1/2 teaspoon salt
1 & 1/2 teaspoons baking powder
3 cups all purpose flour
Very lightly butter a large [13 x 17] sheet pan. Spread half of the dough mixture on the bottom. It will be a pretty thin layer, but be sure to get the entire bottom covered. Spread all of the apple mixture on top of the dough layer.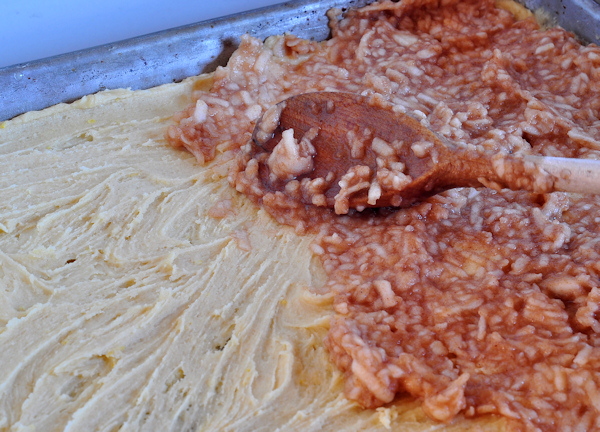 Spread the remaining dough over the apple layer in uneven dollops, leaving gaps in between.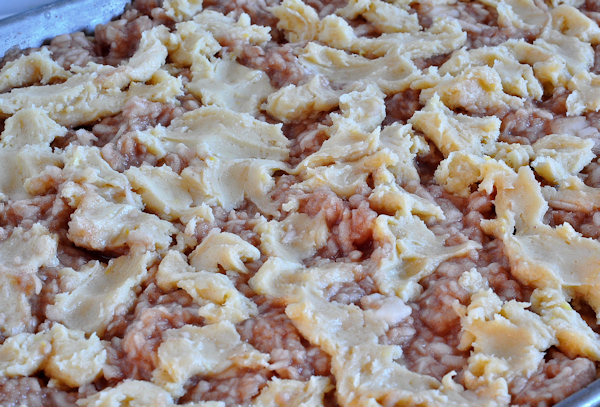 Bake at 350 for about 45 minutes to an hour – how long will dpend on how heavy your pan is and how juicy the apples are. You want it to be nicely browned and the filling should be a little bubbly. Yum.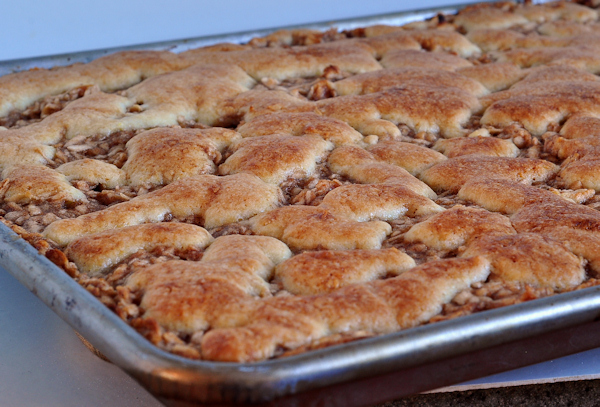 You can serve this warm with a sprinkle of powdered sugar, but I cooled it completely and then drizzled the top with a bit of lemon glaze:
1 & 1/2 cups confectionery sugar
1 -2 tablespoon fresh lemon juice
Mix in the lemon juice, a little at a time until you get the right consistency.
See? Almost like a pie and you can make them in front of the grandkids without teaching them any new words their parents don't want them to know.*   Enjoy!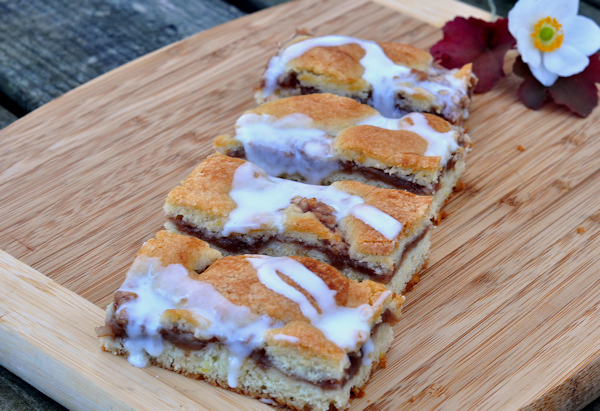 *not that I would ever swear in front of my grandchildren, of course