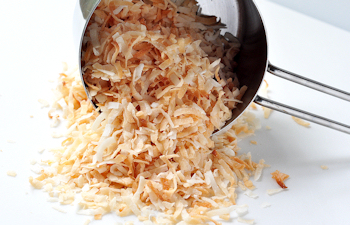 Last December, I came up with a cookie recipe that rapidly became a favorite of ours. You can find that here: Sour Cherry Christmas Bars. I have made those bars over and over, and we never get tired of them. But these squares are running a close second on our all time favorite recipes – the coconut is surrounded by a lovely chewy toffee flavored cookie. And then you melt a bunch of bittersweet chocolate on top and spread that all over the place. Heaven, I tell you!
You need to toast the coconut first. I spread just over 2 cups on a parchment lined baking sheet, because it will shrink down just a bit when you toast it. It took about 15 minutes in a 350 degree oven. Make sure you go in there and stir it around a couple times so that it browns evenly. You need to cool it to room temperature before you use it – I just carefully lift the parchment onto the counter, so that it cools off more quickly than it would if I left it on the sheet pan. Leave the oven on, or if you toasted the coconut previously, preheat the oven to 350 degrees. You are going to use the same large baking sheet for the cookies, so throw it in the freezer for a few minutes to cool it off – or use a different one. This should be a BIG sheet pan – mine are 13 x 18. Here is the link to a set in my Amazon store: Sheet Pans. They are worth their weight in gold as far as I'm concerned. Lightly grease the edges of the pan, and use that same sheet of parchment in the bottom – no need to grease the bottom of the sheet.
Now, we can get started:
1 cup softened butter
2 cups brown sugar
2 eggs
2 teaspoons vanilla extract
2 cups all purpose flour
2 cups toasted coconut [sweetened or unsweeted are both fine]
1 teaspoon salt
1 teaspoon baking powder
Beat together the butter and sugar until fluffy, add vanilla and eggs and beat again until creamy. Add the flour, coconut, salt and baking power and mix until combined. Spread evenly in the pan. You may have to wet your hands and pat it out – if it begins to stick to your hands, just wet them again, until the dough is spread out to the edges. Bake at 350 degrees for 20 to 25 minutes [mine were done after 22 minutes]. Remove from the oven and immediately distribute 2 cups of bittersweet chocolate chips over the top. Let sit for 5 minutes, which will melt the chips, and then spread evenly over the bars. Cool in the pan for 30 minutes or so [longer is fine, but the edges might stick a tad more in that case]. loosen the edges with a spatula and carefully lift out the entire batch of bars, setting them on a cutting board [not the one you use to cut up garlic and onions!]. Peel off the parchment paper and cut into squares by pushing a large chef's knife straight down through the bars – don't drag the knife through them or the chocolate won't look as nice. Once they are cut, leave to cool completely so that the chocolate has a chance to completely harden. Store with parchment paper between the layers [yep – use that same piece, cut to fit your container].
Not bad, eh?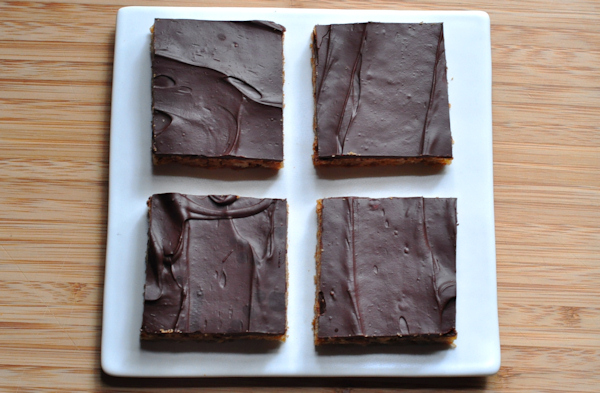 Maybe you'd like a closer look?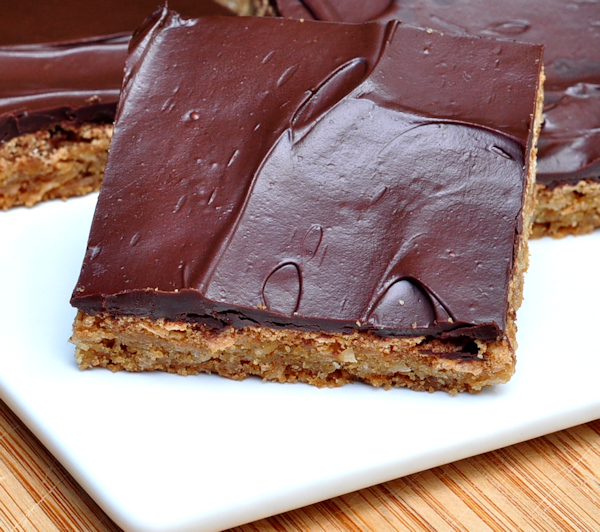 {I'm giving a little shout out to Gina – she got to try these because I gave some to Ellyn and Jason who stopped by to drop off our grand-dog, on their way to Wisconsin, which is Jason's home planet state. She comments here fairly often, and was happy to get some famous internet cookies. Hi Gina!}