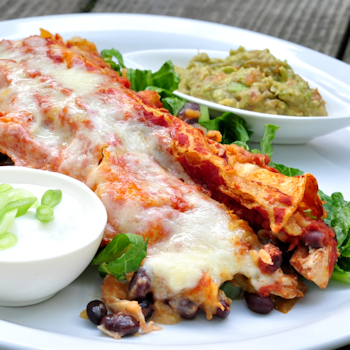 I've been busy in the garden lately – once I get started on a project, that is all I want to do, and for the most part, we have had some fairly cool dry weather, so staying inside to write blog posts seemed downright wasteful. I've been cooking though and this faithful standby managed to get itself photographed the other day. So – since it is rainy today, I am sharing it with you all.
I know I have a little bit of a bias toward Mexican inspired flavors – it is what we love to eat, so it often ends up here. Chicken Enchiladas seem kind of time consuming, until you make them a few times. Then it seems like something you just have to have, no matter how long it takes. Fortunately, it actually doesn't take long at all.  Chipotles are smoked jalapenos and are pretty easy to come by in any supermarket these days.  They add a fair amount of heat and the smokiness is enhanced in these by adding cumin and smoked paprika to both the sauce and the filling.
To get started, we are going to put together the sauce – which we will also use to poach the chicken. You can use a blender or food processor for this.
28 ounce can crushed tomatoes
salt and pepper to taste
3 – 4 chipotle peppers from a can of chipotles with adobo sauce [they are pretty hot so you may want to start with just 2 and see how you like it. we use 4]
4 big cloves garlic
1 teaspoon smoked paprika
1 teaspoon ground cumin
Zap that all together until it is smooth, and bring up to a simmer in a wide pan.
Carefully add
2 6-7 ounce boneless chicken breasts
Poach the chicken, covered, for about 15 minutes, turning a few times, to ensure even cooking.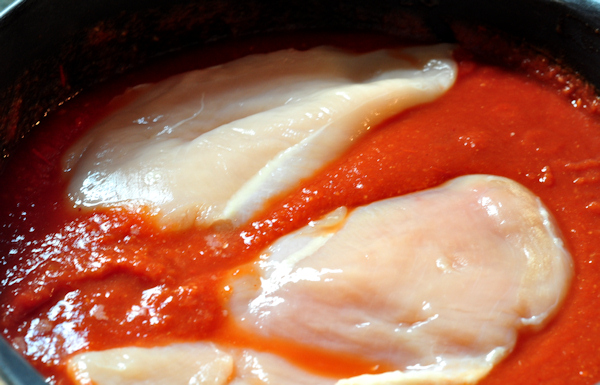 When the chicken is cooked through, turn off heat and move chicken to a plate. Use two forks to roughly shred the chicken, and place in largish bowl. Spoon about 1/4 cup of the sauce over and mix in. While the chicken is poaching, in a small saute pan, sweat a medium onion, cut in a large dice, and add to the shredded chicken. Chop a can of whole green chilies, and add, along with the liquid from the can. Drain a can of black beans, and add as much as you like – I used about a cup or so. Mince a large garlic clove or two and mix in, along with 1/2 teaspoon each cumin and smoked paprika.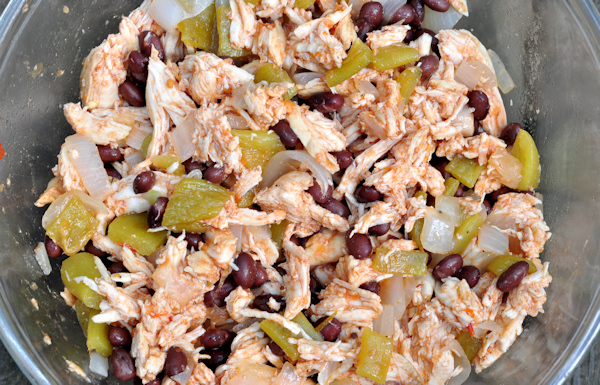 You need a package of soft corn tortillas, preferably the bigger size. If you can only find the smaller ones, obviously you will put in less filling and end up with more than 8 enchiladas. Dip each tortilla in the enchilada sauce shake or gently scrape off the excess. I usually dip 3, roll those, then dip another 3, roll those, etc. Put in enough filling to make a nice full roll, sprinkle a bit of grated sharp cheese, and then roll up. Push to the end of the baking dish, making sure the flap is on the bottom, so it doesn't come unrolled. I do the whole process right in the baking dish, but you can fill and roll them on a plate or cutting board if you find that easier.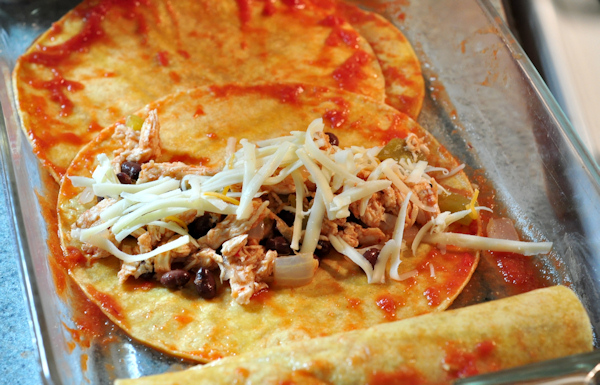 Once they are all rolled up, cover with remaining sauce, and cover the dish with foil. Bake at 350 degrees for about 20 minutes. Remove foil and cover the top with about 4 ounces of grated sharp cheddar cheese. Return to the oven for about 15 minutes, until the cheese is melted and bubbly.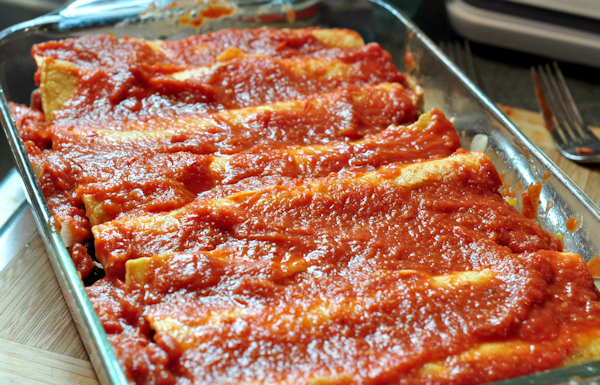 We like them on a bed of shredded lettuce, with salsa, guacamole and sour cream on the side.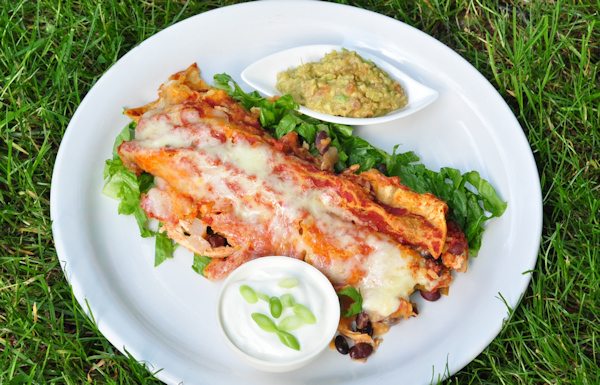 Just too good for words, really.