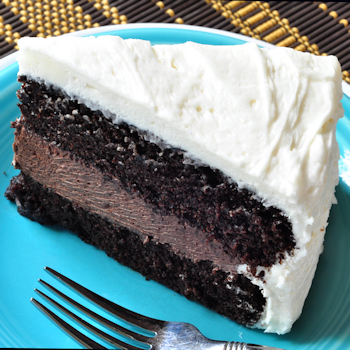 I needed a reason to make this behemoth of a cake. It is just too much for us to ever eat on an everyday basis, so I had to wait impatiently for an occasion. When Ellyn and her family were coming to visit a few days before her birthday, I jumped at the chance to make this for her. It is a take on the recipe on the back of the Hershey's Baking Cocoa can, which is already a fantastic cake – moist and rich and it comes out right every single time. I wanted to add my own touches to that perfection though, and I was pretty happy with the result. This was the 3rd time I had made it actually, but the other two times, I only used 1 layer at a time, and froze the other one, so I had not used this filling for it yet. I'll add this note about the alcohol in it here – the bourbon in the cake has all of the alcohol cooked out of it, but the filling has two tablespoons of bourbon that are not cooked. To us, 2 tablespoons was not enough to worry about giving it to the grandkids [but, man – did they sleep that night! Kidding! Totally kidding!], but if you want to leave out the alcohol, you can – just use another 1/4 cup boiling water in the cake, and a couple more tablespoons of cream in the filling. It will still be really good.
No step by steps of the cake batter mixing process – it is very straightforward, so not really needed.
Preheat the oven to 350 degrees, and prepare two 9 inch cake pans by greasing liberally with shortening and then dust with flour. And -as they always say in recipes- "set aside". On the counter. Don't balance them on your head or put them in the bathtub – set them aside.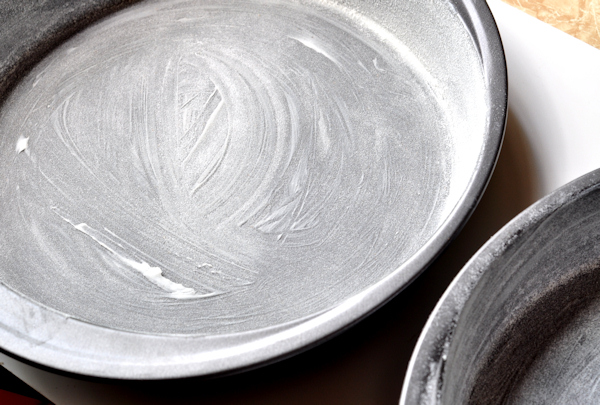 Make the cake:
2 cups sugar
1-3/4 cups all-purpose flour
3/4 cup baking cocoa
1-1/2 teaspoons baking powder
1-1/2 teaspoons baking soda
1 teaspoon salt
2 eggs
1 cup buttermilk
1/2 cup vegetable oil
2 teaspoons vanilla extract
¼ cup bourbon
3/4 cup boiling water
In the bowl of a stand mixer, mix on low speed, the sugar, flour, cocoa, baking powder, baking soda and salt. Add eggs, buttermilk, bourbon, oil and vanilla; beat on medium speed of mixer 2 minutes. On low speed, mix in boiling water. The batter will be very thin, which is just what you want. [you can use a regular electric mixer, of course] Pour batter into prepared pans. To ensure your layers will be the exact same size, you can weigh them as you are dividing the batter. Remember this scale – I am trialing it for the manufacturer and in a couple weeks, they are letting me give one away!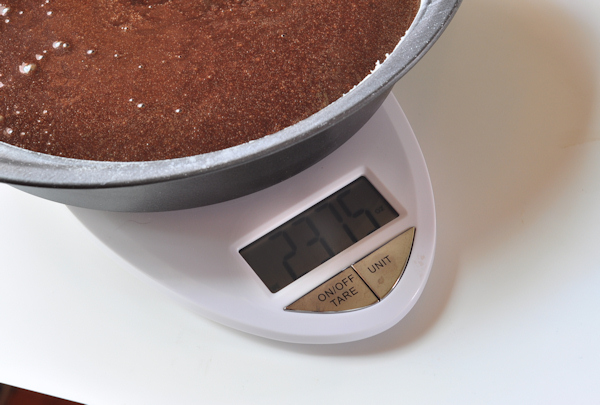 Bake 30 to 35 minutes or until wooden pick inserted in center comes out clean. [make the filling and frosting while the cake bakes – recipes are below]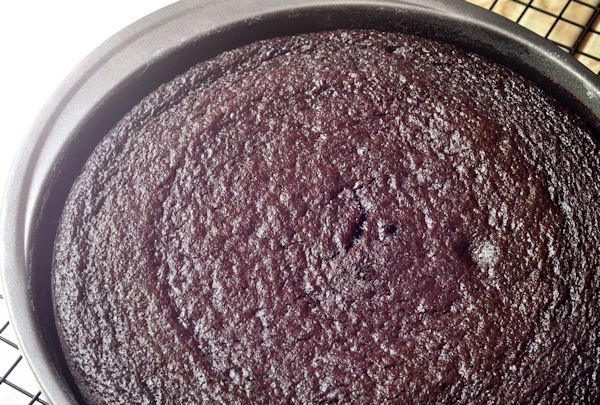 Cool 10 minutes; remove from pans to wire racks. Cool completely.
While the cake is baking, make the filling:
6 ounces soft butter
1/2 cup baking cocoa
3 cups confectionery sugar
2 tablespoons bourbon
1 teaspoon vanilla
about 1/3 cup half & half
You can pretty much just beat all of that together until it is smooth and creamy.
Place the first layer upside down in the middle of a nice big plate. Spread the filling evenly, stopping just short of the edge.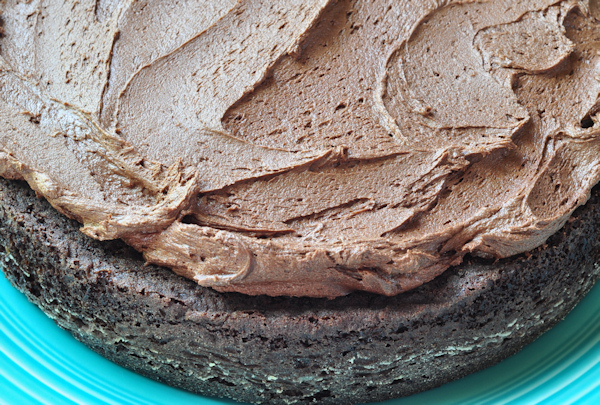 Place the second layer, right side up, on top of the filling.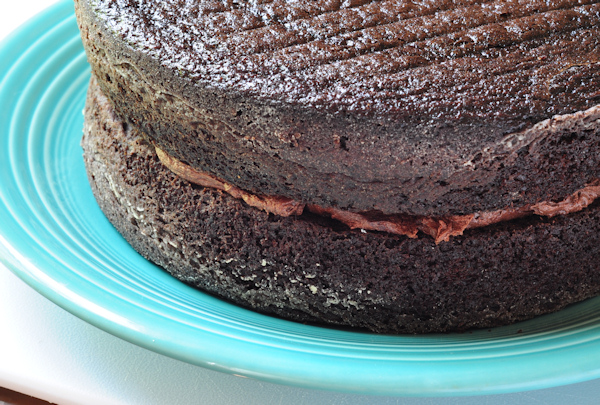 You will have made the frosting while the cake is baking:
4 ounces soft butter
6 ounces cream cheese
5 cups confectionery sugar
2 teaspoons vanilla
2 tablespoons half & half [maybe a little more]
Beat together the butter and cream cheese, and gradually beat in the sugar. Add the vanilla, and then the cream. Beat for a few minutes until it is fluffy – you may need to add a bit more cream to get a good spreadable consistency.
Spread the frosting, beginning with the sides, and finally on the top. An offset spatula works great for this.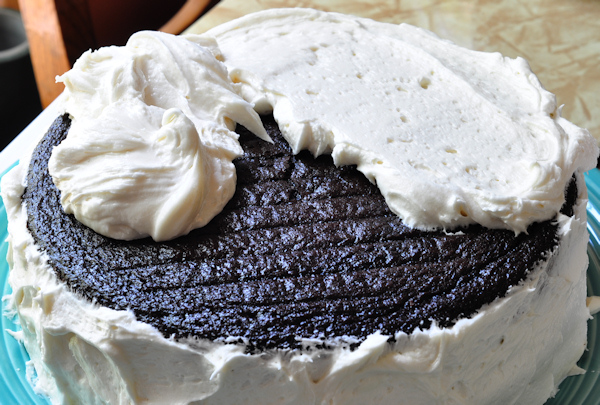 The flavor of this will improve upon sitting, so it is best to make it in the morning, and let it sit at room temperature for 5 or 6 hours. If there are still leftovers the next day, you should probably stick it in the fridge, but it will be fine on the counter till then, and if you do have to refrigerate it, bring it out for an hour or so before serving.
And doesn't that look nice?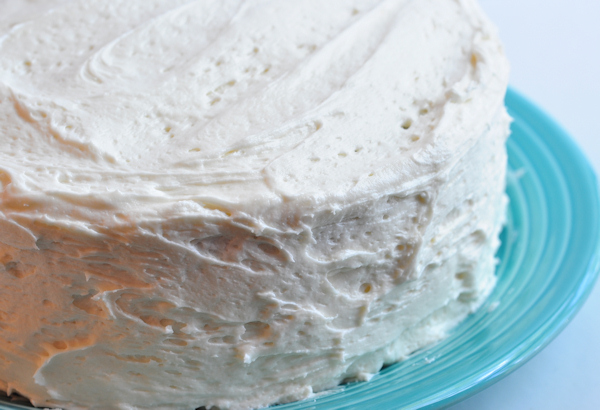 Or, maybe you prefer this?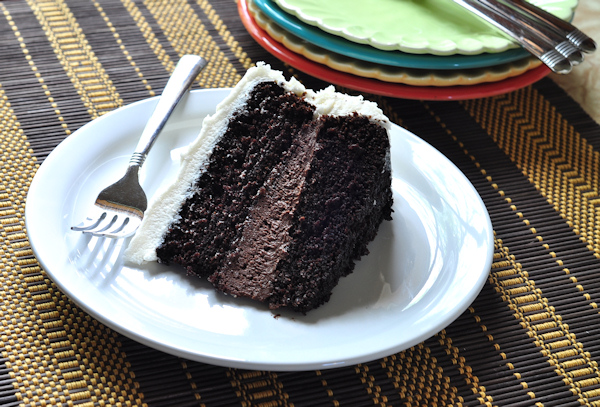 I'll warn you right now- this cake knows your name and you will be able to hear it calling you no matter how hard you try to ignore it. Just don't even bother trying to fight it.