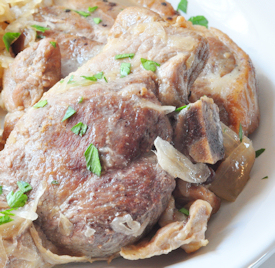 Let me sing the glories of the lowly pork steak. There is not a part of the pig that I don't love, but pork steaks have always been a favorite. They are usually cheap for starters. They have a ton of flavor, and a pretty high fat content which means they won't get all dry and cardboardy when you cook them like this. This is not really a recipe, in that I am not going to tell you amounts to use – that will vary by how many people you are serving because this is a very flexible dish. You can make enough for just two people, or expand it to serve 20. 20 very happy people, because this meal is seriously delicious. Instead of a recipe, I am going to show you the method – you will be able to take it from there. Braising is a very useful cooking method for several reasons. Because the cooking time is relatively long, you are able to impart a lot of flavor. It is also great for tougher cuts of meat, like a beef chuck roast for example, because the long cooking time allows the meat to get very tender, while the moist cooking keeps it from drying out. Pork steaks are a perfect choice for braising.
A braise is actually a combination of cooking methods – high, dry heat, followed by lower moist heat. To begin, lay the pork steaks on your cutting board and trim any really thick pieces of fat from the outer edges. Use a paper towel, and wipe the entire surface of the steaks thoroughly – do NOT wash them off. Sprinkle generously with kosher salt and freshly ground pepper. Heat a couple tablespoons of olive oil, to just under the smoking point, in a wide saute pan, and brown the steaks on both sides. Make sure there is plenty of room in the pan, so that the steaks don't touch each other.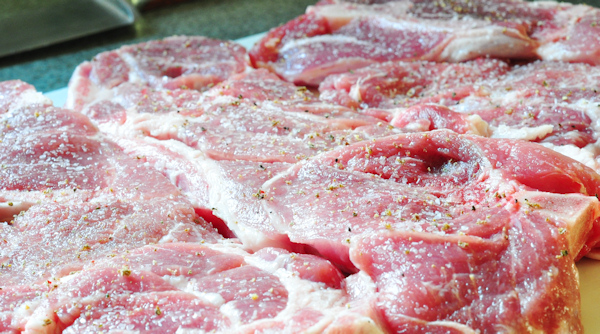 While the steaks are browning, cut a couple of nice big onions into thin wedges, and peel 4 or 5 big garlic cloves and cut them into thin slices. Put 2/3 of a can of sauerkraut into a roasting pan and spread evenly over the bottom. How much depends on how many people you are serving. I used 3 quite large steaks, and a 28 ounce can of sauerkraut was just right. Sprinkle the sauerkraut with some fresh thyme leaves, stripped from the stems, or a little dried thyme. Then, add a few grinds of fresh pepper. Once the steaks are well browned on each side, lay them atop the kraut. I had room here to lay them flat, but you can overlap them if you need to, in order to fit them in the pan.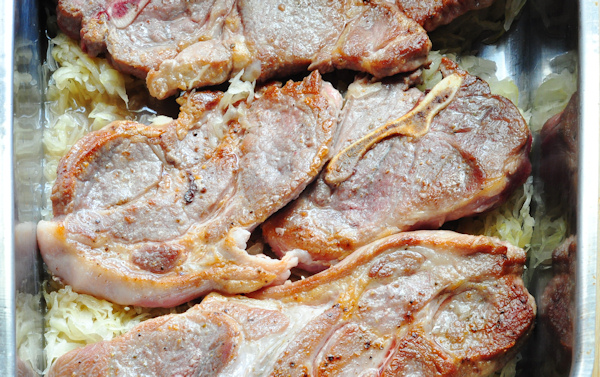 Dump the cut onions into the saute pan you used for the steaks, sprinkle with a couple pinches kosher salt and let them cook over high heat for a few minutes. We aren't really cooking them much – we just want them to deglaze the pan and grab all of the tasty browned stuff from the steaks. When they have cleaned the bottom of the pan and taken on some nice color, add the garlic and cook for another minute or two, taking care not to let the garlic brown. Spread the onions evenly over the steaks, spread on the rest of the can of sauerkraut, and cover tightly with foil. Place in a 350 degree oven for about an hour.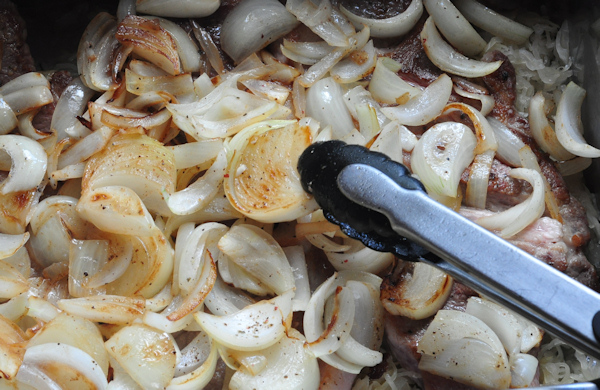 At this point, I lost the light for a good photo, so I'll spare you the ones of the veggies. But, while the steaks are cooking, prepare some potatoes and carrots. I like to use russet potatoes for this – scrub or peel them and cut into large chunks, or leave whole if small. Cut carrots into thick strips. Again, I am not going to give you an amount, but you will want a largish potato and a couple good-sized carrots per person – plus a little extra. I like to be prepared for big appetites, so I make a bit more than I think I will really need. If there are potatoes and carrots left over, they are really good fried alongside some eggs for breakfast the next day. Scatter the vegetables evenly over the top of everything and use a baster or large spoon to baste them with the pan juices. Cook covered, for about 45 minutes to an hour, until the vegetables are done. Baste again and turn up the heat to 400 degrees, leave the foil off and roast about 15 minutes more.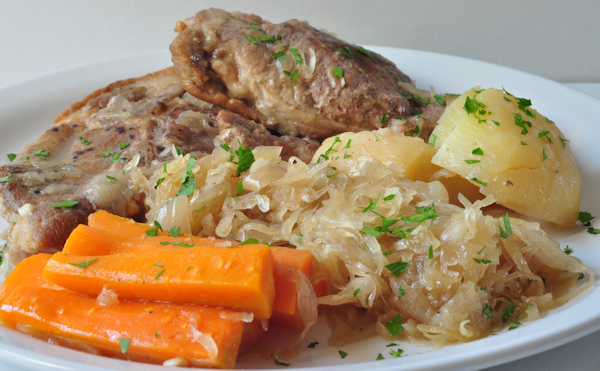 To serve, you can either plate individual portions, arranging the meat, vegetables and sauerkraut around the plate, or serve family style. I usually pile the steaks on a platter, with a mound of sauerkraut next to them, and the veg all together in large bowl. In either case, a little sprinkle of fresh, chopped parsely is a nice addition. Put some of the pan juices in a gravy boat or pitcher for the table. You will also want to have butter on the table, because most people will want to put a bit on their potatoes.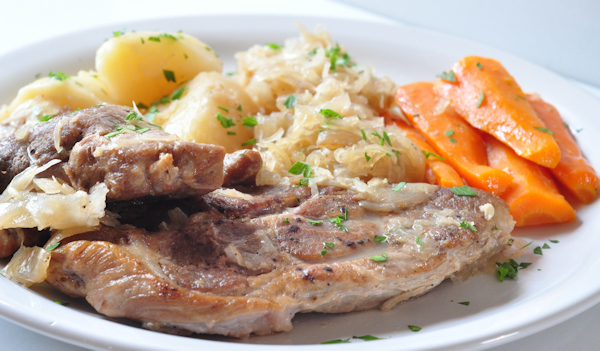 It is the best kind of food -simple preparation, lots of great flavors and a very satifying meal to share with friends and family. Almost makes it worth saying goodbye to summer!